Eastern Mediterranean pipeline
or simply
EastMed
is a planned offshore/onshore natural gas pipeline, directly connecting East Mediterranean energy resources to mainland Greece via Cyprus and Crete.
The project, currently in design, will transport natural gas from the off-shore gas reserves in the Levantine Basin into Greece, and in conjunction with the Poseidon and IGB pipelines into Italy and other European regions.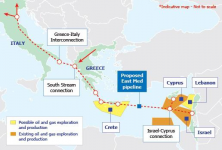 The pipeline is being developed by IGI Poseidon S.A., a 50-50% joint venture between the Greek gas utility DEPA and the Italian gas utility Edison.
On 2 January 2020, the EastMed Pipeline accord was signed in
Athens
by the leaders of Greece, Cyprus, and Israel. On 19 July 2020, the Israeli government officially approved the accord, allowing the signatory countries to move forward with plans to complete the pipeline by 2025.
Eastern Mediterranean (EastMed) is a 1,900km natural gas pipeline project connecting the gas reserves of eastern Mediterranean to Greece.
www.nsenergybusiness.com
Last edited by a moderator: