Contributor
Moderator
Vietnam Moderator
Messages

522
Reactions
Nation of residence
Nation of origin
The world's leading aircraft manufacturer Boeing has ambitions to do the same as Samsung, Intel... in Vietnam, connecting with many suppliers and supporting the development of Vietnam's aviation industry.
For the first time, the world's leading aircraft manufacturer Boeing has organized the Aerospace Industry Forum in Vietnam. This, according to Mr. Michael Nguyen, Director of Boeing Vietnam, has shown the important role of the Vietnamese market for Boeing.
The forum was organized to share a vision for enhancing Vietnam's opportunities in the fields of aerospace training, supply chain, sustainable aviation and research and development.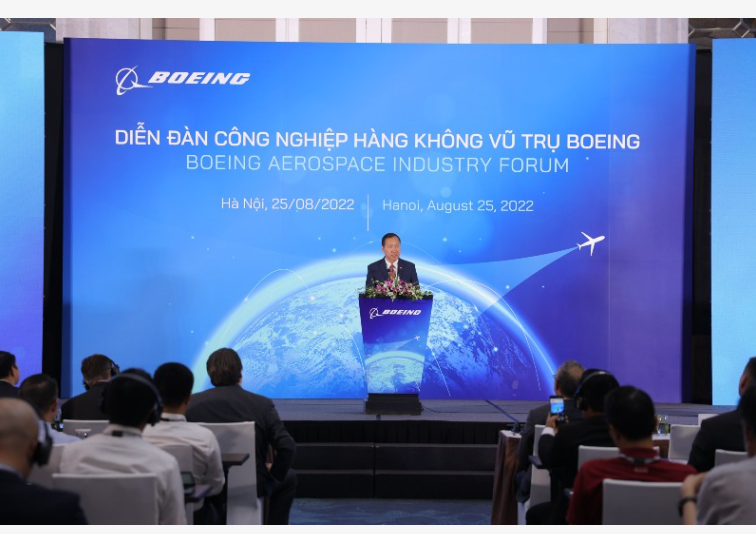 Mr. Michael Nguyen speaks at the Forum
"Vietnam's aviation market is one of the fastest growing markets globally. And we want to become a lever to support Vietnam's development of the aviation industry," said Mr. Michael Nguyen in a talk with the press on the sidelines of the Forum.
According to Mr. Michael Nguyen, recent forecasts show that, within the next 30 years, Southeast Asia will need about 4,000 new aircraft to meet the travel needs of people, of which Vietnam is a country that needs a lot of new aircraft. most aircraft.
To meet market demand and become a strategic partner with Vietnam, Boeing not only cooperates with Vietnam in the field of commerce, but also expands cooperation in the field of technology, improving industry capacity. Vietnam's aerospace industry to international standards.
"We will work with authorities, businesses and universities in the aerospace industry in Vietnam to build a foundation for long-term development," said Michael Nguyen.
Not hiding his ambition, Mr. Michael Nguyen said, Boeing wants to "follow the example" of Samsung and Intel in developing the supply chain in Vietnam.
"Every Boeing produced in the world has components from Vietnam," said Michael Nguyen, and for example a few aircraft components are manufactured in Vietnam, such as aircraft wings, aircraft doors ...
An aircraft needs more than 6 million components and so the demand is still strong. Mr. Michael Nguyen said that Boeing is willing to work with Vietnamese enterprises in providing spare parts for aircraft manufacturing.
Currently, to build the supply chain, Boeing is working with 7 suppliers in Vietnam.
"Maybe in the short term, Vietnamese companies have not been able to work directly with Boeing but have to go through Japanese and Korean companies… We also want to work directly with Vietnamese companies, however, I think, Vietnamese companies also need to go before they run," said Mr. Michael Nguyen, adding that Boeing is ready to support so that Vietnamese companies can go fast and run fast.
Mr. Do Nhat Hoang suggested Boeing strengthen cooperation in the field of aerospace with Vietnam
Meanwhile, according to Mr. Craig Abler, Boeing's regional vice president of Asia Supply Chain, in the context of increasingly fierce global competition, broken supply chains, and increased cooperation with suppliers. Responding to Vietnam and improving the skills of workers in Vietnam's aerospace sector will help Boeing improve its competitiveness.
Accordingly, Boeing will work with Vietnamese companies to apply best practices for lean manufacturing, supplier management and other specialized training.
Regarding this issue, when speaking at the Boeing Aerospace Industry Forum in Vietnam, Mr. Do Nhat Hoang suggested that Boeing in particular and US businesses in general continue to strengthen investment cooperation. , technology transfer to Vietnam in the fields of infrastructure, production and technical services of the aviation industry, such as component production, aircraft maintenance, satellite manufacturing industry, telecommunications technology, etc. through...
Along with that, connecting Vietnamese businesses with the supply chains of large global enterprises and corporations.
"As for Boeing, we hope that the Group will research and develop a training center for pilots, experts and engineers in the field of aerospace as well as establish an aircraft manufacturing base in Vietnam." Mr. Do Nhat Hoang said.
Nhà sản xuất máy bay hàng đầu thế giới Boeing nuôi tham vọng làm được như Samsung, Intel… tại Việt Nam, kết nối được với nhiều nhà cung ứng và hỗ trợ phát triển công nghiệp hàng không Việt Nam.

baodautu.vn