Experienced member
Administrator
Moderator
Joined

Aug 23, 2020
Messages

1,578
Reaction score

9,275
Points

113
Nation of residence
Nation of origin
An Agency of the U.S. Department of defense for military cooperation (Defense Security Cooperation Agency DSCA) 17 Feb 2021 sent Congress
a notification
about the planned upcoming sale Finland, along the line of the American program of the intergovernmental foreign military sales Foreign Military Sales (FMS) long-range guided missiles GMLRS ER (Extended Range Guided Multiple Launch Rocket System) with a range of up to 150 km and production of Lockheed Martin Corporation, for the use of the launchers American jet systems of volley fire MLRS.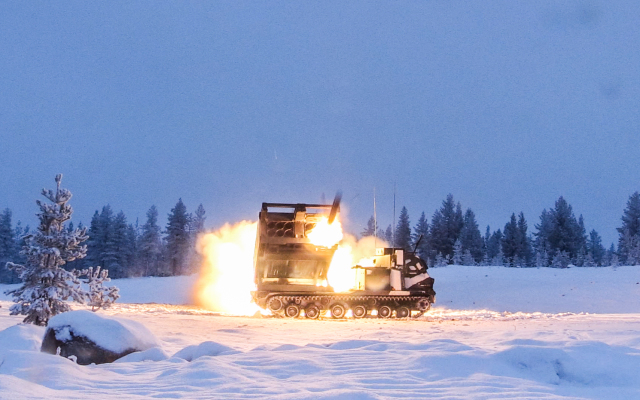 M270C1 combat vehicle of the US MLRS multiple launch rocket system (RsRakH 06) of the Finnish Army, November 2020 (c) Finnish Defense Forces
According to the notification, it is planned to deliver 25 six-missile containers with M30A2 ER GMLRS-AW missiles with warheads with dispersed shock cores and 10 six-missile containers with M31A2 ER GMLRS-U missiles with unitary warheads. The total estimated cost of delivery will be $ 91.2 million.
Earlier, Finland, under the 2015 FMS agreement, has already received M30A1 and M31A1 GMLRS corrected missiles (with warheads of the same types) with a range of up to 70 km. Now Finland will become the first foreign customer of their long-range version of the ER GMLRS. Field tests of the ER GMLRS missiles were launched at the end of 2020. The start of mass production of ER GMLRS missiles for the US Army is planned at the Lockheed Martin facility in Camden, Arkansas, from the beginning of the 2022 fiscal year (that is, from October 2021).
Finland has 22 MLRS M270 MLRS (RsRakH 06) combat vehicles purchased in 2006 from the Dutch Armed Forces, as well as 12 MLRS M270A1 MLRS combat vehicles purchased from the Danish Armed Forces, but the latter are used only as training vehicles.
In May 2011, Lockheed Martin received a contract worth $ 45.3 million to upgrade 22 Finnish MLRS systems (formerly Dutch) to the M270C1 level, including the installation of a new UFCS (Universal Fire Control System) fire control system that allows the use of high-precision GMLRS and ATACMS missiles, and the adaptation of M270 launchers for the use of GMLRS and ATACMS missiles (although in 2014 the Finnish side refused to purchase ATACMS missiles due to their high cost and obsolescence).
On February 17, 2021, the US Department of Defense's Defense Security Cooperation Agency (DSCA) sent a notification to the US Congress about the planned upcoming sale to Finland through the US program of intergovernmental foreign military sales Foreign Military Sales (FMS) of long - range guided...
vpk.name