Contributor
Think Tank Analyst
Messages

1,141
Reactions
Nation of residence
Nation of origin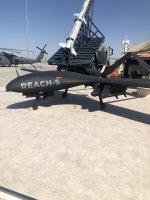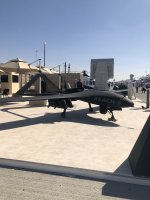 United Arab Emirates' (UAE's) EDGE Group subsidiary Halcon showcased the full-scale model of Reach-S fixed-wing armed medium-altitude long-endurance (MALE) unmanned aerial vehicle (UAV) at the Dubai Airshow 2021.
Halcon showed the model carrying four Desert Sting-16 (DS-16) precision-guided weapons and an electro-optic/infrared (EO/IR) sensor, suggesting the primary intention of the UAV is to be used in surveillance and combat roles.
The UAV features high-mounted high-aspect ratio, straight wings, elongated fuselage pod, and twin tail booms attached to the inboard section of wings ending in an inverted V-tail. The Reach-S is incorporated by fixed tricycle main wheel landing gear and retractable nosewheel landing gear. The wings are provided with two hardpoints on each side and the fuselage houses a gimbal stabilised EO/IR turret behind the nosewheel.
The rear of the fuselage is installed with a Rotax 912 engine driving a three-bladed propeller in pusher configuration. The UAV is expected to perform the flight tests with a maximum take-off weight of 600 kg, including payload weight of 120 kg. The 12 m wingspan, 5.5 m-long UAV is designed to attain a maximum altitude of 19,000 ft, 80 kt cruising speed, 24 h endurance, and 200 km communication range.
The programme is understood to be at the initial levels of the design phase and it is expected to take at least another year for the first flight.