Hellenic Shipyards is preparing to hand over the first domestically designed and built special operations craft (SOC) to the Hellenic Navy in the coming weeks, the shipbuilder has told
Janes.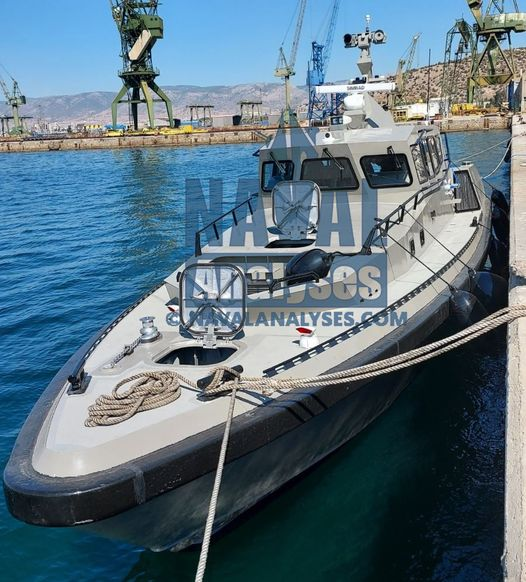 The new vessel, named
Agenor
, was built with funding provided by the Hellenic Navy. It was launched on 30 July and is currently completing sea trials.
The SOC is based on a design provided by Navinco featuring a deep V-shaped hull manufactured from aluminium alloy, which was donated by ElvalHalcor. Displacing 22 tonnes, the craft has an overall length of 17.60 m, a beam of 4.20 m and a draught of 0.95 m. It is powered by two 1,200 hp MAN V8 engines providing a cruise speed of 35 kt and a top speed of more than 45 kt at full load. It can carry a maximum payload of 4.5 tonnes.
"Agenor" is designed for use at a maximum range of up to 350 nautical miles from shore with sea waves up to 4 points, depending on the payload.
The equipment includes a gyro-stabilized two-axis electro-optical station MLT-SUR-100RTM of Miltech Hellas, a SIMRAD radar, two marine cameras, a video surveillance system and an automatic vessel identification system (AIS).
Agenor can be additionally equipped with the Scytalys M2IMS tactical combat system, which includes data transmission channels and software-defined radio stations to create an overall picture of the situation (in addition to being received from its own sensors).
The armament will include a remotely controlled module with a 12.7 mm M2HB machine gun. Two more M2HB machine guns or automatic grenade launchers can be mounted on mounts located on both sides in the aft part.
It is planned that the "Agenor" will be used by the Greek Navy to perform a number of tasks, including operational disembarkation and evacuation of special forces, patrolling, and support search and rescue operations. The crew of the boat is 4 people. On board, shock-absorbing seats can accommodate up to 10 paratroopers.
The boat is equipped with a stern ramp, which allows you to quickly launch the Futura Commando (FC) 470 high-speed inflatable boat manufactured by Zodiac Milpro with a length of 4.7 m.
After being put into service, the Agenor will become the most modern MTR boat in the arsenal of the Greek Navy. It will also be the only boat of the Greek Navy equipped with a combat module, since the DUMV, previously installed on the smaller boat "Okialos" (Okyalos), was dismantled due to technical problems and design limitations.
source:
www.janes.com
and
naval analyses