Experienced member
Moderator
Canada Moderator
India Moderator
Joined

Aug 23, 2020
Messages

3,799
Reaction score

7,646
Points

113
Nation of residence
Nation of origin
War of words as Foreign Secretary Teodoro Locsin Jnr calls China an 'ugly oaf' in foul-mouthed Twitter outburst over Chinese vessels near Scarborough Shoal.
www.scmp.com
The
Philippines
has taken the gloves off in its dispute with Beijing over the
South China Sea
, with its top diplomat dropping the F-bomb as he demanded the withdrawal of Chinese vessels near the Scarborough Shoal.
Foreign Secretary Teodoro Locsin Jnr dispensed with diplomatic niceties as he took to
Twitter
on Monday, calling China an "ugly oaf" and demanding it "get the f*** out" of Philippine maritime waters. His colourful language followed reports that Chinese coastguard ships had harassed their Philippine counterparts in the vicinity of the shoal, which is claimed by both countries.
The shoal lies 220km east of the Philippine island of Luzon and is within the Philippines' exclusive economic zone but is also within the nine-dash line that Beijing uses to stake its claims to more than 90 per cent of the South China Sea.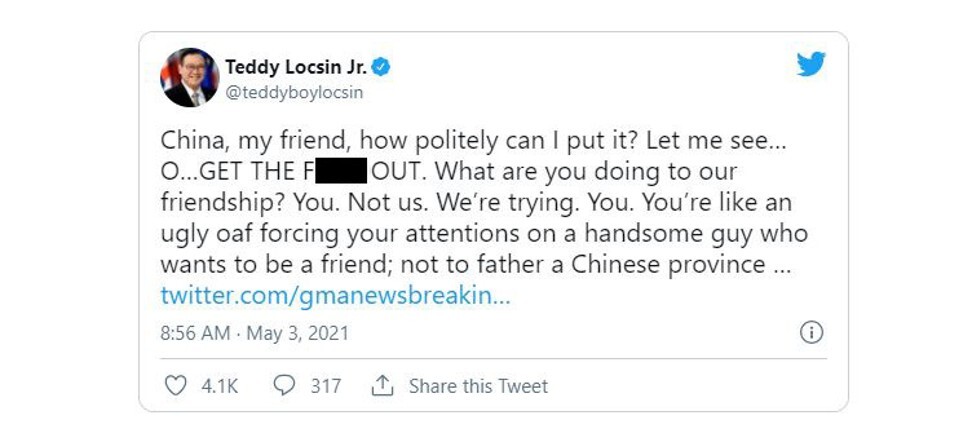 Locsin's tweet, with the F-bomb blurred out. Photo: Twitter
Locsin's outburst is the latest escalation in a war of words that has taken a turn for the worse since March, when hundreds of Chinese vessels were spotted lingering near Whitsun Reef, another feature of the South China Sea claimed by both countries.
The Department of Foreign Affairs in Manila said in a statement on Monday that "China has no law enforcement rights in these areas … the unauthorised and lingering presence of these vessels is a blatant infringement of Philippine sovereignty."
Locsin put it in simpler language: "China, my friend, how politely can I put it? Let me see … get the f*** out. What are you doing to our friendship? You. Not us. We're trying. You."
He compared China to "an ugly oaf forcing your attentions on a handsome guy who wants to be your friend".
(More at link)