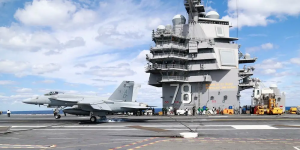 An F/A-18F Super Hornet assigned to the "Gladiators" of Strike Fighter Squadron (VFA) 106 makes an arrested landing on the flight deck of USS Gerald R. Ford (CVN 78) during flight operations in the Atlantic Ocean. US Navy photo by Mass Communication Specialist 2nd Class William Spears
US Navy aircraft carrier USS Gerald R. Ford is on track to deploy next year, a Navy admiral told USNI News.
The Ford, which was expected to deploy in 2018, has faced a number of setbacks in development.
The carrier brings a suite of new, advanced technology intended to make it better in combat than its predecessors.
The lead ship of a new carrier class has had its troubles, but a Navy admiral says the ship is on track to deploy sometime next year.
www.businessinsider.com