34th Military Circle and all sectors cooperate in removing water hyacinths in Kwan Phayao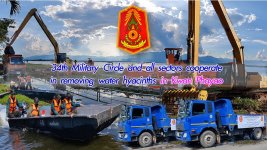 "Kwan Phayao" is the largest freshwater lake in the North of Thailand. It has an area of up to 12,831 rai and is significant for "The Kaem Ling project". In addition, the amount of water flowing into Kwan Phayao is about 330 million cubic meters/year.
Kwan Phayao is important for people in Phayao Province both in the consumption and tourism economy. At present, Kwan Phayao has problems about water hyacinth and weeds are blocking water flow. It causes low-quality water. A large amount of water can cause flooding in the rainy season and not enough water for consumption and agriculture in the dry season.
The survey found that water hyacinth has increased and overgrown quickly which affected the water quality and landscape of Kwan Phayao. Phayao Provincial Governor/Director of Phayao Internal Security Operations Command ordered the state agencies to cooperate in removing water hyacinths in Kwan Phayao during November to December 2021. Also, 34th Military Circle organized personnel and military equipments to support as follows:
1. 1 backhoe with 1 driver: dredging and loading water hyacinth and duckweed or as requested
2. 2 large dump trucks with 2 drivers: loading water hyacinth and duckweed to collect at designated points or as requested
3. 6-wheel dump trucks transporting water hyacinth and duckweed to Khun Jueng Thammikarat Camp for 122 rounds for making fertilizer to use in agriculture and to be applied to Tahaan Pan Dee Project
4. 2 motorized barges with 7 drivers and crews:
- Dredging and loading water hyacinth and duckweed
- Supporting in towing water hyacinth and duckweed
- Inspect damaged buoys and patrol relevant areas when coordinated
Therefore, people in the 17 Northern provinces can be confident that Royal Thai Army by the 3rd Army Area is ready to support personnel and military equipment in all aspects to help people out of the crisis.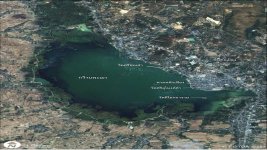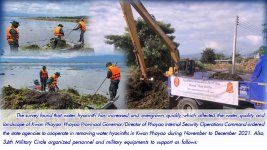 ********************************
คณะบรรณาธิการข่าว กองทัพภาคที่ 3
9 ธันวาคม 2564
ศูนย์ประชาสัมพันธ์ กองทัพภาคที่ 3. 22,600 likes · 1,668 talking about this · 5 were here. ข่าวสารกองทัพภาคที่ 3
www.facebook.com