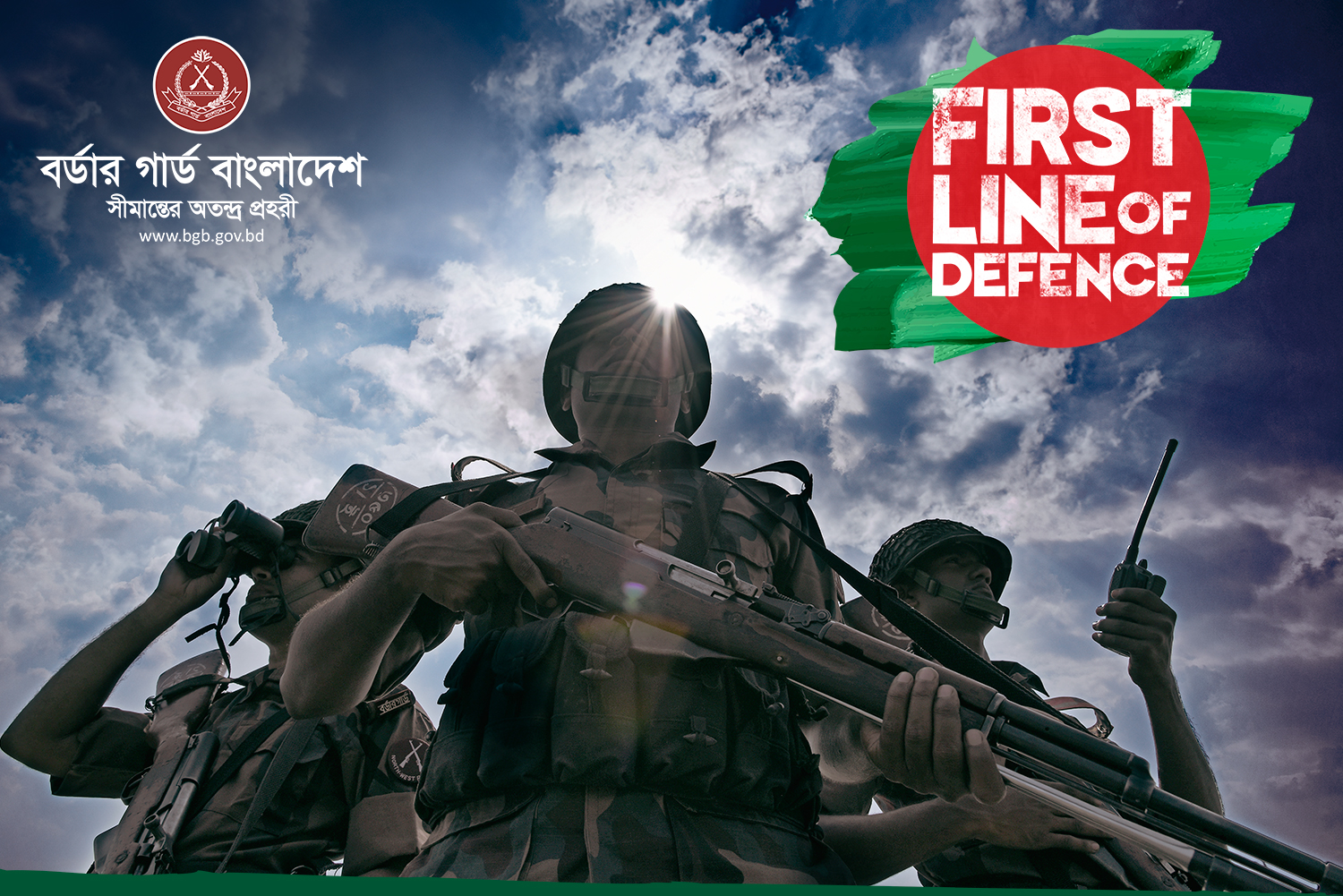 The
Border Guard Bangladesh
(
Bengali
transliteration: বর্ডার গার্ড বাংলাদেশ; translated from English: বাংলাদেশ সীমান্ত রক্ষক;
BGB
), formerly known as the
Bangladesh Rifles
is the oldest uniformed force of Bangladesh. It is a paramilitary force under the Ministry of Home Affairs. BGB is primarily responsible for the border security of the country, in Bangladesh the force is known as "The Vigilant Sentinels of the National Frontier".
Border Guard Bangladesh, as a paramilitary force, is entrusted with the responsibility to defend the 4,427 kilometres (2,751 mi) border of Bangladesh. BGB boasts a military history spanning over two centuries. During peacetime this force is also responsible for anti-smuggling operations, investigating cross border crime and extending governmental authority to remote and isolated areas. From time to time BGB has also been called upon to assist the administration in the maintenance of internal law & order, relief and rehabilitation work after any kind of natural disaster. During wartime BGB comes under the control of the Ministry of Defence as an auxiliary force to the
Bangladesh Army
.
BGB has adopted a long term modernization plan named "BGB Goal 2041" in 2017. The plan intends to make BGB a well-trained, well-equipped and technologically advanced force.
In short terms, BGB plans for structural and manpower expansion. A new region (equivalent to
division
) will be raised in
Ramu
of
Cox's Bazar
. Three new sectors (equivalent to
brigade
) will be raised at
Ali Kadam
of
Bandarban
,
Naogaon
and
Jessore
. Eight new
battalions
will be formed at
Jhikargacha
of
Jessore
,
Meherpur
,
Khagrachari
,
Boro Mowdok
of
Bandarban
,
Gazipur
,
Narayanganj
and
Kulaura
. Two riverine battalions will be raised in BGB at
Nildumur
of
Shatkhira
and
Teknaf
of
Cox's Bazar
. They are the first two units of BGB who will be able to operate in riverine borders and
char
s (
River island
). The number of personnel will be increased from 50000 to 65000 soon. 124
Border Out Posts (BOP)
and 70 heli-support BOPs are being set up in the border areas of hilly districts along the border with Myanmar. 128
Border Sentri Posts (BSP)
are being constructed between the distant BOPs. BGB members ae being equipped with
bulletproof vests and ballistic helmet
.
A
Quick Response Force
will be established for BGB. The force will work to supply modern arms and ammunition swiftly to border points in case of any emergency. For smooth operation in the border areas, border roads are being constructed. In
BGB day 2017
, prime minister said that the government has undertaken a plan to construct a total of 3,167 km ring road across the borders with India and Myanmar. BGB intends to go three dimensional as per the plan. Bangladesh government has already approved the proposal for buying two
Mi-171E
helicopters from Russia at a cost of Tk. 355.10 crore. The helicopters will be delivered in 17th January, 2020. However,
Bangladesh Air Force
pilots will fly the helicopters initially. A
heliport
with hangar is being set up at
Baitul Izzat
in
Chittagong
. Eventually, BGB plans to have four aviation wings.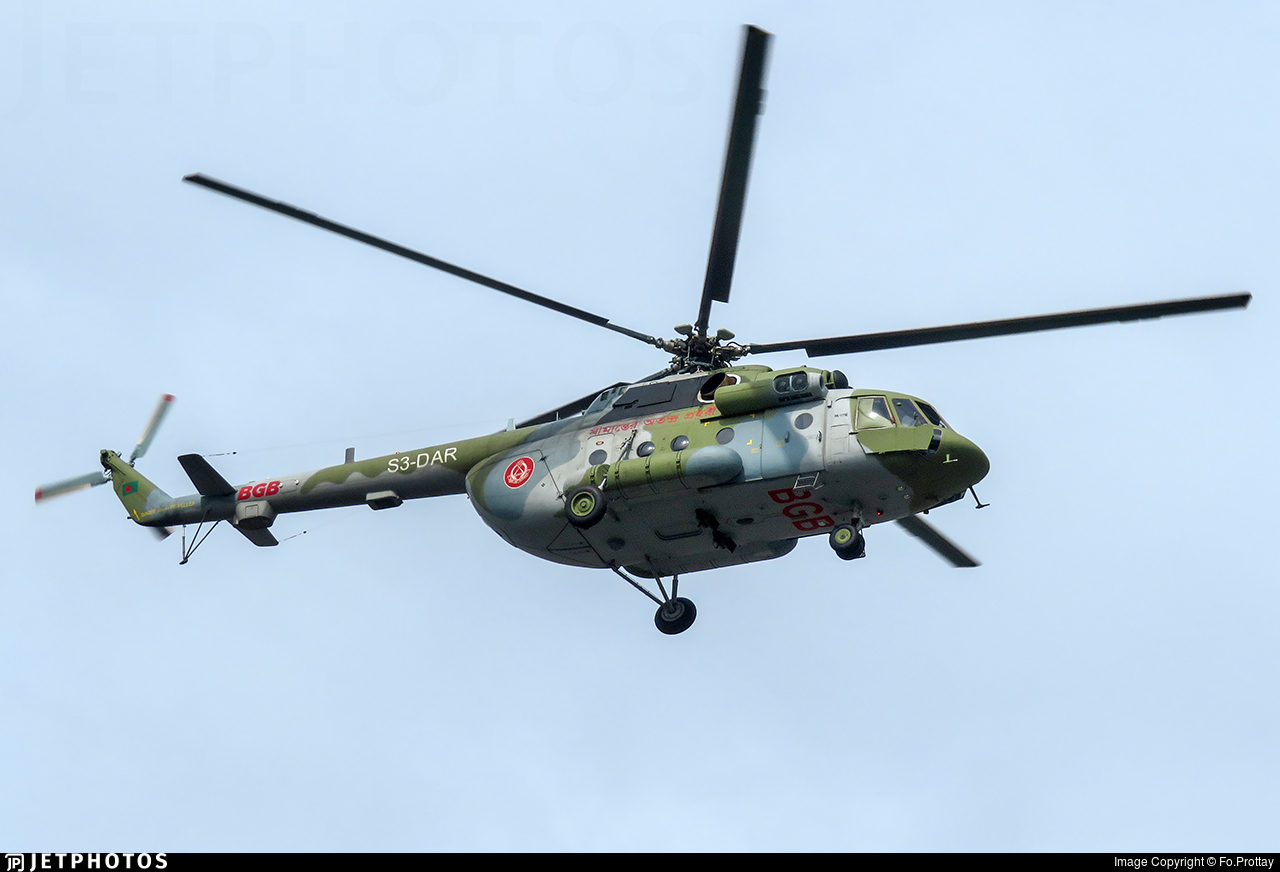 To effectively monitor the border, BGB plans to add modern technology to the border management. The plan is to set up
cameras
,
night vision goggles
and
infrared sensors
throughout the border. BGB plans to achieve 3I (Information, Identification, Intervention) capabilities in the border in long term. Having
Radar
and
Satellite monitoring
facilities in the border are also planned. BGB is purchasing Corsar ATGM from Ukraine. BGB uses Type 56 carbine, Type 56 and BD-08 assault rifle, Type 85 sniper rifle,
Rheinmetall MG 3
and BD-14 GPMG, RPG, 60mm mortar etc.