Foreign minister has long argued Wing of Zion project, which cost over $300 million to develop, was wasteful; Bennett will be deciding opinion on matter​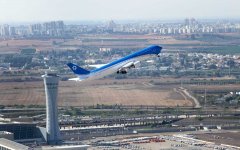 The 'Wing of Zion,' the Israeli version of Air Force One, is seen above Ben Gurion Airport, on its first test flight, November 3, 2019. (Yoav Weiss/Israel Aerospace Industries)
Foreign Minister Yair Lapid is reportedly pushing to nix Israel's equivalent to Air Force One, which has been been in development for roughly four years.
Lapid, who has long spoken out against the nearly $300 million aircraft for the prime minister and president, is now recommending that the plane be sold just months before it is set to become operational, the Ynet news site reported Monday.
However, the defense establishment strongly opposes Lapid's position, maintaining that an upgraded aircraft such as the one produced is needed to securely transport Israeli heads of state, Ynet reported
President-elect Isaac Herzog will also have a say in the decision, but has yet to express his opinion.
Ultimately, though, the decision will fall to Prime Minister Naftali Bennett.
The plane still needs several more months to receive the necessary permits, according to the report.
The project has already been delayed several times, most recently last year when then-prime minister Benjamin Netanyahu's office ordered a freezing of test flights, in order to prevent the appearance of unnecessary spending in the middle of the pandemic.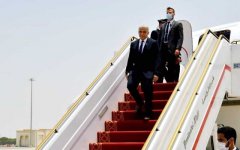 Foreign Minister Yair Lapid arrives in Abu Dhabi, United Arab Emirates, June 29, 2021. (Shlomi Amsalem/GPO)
The plane will be housed in a specially constructed hangar at the Nevatim airbase and will have 24-hour protection by guards from the Prime Minister's Office.
Wing of Zion pilots will be drawn from the squadron's career officers and reservists. Future crews have been trained on a simulator and have already had the chance to fly the plane itself in the past, according to the report.
According to Israel Aerospace Industries, the plane can reach the United States, China, Japan, and Brazil without stopovers.
Last February, Wing of Zion successfully completed a test run, passing a major hurdle on the path to becoming operational.
Foreign minister has long argued Wing of Zion project, which cost over $300 million to develop, is wasteful; Bennett will make final decision
www.timesofisrael.com