Trillion Energy
is in everywhere
question is not foreign investment
question is who is Trillion Energy???
-Trillion Energy International Inc. holds a 49% interest in the SASB natural gas field in Türkiye, one of the Black Sea's first and largestscale natural gas development projects. The company also holds a 19.6% (except three wells with 9.8%) interest in the Cendere oil field in Türkiye and a 100% interest in, the Vranino 1-11 block in Bulgaria, which is prospective unconventional natural gas.
-We are initiating coverage of Trillion Energy International (TCF-CSE) with a BUY rating and a C$1.50 price target. TCF is a natural gas focused E&P with assets located in Türkiye and we believe that the company offers North American investors unique pure-play exposure to European gas pricing.
-On our Eight Capital price deck, which assumes Turkish gas prices of US$26/Mcf in 2023, we see the average well generating an NPV10 of US$66 million, with an IRR greater than 500% and a pay-out of 3 months. This quick generation of free cash flow results in a self-funded 20-well development program
-The SASB Field, which is located roughly 10 miles offshore of Türkiye in ~100m deep water of the Black Sea, was first discovered in 2004. Since then, predecessors have invested over US$600 million in the field with the construction of platforms and the drilling of more than 20 wells. TCF plans to save capital by focusing its near-term development program on drilling off these existing platforms. Based on our average type-well assumptions, we estimate successful wells generate NPV10s of US$66 million, IRRs in excess of 500% and payouts in 3 months under our Eight Capital price deck assumptions (long term price of US$16/Mcf). This leads to TCF being able to quickly recycle cash back into drilling, resulting in a self-funded development program. The company plans on developing 11 locations this year for an estimated US$55 million in capital followed up by 6 wells in 2024 for US$40 million. Due to advantageous price realizations and a low-cost structure, TCF commands extremely high cash netbacks.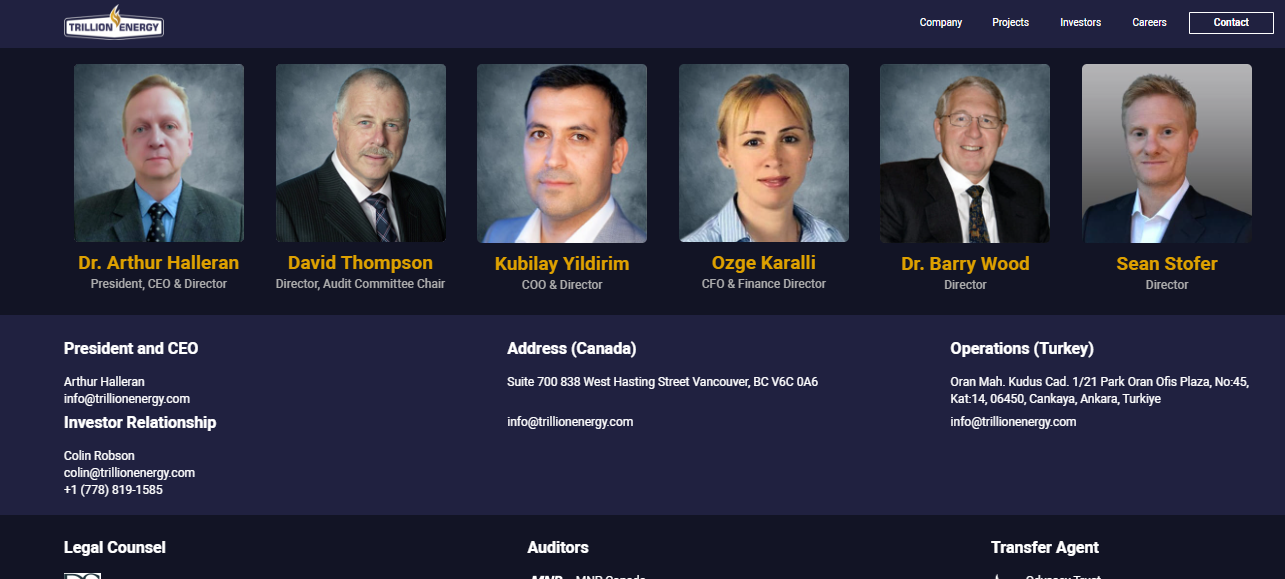 https://trillionenergy.com/investors/
if you like you can read more from investors section
https://www.globenewswire.com/news-...NT-APPOINTMENTS-AND-ISSUES-STOCK-OPTIONS.html
Vancouver, B.C., July 28, 2022 (GLOBE NEWSWIRE) --
Trillion Energy International Inc. ("Trillion" or the "Company")
(CSE: TCF) (OTCQB: TRLEF) (Frankfurt: Z62) is pleased to provide an update on a senior executive appointment and new management hires as follows.
Senior Executive Appointment

Kubilay Yildirim has been promoted to Chief Operating Officer for Trillion. He has been the General Manager of Park Place Energy Turkey Limited, Trillion's Turkiye subsidiary. He is also a director of Trillion. Mr. Yildirim has 24 years hands-on experience in drilling, production, seismic acquisition, and logistics for both onshore and offshore projects in Turkey. He has spent most of his career with the Company including during the discovery and initial development of the SASB gas field. Mr. Yildirim has a degree in Petroleum and Natural Gas Engineering from Middle East Technical University and an MBA from Bilgi University in Istanbul.

Non-Executive Appointments

Mr. Huseyin Nevzat Topaloglu is appointed SASB Project Manager. He has a BS Degree in Petroleum Engineering from Middle East Technical Univ. and MS Degree in Petroleum Engineering from Stanford University (1971). He worked as a well-site drilling engineer, drilling supervisor, senior staff drilling engineer and drilling manager in several companies and has fifty years of experience in operation execution and planning and designing oil and gas wells in Turkey, the Aegean Sea, Black Sea, Sea of Marmara, Israel and Libya.

Mr. Fadil Duman is appointed SASB Drilling Manager. He has 18 years of experience in the oil and gas industry focused on drilling, completion and workover engineering matters for land and subsea wells. He started his career in Turkish Petroleum Corporation then followed by Chevron, Petoil Inc, Crescent Petroleum and Park Place Energy. Fadil served in different locations such as Middle East countries and the Western Atlantic Coast of Central Africa countries. He is additionally a skilled expert on deep-water drilling design and operations. Fadil holds several licenses and certifications and holds a BSc. degree in Petroleum and Natural Gas Engineering from Istanbul Technical University.

Mr. Gokhan Solak is appointed SASB Senior Drilling Engineer. He has 15+ years of experience including 4 years in offshore wells and 11 years in onshore wells as a Drilling Supervisor. He has worked at offshore wells in the Black Sea and the Mediterranean Sea and has experience in Northern Iraq, Afghanistan, and Kazakhstan regions. Gokhan has a Bachelor of Science degree from Middle East Technical University, Petroleum and Natural Gas Department.

Mr. Ergin Ince is appointed Shorebase Manager. He has 20 years of experience in several E&P companies, for both offshore and onshore projects as Procurement and Shorebase Manager. He has undertaken the responsibilities in designing procurement policies, quality management systems, logistics modelling and planning, shorebase configuration and installation and management, and marine services. Ergin has a degree in department of public finance from Uludağ University.​
Last edited: