Experienced member
Staff member
Administrator
Joined

Aug 24, 2020
Messages

4,326
Reaction score

16,966
Points

113
Nation of residence
Nation of origin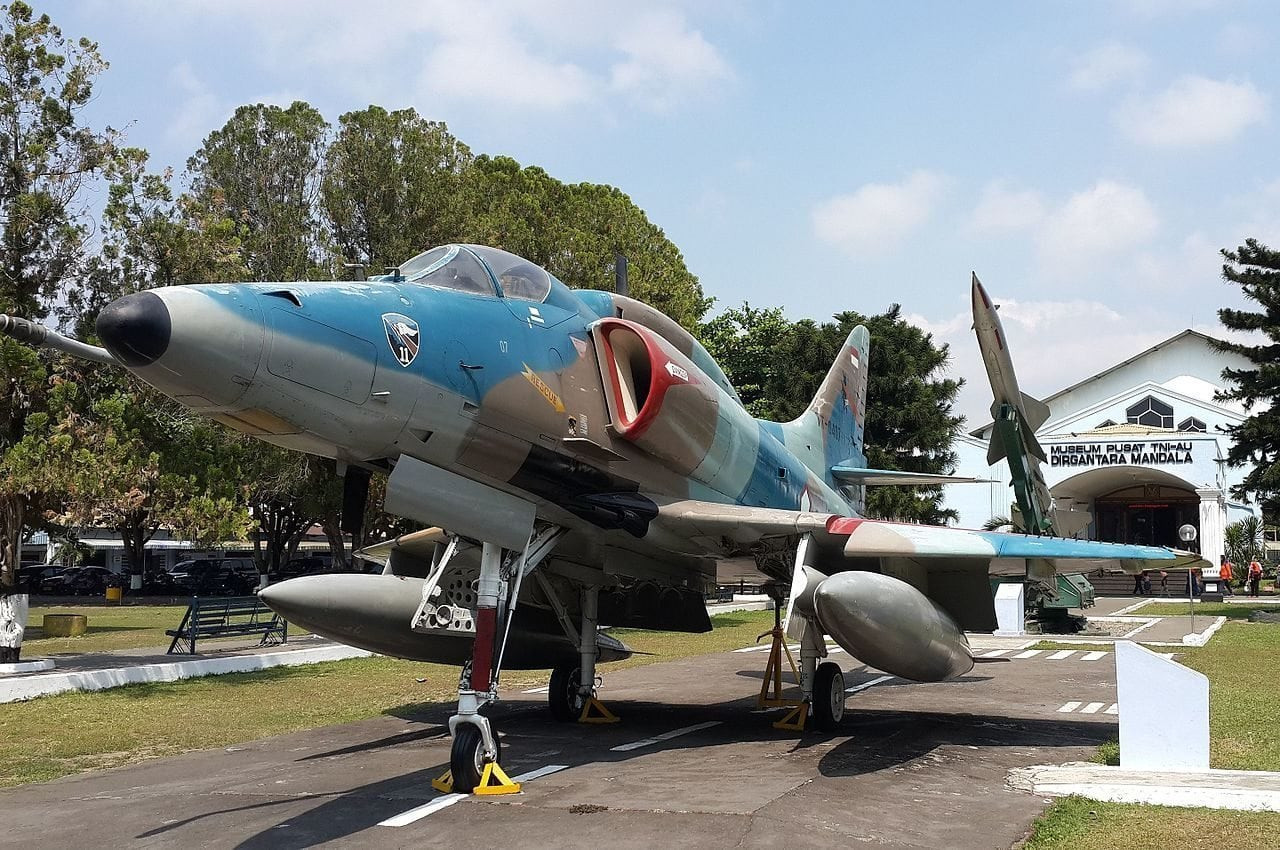 An example of an A-4E Skyhawk from the 11th Squadron at Sultan Hasanuddin Air Force Base in Maros, South Sulawesi, is now an exhibit at the Dirgantara Mandala Air Force Museum in Yogyakarta. (
www.tni-au.mil.id/-
)
Defense Minister Prabowo reignited an old debate in June when he sent a letter to his Austrian counterpart Klaudia Tanner on the possibilities of buying 15 Eurofighter Typhoon heavy jet fighters from the central European country to modernize the Indonesian Air Force. The debate is centered on whether to buy all primary weapons system (Alutsista) equipment brand new for higher quality or purchase a larger number of second-hand equipment that can be deployed faster.
For example, it may take between 12 and 24 months to deliver used jet fighters, while brand new procurement may take some 36 months, or even longer. The United States cited a nine-year delivery time for the stealthy F-35 Lightning II when it denied Indonesia's request to buy the 5th Generation jet fighter. It is, however, well understood that the denial was more for political reasons than technical ones. Used jet fighters are basically a stop gap capability allowing the Air Force to fulfill its Minimum Essential Force (MEF) requirement, which should be reached by 2024.
The Air Force had only reached 45 percent of the MEF requirement, then-Air Force chief of staff Air Chief Marshal Yuyu Sutisna said in January 2020. The Indonesian Military (TNI) as a whole, reached some 63 percent by the end of 2019, according to the Defense Ministry.
In the past, the Air Force had benefited from the acquisition of various fighter aircraft.
1. CA-27 Sabre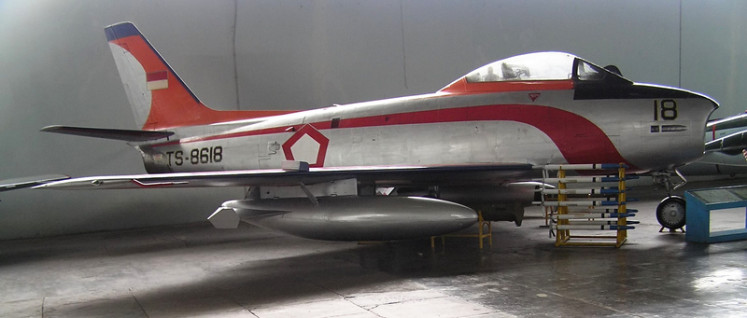 A CA-86 Sabre from the 14th Squadron at Iswahjudi Air Force Base in Madiun, East Java, is now an exhibit at Dirgantara Mandala Air Force Museum in Yogyakarta. (en.wikipedia.org/-
Indonesia received 18 CA-27 Sabre jet fighters in 1973 from the Royal Australian Air Force (RAAF), according to
www.adf-serials.com.au
. The website added that the Indonesian Air Force then received five additional aircraft from the Royal Malaysian Air Force (RMAF). The RMAF operated 18 Sabres in 1969-1972, also a donation from the RAAF.
Australia donated the jet fighters after Indonesia decommissioned all aircraft made by the Soviet Union. Indonesia shifted from the Eastern to the Western Block after the botched Communist coup d'état in 1965.
The CA-27 Sabre was manufactured by the Commonwealth Aircraft Corporation (CAC) under license from United States aircraft maker North American Aviation. CAC modified the original F-86 Sabre by strengthening its aerostructure to accommodate the more powerful Rolls Royce Avon engine.
In Indonesia, the aircraft is known as the F-86 Avon Sabre. With a maximum speed of 1,100 kilometers per hour, the jet fighter had a range of 1,856 kilometers and a payload of up to 2,400 kilograms.
The RAAF sent the jet fighters unarmed before the Indonesian Air Force armed them with two 30-millimeter guns and deployed them to the 14th Squadron at Iswahjudi Air Force Base (AFB) in Madiun, East Java. Each jet fighter was also equipped with two AIM-9 Sidewinder missiles. The Sabres were decommissioned in 1980 as they were built between the late 1950s and early 1960s. Some of them were then used as monuments in several places, such as in Pekanbaru.
2. T-33 Shooting Star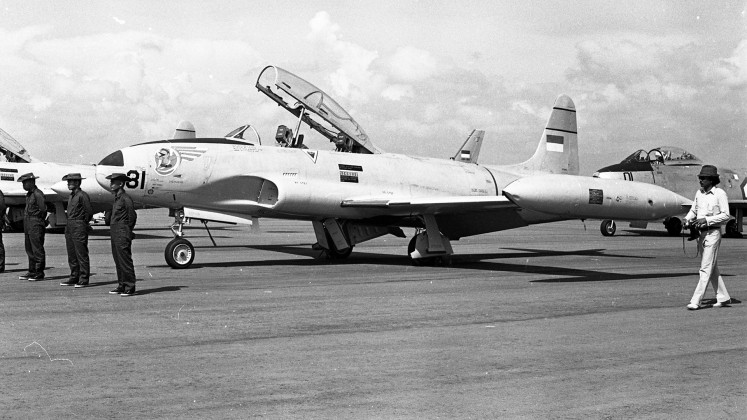 The Indonesian Air Force T-33 Shooting Star jet trainers are seen during a ceremony inducting them as interceptors under the National Air Defense Command (Kohanudnas) at the Iswahjudi Air Force Base in Madiun, East Java, in May 1974. (Kompas/Purnama Kusumaningrat)
Around the same time as the CA-27 Sabre delivery, the US donated 19 Lockheed T-33 Shooting Star advanced jet trainers to the Air Force in 1973. The donation was actually a barter as Indonesia handed over four Soviet-made MiG-21s to the US for evaluation purposes. Codenamed Operation Modern, the T-Bird, the nickname for the Shooting Star, were flown from the US Navy base in Subic Bay, the Philippines, in four batches.
The T-Birds were deployed to the 017th Training Squadron, later renamed the 103rd Training Squadron, at Iswahjudi AFB. The T-Bird had a top speed of 970 kph and a range of 2,052 km. Originally unarmed, the Air Force armed some of them by mounting a 12.7 mm machine gun on its nose and installed pylons under its wings which could carry bombs up to 50 kg. The Shooting Stars were decommissioned in 1980.
3. A-4 Skyhawk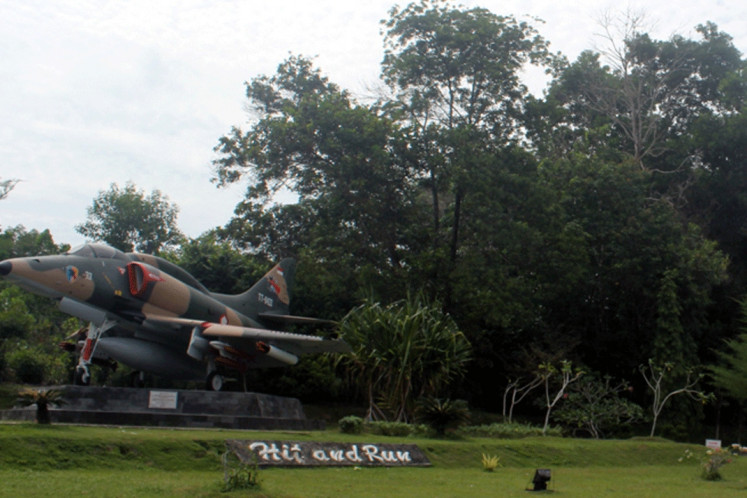 An example of an A-4E Skyhawk from the 12th Squadron now stands as a monument at its former home base, Roesmin Nurjadin Air Force Base in Pekanbaru. (
www.tni-au.mil.id/-
)
As the C-27 Sabres were nearing the end of their service, Indonesia was looking for other sources to modernize its jet fighters and made a deal with an unexpected country. Indonesia also needed supersonic jet fighters to resurrect its dormant squadrons after cutting all ties with Communist countries. Indonesia launched Operations Alpha 1 and 2 to buy a total of 32 Douglas A-4E Skyhawk attack jets and T-A4 H trainers from Israel in cloak-and-dagger fashion due to a lack of diplomatic relations. The Air Force sent its technicians to Israel in late 1979, while the pilots were sent in 1980. The official explanation was that Indonesia bought the jets from the US, which in turn bought them after being decommissioned from the Israeli Air Force (IAF) service.
The pilots, however, were sent to an IAF base codenamed "Arizona" for training, as written by one of the pilots, the late F. Djoko Poerwoko in his autobiography Fit Via Vi. Israeli Skyhawks had two distinct features, a hump on the fuselage spine behind the cockpit housing the avionics and a longer exhaust cone to reduce heat signature. Operation Alpha 1 brought 14 A-4E single seaters and two TA-4H trainers, which were used to resurrect the 11th Squadron at Iswahjudi AFB. The squadron was transferred to Hasanuddin AFB in Maros, South Sulawesi, in 1989. Another 16 aircraft were bought under Operation Alpha 2 in 1982, all single seater A-4Es.
The second batch resurrected the 12th Squadron in Iswahjudi AFB. The squadron then moved to the then-Simpangtiga AFB, now Roesmin Nurjadin AFB, in Pekanbaru in 1983. To differentiate them, those from 11th Squadron were painted in a light blue camo while those from 12th Squadron sported a green decal. With a top speed of 1,083 kph, the Skyhawk has a range of 1,867 km. Its main armaments were two 20 mm Colt Mk 12 cannons with 100 rounds per gun. The Skyhawk had four hardpoints under the wing and one pylon under the fuselage for a total payload of 3,900 kg for various types of bombs, rockets and missiles as well as drop tanks for longer flights. The Skyhawks were decommissioned in 2004 with some of them turned into monuments in several locations, such as in Pontianak.
4. SF.260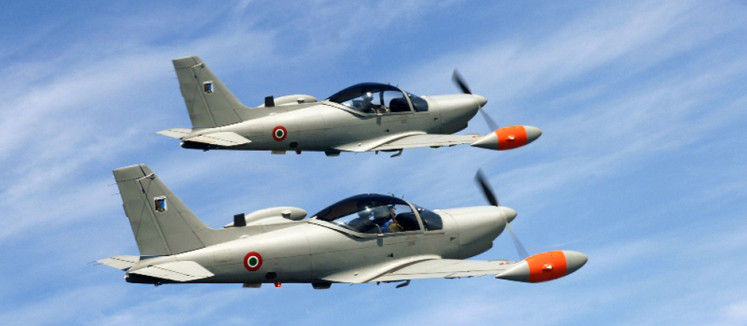 SF.260 trainer aircraft from the Italian Air Force. (leonardocompany.com/-)
The Air Force received 19 SF.260 M/W trainers from the Republic of Singapore Air Force (RSAF), consisting of SF.260M trainers and SF-260W light attack aircraft. The trainer was built by Italian aircraft maker SIAI Marchetti, which was then absorbed into the Italian defense giant Leonardo.
Believed to be tied to Indonesia allowing RSAF's jet fighters to train in Indonesian airspace, the donated trainers were deployed to the 2nd Squadron medium transport at Halim Perdanakusuma AFB in East Jakarta to maintain the squadron pilots' flying skills. The SF.260 has a side-by-side seat configuration, making it easier for instructors to correct their students, with a top speed of 333 kph and a range of 1,650 km. The SF-260W can be equipped with machine guns and carry ordnance on four hardpoints of up to 300 kg, such as bombs and rockets. Several examples of SF.260 were donated to aviation vocational high school under the auspices of the Air Force.
5. F-16 C/D Block 25 Fighting Falcon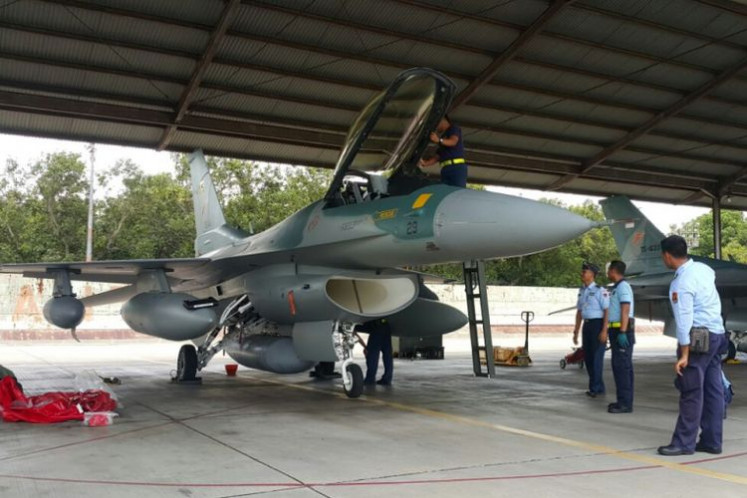 Indonesian Air Force personnel inspect an F-16 C/D Block 25 that has just arrived from the United States at Iswahjudi Air Force Base in Madiun, East Java, in December 2017. (Kompas.com/Muhlis Al Alawi)
Indonesia controversially decided in 2011 to take a grant of 24 F-16 C/D Block 25 excess defense article (EDA) jet fighters from the US instead of buying six brand new F-16 C/D Block 52, the latest model back then, using a quantity over quality approach. Buying the six new Block 52 aircraft would have cost $430 million while taking the older jet fighters cost Indonesia $750 million, from an initial budget of $650 million, for upgrade works.
The procurement, under Peace Bima Sena II project, saw Indonesia receiving 19 F-16 C single seaters and 5 F-16 D two-seaters through a Foreign Military Sales (FMS) mechanism. By opting for the used jet fighters, the Air Force managed to create the 16th Squadron at the Roesmin Nurjadin AFB in Pekanbaru.
The 16th is the second squadron operating F-16 after the 3rd Squadron at Iswahjudi AFB in Madiun, East Java. The 3rd has been operating the older F-16 A/B Block 15 Operational Capability Upgrade (OCU) since 1989 when it received 12 jet fighters under Peace Bima Sena I. Two F-16 A/Bs were lost in separate accidents.
Initially, the 16th Squadron was to receive 16 F-16 C/Ds while the remaining were to augment the 3rd Squadron. The upgrade programs for the F-16 C/Ds included the Falcon Star program, which stands for Falcon Structural Augmentation Roadmap, to strengthen its aerostructure, the Air Force said on its website. After undergoing the Falcon Star program, the F-16 C/Ds can fly for another 10,000 flying hours or roughly 10 years. Another extension of 2,000 hours can be acquired through the Service Life Extension Program (SLEP). Meanwhile, avionic upgrade included replacing the avionic system from Block 25 to be comparable with Block 52. After being upgraded, the newer F-16s are known as F-16 C/D Block 52ID to signify its capabilities nearing those of the real Block 52 ones.
The debate is centered on whether to buy all Alutsista equipment brand new for higher quality or purchase a larger number of second-hand equipment that can be deployed faster.

www.thejakartapost.com