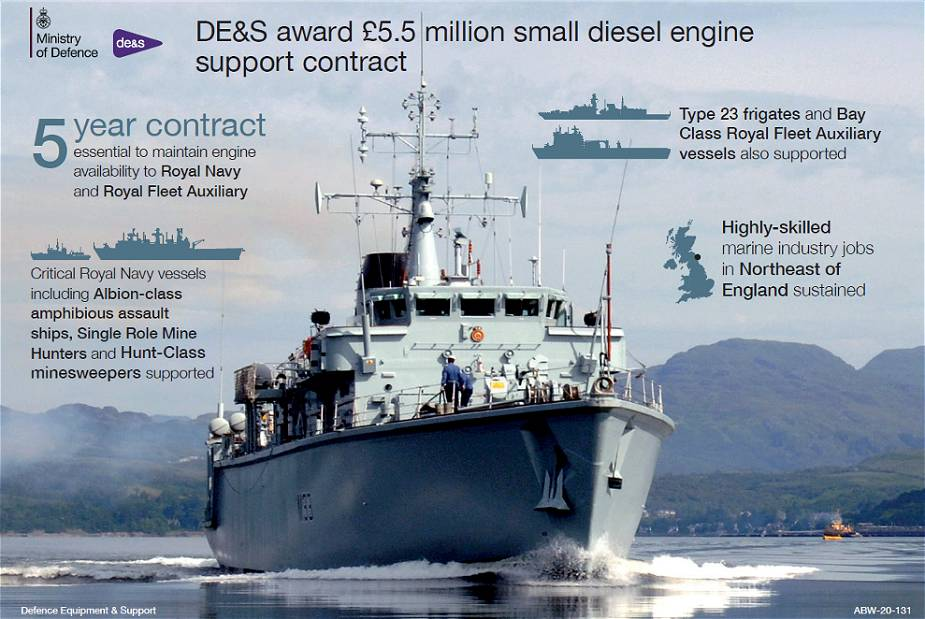 According to information released by the British Ministry of Defense (MoD) on October 2, 2020, a £5.5-million contract to provide support for small diesel engines onboard critical Britsih Royal Navy vessels, including amphibious assault ships and minehunters, has been placed by the British Ministry of Defence (MOD).
Under the terms of the contract, Royston Diesel Power in Newcastle will be responsible for providing diesel engine spares and technical support as well as repairing and refurbishing the engines where required.
Small diesel engines are fitted alongside larger engines to vessels throughout the Royal Navy and Royal Fleet Auxiliary (RFA) including Type 23 frigates, single role mine hunters, Albion-class amphibious assault ships and Bay-class RFA, and are the main engines to vessels like the Hunt-class minesweeper.
The five-year contract was negotiated by the Marine Diesel Group within Defence Equipment and Support (DE&S), the procurement arm of the MOD.
Currently, the Royal British Navy has two Albion-class landing platform dock including HMS Albion and HMS Bulwark, six Hunt-class mine countermeasures vessels, seven Sandown-class minehunters, 13 Type 23 frigate or Duke class frigates, and four dock landing ships built from the British Royal Fleet Auxiliary.
A a £5.5-million contract was signed by the British MoD to provide support for small diesel engines onboard critical British Royal Navy vessels, including amphibious assault ships and minehunters
www.navyrecognition.com