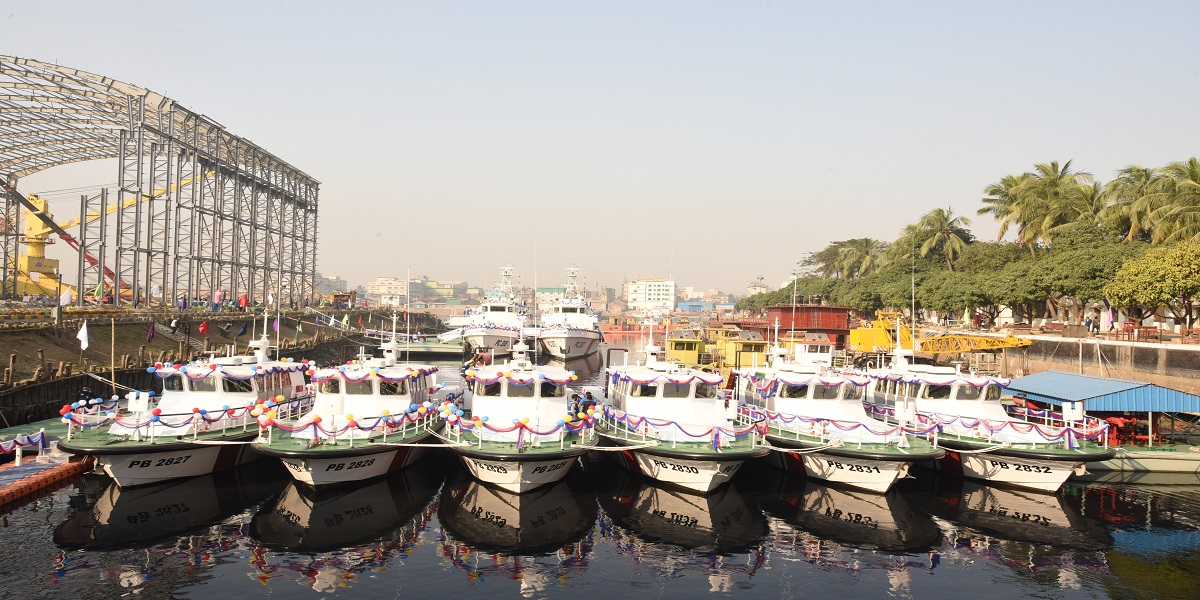 An gallant handing over ceremony was held at Dockyard and Engineering Works Ltd., Narayanganj premises on 10 January 2022 for successful completion and delivery of 01 in number Inshore Patrol Vessel (IPV) and 06 in number High Speed Boat (Large) built for Bangladesh Coast Guard. Hon'ble Director General of Bangladesh Coast Guard, Rear Admiral Ashraful Hoq Chowdhury, ndu, afwc, psc, BN graced the occasion as chief guest.
The managing director of DEW Ltd chaired the handing/taking over ceremony of 01x IPV and 6x High Speed Boat. It is certainly a remarkable achievement in national shipbuilding industry to construct and deliver such kind of international standard ship and boats. It will not only enhance our capability and enrich the skill of local manpower, but also contributes in national economics.
The principal particulars of IPV are Length- 52.80 meter, Draft- 1.95 meter, Speed- 23 knots and for High Speed Boat are Length- 18 meter, Draft- 0.94 meter, Speed- 27. The IPV and High Speed Boats will be used for Coastal patrol and policing duties, Protection of territorial waters, Anti-piracy, Anti-smuggling, Anti-drag trafficking operation and surveillance, Search and Rescue operation, Fishery protection and patrol in inland and coastal areas. The IPV has designed and built under China Classification Society (CCS) standard and High Speed Boats are under Bureau Veritas (BV) standard.
These vessels can also transport relief goods and serve other related purposes. The High Speed Boats have the propulsion system of Water Jet technology for which it can land/beach in any disaster affected area and can perform relief operation. Despite Covid-19 pandemic, this organization continued it's production by following all government imposed health protocol in order to deliver the IPV and high speed boats timely. Dockyard and Engineering Works Ltd (DEW) was established on the banks of Shitalakshya in Narayanganj by The British Government in 1922. It is one of the oldest dockyard in Bangladesh which have shipbuilding experience of more than hundred years. After the liberation war on 1971 this yard was handed over to Bangladesh Steel & Engineering Corporation (BIDC).
This yard had constructed first ever military craft BNS Pabna in Bangladesh (in 1972) with the prudent direction of father of nation Bangabandhu Sheikh Mujibur Rahman soon after the liberation war of Bangladesh. After then this yard had built more 04 in number of same patrol crafts which were known as Pabna class. Dockyard & Engineering Works Ltd., Bangladesh Navy, Narayanganj has set a milestone to construct such kind of patrol ships/crafts and water jet boats by its own management which developed self-confidence to built such patrol craft, warships and boats. Besides ship construction and repair works, this yard is doing all kind of steel engineering works, engine overhauling and heavy engineering works. The yard is committed to quality and timely completion of projects. At present DEW LTD bears an indelible impression that signifies robust building, longevity, quality and efficiency. Thus, this establishment has become Government's one of the trusted organizations for nation building works.
An gallant handing over ceremony was held at Dockyard and Engineering Works Ltd., Narayanganj premises on 10 January 2022 for successful completion and delivery of 0
www.ispr.gov.bd