The
EuroAsia Interconnector
is a HVDC interconnector between the Greek, Cypriot, and Israeli power grids via the world's longest submarine power cable (310 kilometres (190 mi) from Israel to Cyprus and 898 kilometres (558 mi) from Cyprus to Greece, for a total of 1,208 kilometres (751 mi))
HVDC is a project
for long-distance transmission have two (or rarely, more) converter stations and a transmission line interconnecting them.
The project will involve the construction
of four voltage source converters (VSC) type HVDC convertor stations, one each in Israel, Cyprus, Crete, and Attica. Each converter station will have an associated sea-electrode.
On 8 March 2021, Cyprus, Greece and Israel signed
an initial agreement to build the world's largest and deepest submarine power cable that will connect the three Mediterranean countries' power grids to be completed by 2024.
Estimated to cost €3.5bn ($3.9bn),
the first stage development of the interconnection project will have a transmission capacity of 1GW, which is planned to be increased to 2GW in the next stage.
The interconnector is expected to commence partial operations in 2022, while the full-scale operations of the phase one are expected to begin by the end of 2023.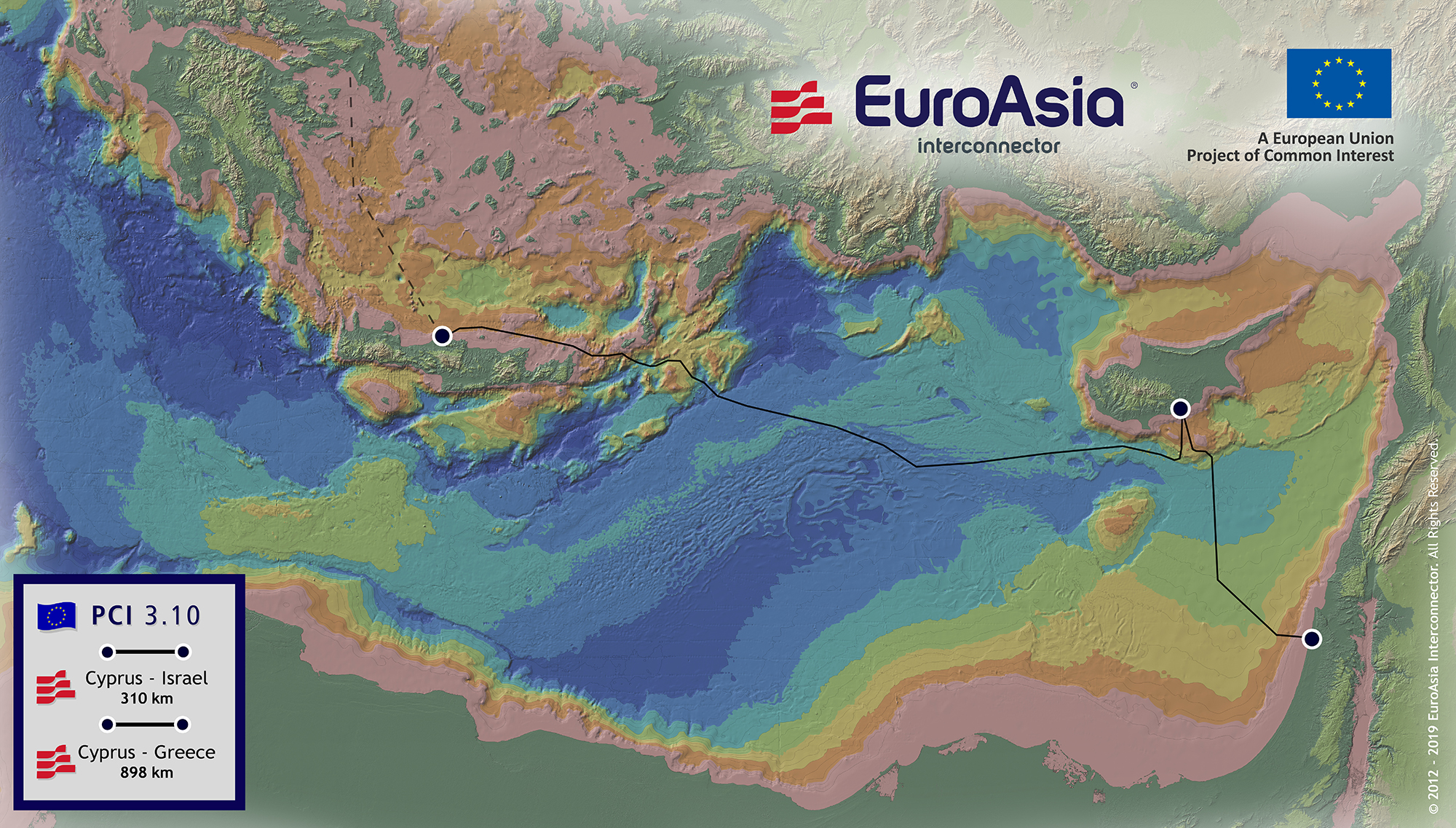 EuroAsia Interconnector is a high-voltage direct current (HVDC) subsea cable system to connect the electricity grids of Israel, Cyprus, and Greece.
www.nsenergybusiness.com
On Monday, Cyprus, Greece, and Israel signed an initial agreement to build the world's longest and deepest underwater power cable that will traverse the Mediterranean seabed at a cost of about $900 million and link their electricity grids.

www.ekathimerini.com