Montreal, Quebec-based Icarus Aerospace opens up about its Tactical Air Vehicle platform as it seeks government funding and market traction.
skiesmag.com
Like all good ideas, this one began in a bar. The participants were test pilots and flight test engineers, each with a decade or more of experience launching and certifying new airframes. Some had been there at the beginning of the C Series and other Bombardier business jet and multi-mission programs; others had test-flown de Havilland aircraft and even combat platforms. Together, they shared an acute understanding of the strengths and weaknesses of a wide range of new airframes and mission systems.
As the discussion wandered from favorite "ridiculous" requirements to ill-fated project decisions, it eventually settled on a simple question: Knowing the limitations of many airframes, could they design and build a more cost-effective, multi-purpose aircraft?
So was born Icarus Aerospace and its first aircraft, the Tactical Air Vehicle (TAV). The TAV is actually the baseline configuration for a proposed family of specialized aircraft, including a heavily militarized variant called WASP, and a high-altitude platform known as Branta. In short, a clean sheet customized to the requirements of any operator.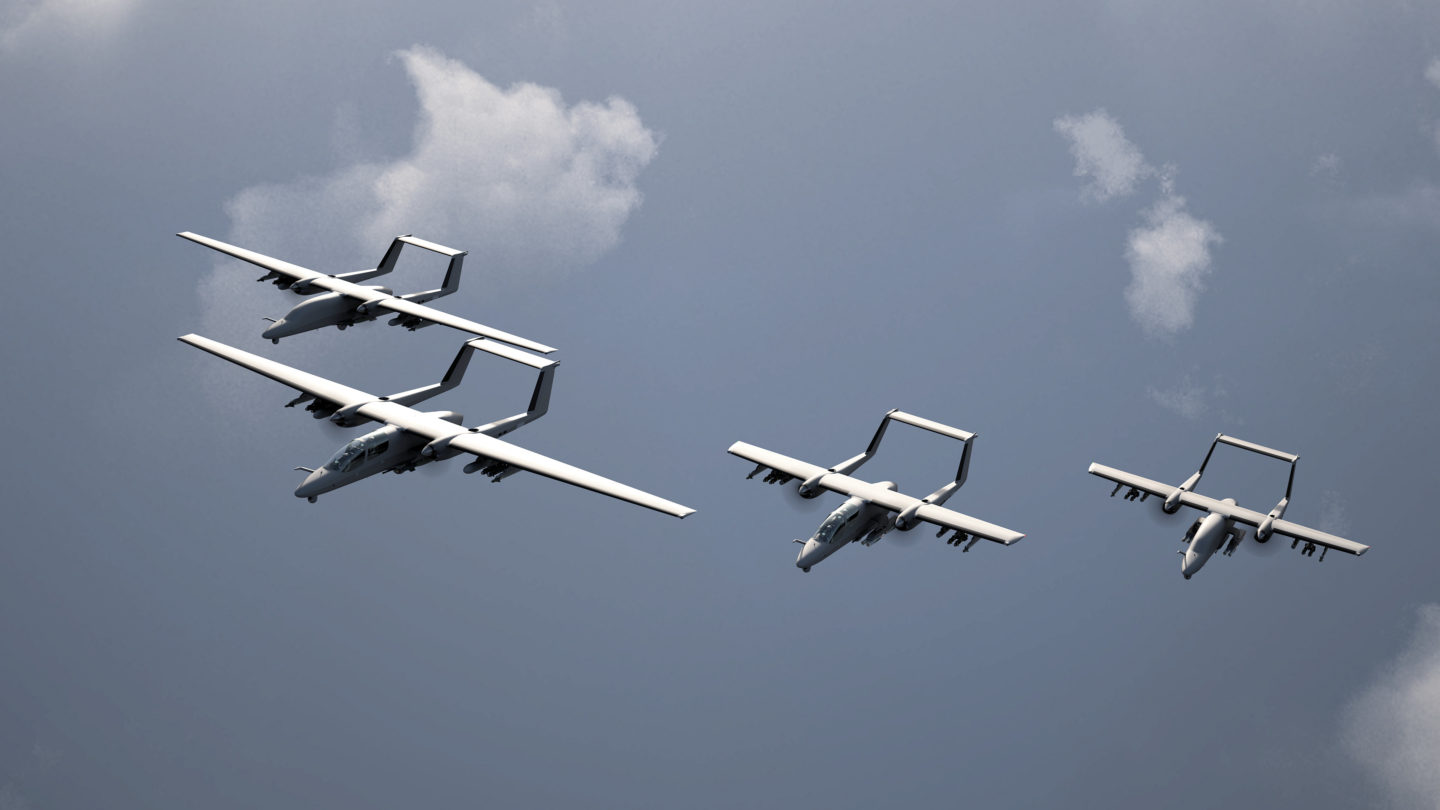 The TAV has largely remained under wraps since Icarus Aerospace was created four years ago. But after four design iterations and positive feedback from aviation analysts and several key military programs, the Montreal, Quebec-based company is opening up about the platform as it seeks government funding and market traction, explained Marko Ivankovic, senior project manager.
In its baseline configuration, the TAV offers a two-crew tandem glass cockpit with fly-by-wire flight controls and the latest avionics, sensors and data fusion. It proposes a payload capacity of 8,000 pounds, a max cruise speed of 360 knots, a range of 1,250 nautical miles (with 45 minutes reserve fuel), and unrefueled endurance of six-and-a-half hours. It also aims to be capable of 8Gs.
Whether manned, remotely piloted or fully autonomous, the TAV is being positioned to fulfill a range of missions from coastal and maritime patrol to intelligence, surveillance and reconnaissance (ISR), battlefield management, communication relay, aerial refueling, close-air support, search-and-rescue, medical evacuation and resupply, among others.
While the WASP and Branta each offer unique features – WASP can carry an array of precision and conventional weapons; the Branta has a larger, high-altitude wing span to operate up to 51,000 feet for over 30 hours at 300 knots – they share a common fuselage, powerplant, center wing, cockpit, and landing gear, and can readily accept interchangeable sensors, mission systems and mission kits.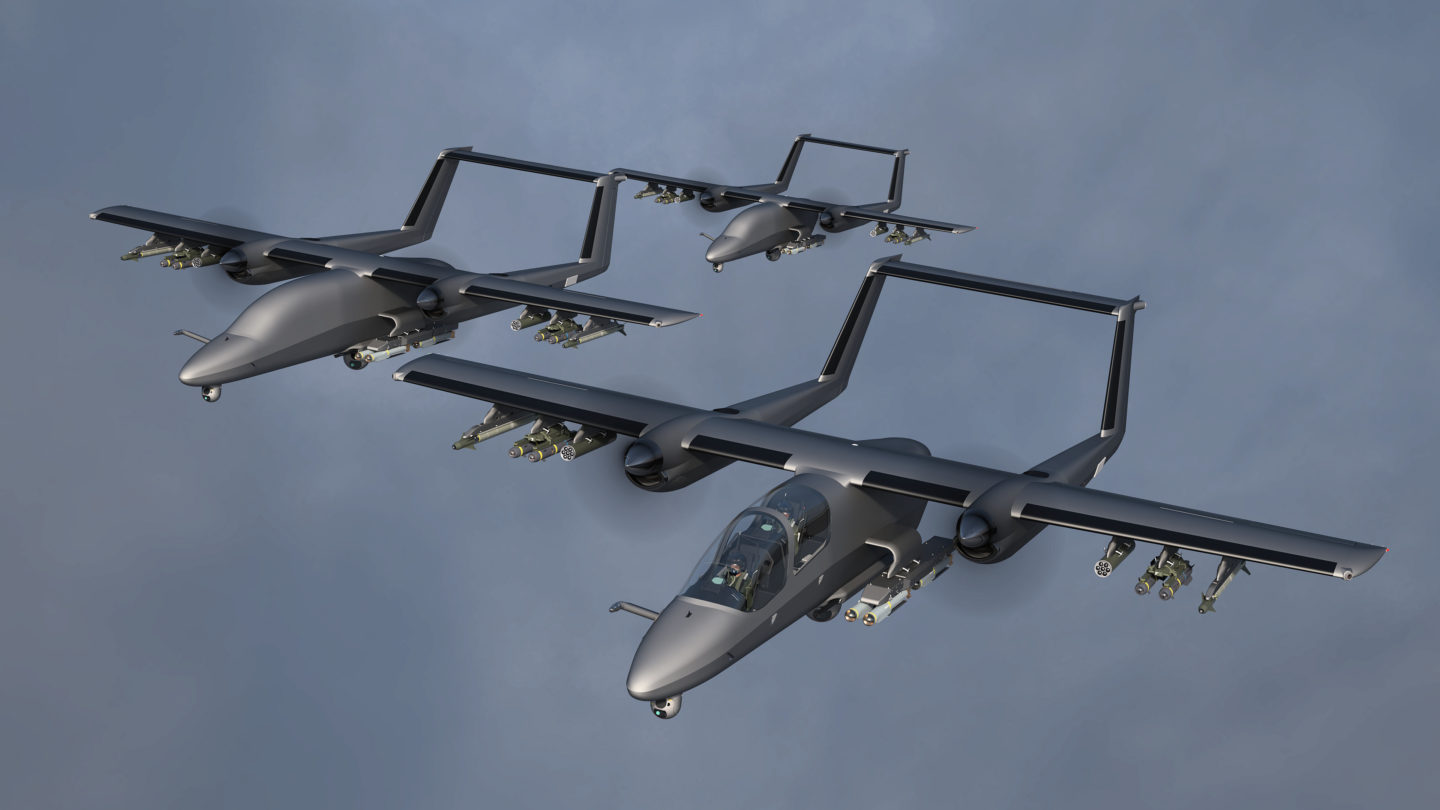 Optionally piloted and fully autonomous WASPs in a close-air support role. Icarus Aerospace Image
The marketing pitch also highlights the airframe's redundant and backup critical systems and low maintenance requirements.
In total, the TAV is a result of how test pilots and flight test engineers see an aircraft, explained Ivankovic, a flight test engineer of some 15 years with experience on four clean sheet programs. He was a focal envelop expansion and high-risk flight test engineer on the Bombardier C Series program, executing 330 of the more than 2,800 flight hours to develop and certify the aircraft. He also participated in the early Global 7500 program and was part of the first flight and envelop expansion of the Gulfstream 600.
"Flight test people see aerospace through totally different eyes than others," he said in a rapid-fire cadence reflecting his excitement about the aircraft. "We as a community see the complete picture of the aircraft, the good and the bad. We can relate it to the mission requirements, we can relate it to what really needs to be improved."
The Icarus Aerospace team consists of 11 members at present. Most have opted to remain silent partners for the moment. But collectively, they have almost 350 years of experience in prime aerospace programs.
"A lot of us participated in evaluations for different defense aircraft. We understand the deficiencies of those airplanes and their limitations with respect to the operational world. We understand what people are going to hate in cockpits, what operators are going to hate on the ground. We were able to collect numerous evaluation reports through the flight test community of various platforms and basically turn that around, turn those limitations and deficiencies into requirements for design."
The aim is an airframe that can be tailored to customer operational needs for a relatively modest acquisition price and a cost per flight hour under $3,000.
(More at link)