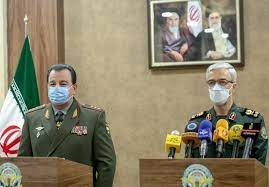 Defense Ministers Mohammad Baqeri of Iran and Sherali Mirzo of Tajikistan, Tehran, April 2021 (Source: parstoday.com)
Major General Mohammad Baqeri, the chief of staff of the Iranian Armed Forces, and Colonel General Sherali Mirzo, the defense minister of Tajikistan, met last week (April 6 and 8) in Tehran, where they
inter alia
signed an agreement on creating a joint military defense committee (
IRNA
, April 8;
Regnum
, April 9). The two sides said that the new body will promote security cooperation and help them counter terrorism; but exactly how it will work remains unclear. Nonetheless, because this accord is with the only non-Turkic country in Central Asia and because it involves Iran more deeply in an area Russia considers its own backyard, its existence obviously represents a challenge to Ankara as well as Moscow. At the same time, it may lead to expanded contacts between Iran and China, while also providing Tajikistan, increasingly caught within a Chinese net, greater freedom of action.
Both Iran and Tajikistan have compelling reasons to cooperate more closely in the security sphere. Since the Moscow declaration on the Karabakh war last November, Tehran has sought to take steps to counter growing Turkish influence both in the Caucasus and in Central Asia. The Russian-brokered accord (signed by the leaders of Russia, Azerbaijan and Armenia, on November 9, 2020) already gives Iran a seat at the table for future discussions in the South Caucasus by specifying that among the transportation routes to be reopened will be those between Armenia and Iran (see
EDM
, April 13). But in Central Asia, Turkey has been moving quickly to mobilize the four Turkic-majority countries there. Ankara has promoted cooperation among them and even ended some long-standing conflicts (
Stan Radar
, January 22, 2021), and it has expanded its influence across the region (
Nezavisimaya Gazeta
, November 29, 2020). Not surprisingly, the Islamic Republic is trying to come up with ways to respond. Linking itself with non-Turkic Tajikistan is an obvious place for it to start.
Iran also has an interest in promoting ties with China, and expanding its own footprint in Tajikistan is one of the ways to do that. Last month, Tehran and Beijing signed a 25-year cooperation agreement that will allow Iran to escape some Western sanctions and China to promote another trade route west as part of its Belt and Road Initiative (BRI; originally "One Belt, One Road") (
Kaspiyskiy Vestnik
, April 1). And Iran also wants to play an expanded role in Afghanistan. Thus, enhancing cooperation with Tajikistan, which abuts that war-torn country from the north, is a potentially useful step—and something explicitly mentioned in the joint Iranian-Tajikistani announcement of the joint military committee.
Major General Mohammad Baqeri, the chief of staff of the Iranian Armed Forces, and Colonel General Sherali Mirzo, the defense minister of Tajikistan, met last week (April 6 and 8) in Tehran, where they inter alia signed an agreement on creating a joint military defense committee (IRNA, April 8...

jamestown.org