Iraqis suffer as US-Iran shadow war shifts gear​
By Quentin Sommerville
BBC News, Baghdad
Published
10 hours ago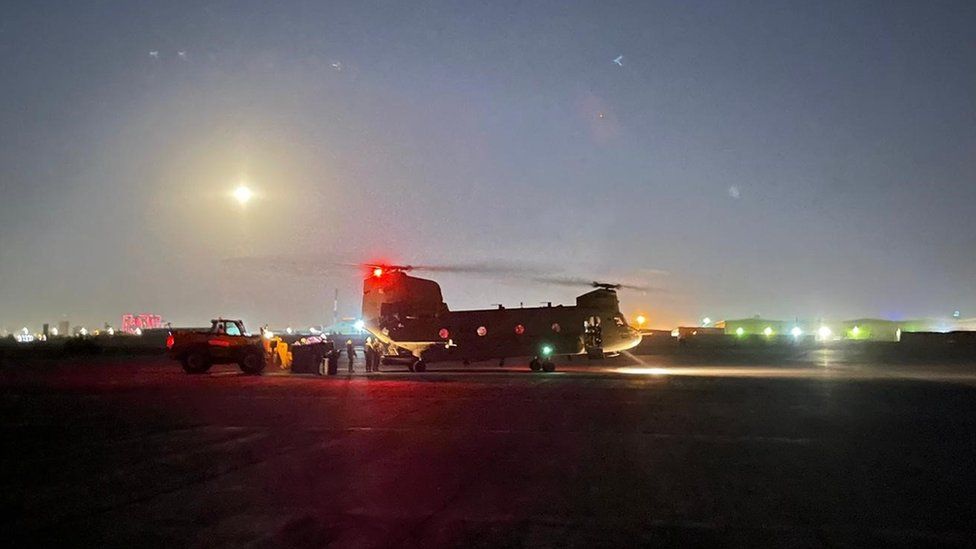 Iran-backed militias in Iraq are suspected of carrying out a recent drone strike on Irbil airbase
The drone, packed with explosives, used the civilian flight path into Irbil airport to disguise its intent. It crashed into a CIA warehouse on the American airbase beside the civilian airport in April.
US forces described feeling the shockwave across the base, which now has the biggest concentration of US and British forces in Iraq. The warehouse was left in ruins, but no-one was hurt.
"They knew what they were hitting, but they didn't know what was inside," said one US commander.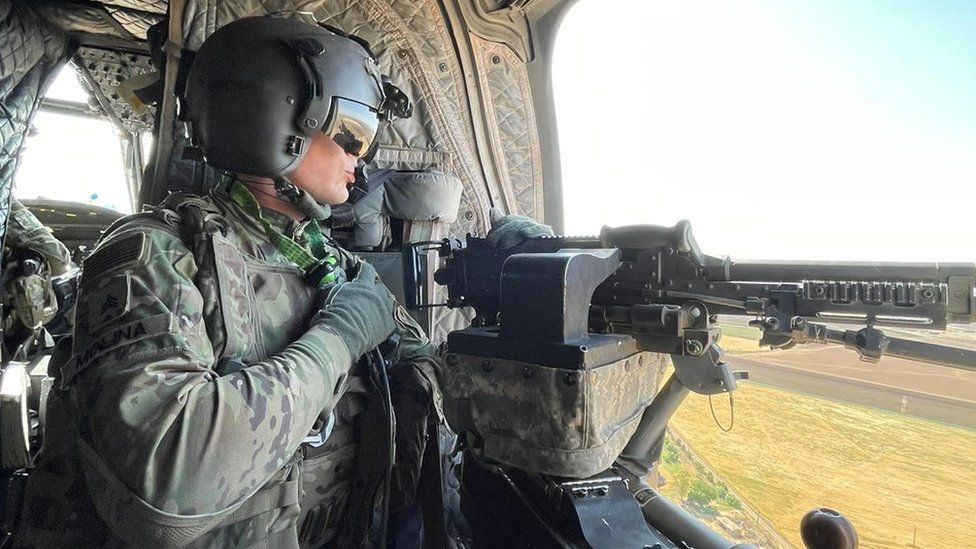 US-led coalition forces are in Iraq and Syria to ensure the enduring defeat of IS
For the last year and a half there have been some 300 attacks on US interests in Iraq, mostly rockets, as well as improvised explosive devices targeting supply convoys.
"This is a game changer," the commander said. The drone was Iranian made, military grade, and a greater threat because of its precision. Drones are also fiendishly difficult to stop. Iran denies involvement in the attacks.
Militia threat​
Since the US assassinated the top Iranian general Qasem Soleimani and Abu Mahdi al-Muhandis, the leader of the Iranian-backed Iraqi militia Kataib Hezbollah, in a drone strike in Baghdad in January 2020, the shadow war between the US and Iran on Iraqi soil has shifted gear.
US forces, currently a brigade from the Louisiana National Guard, are stationed at the base in Irbil, which is in the northern Kurdistan Region. They are part of the international coalition, which includes British troops too, supporting Iraqi and Syrian Kurdish forces in the last stages of the fight against the Islamic State group. But they do not engage IS in combat operations - the biggest threat they face is from Iranian-backed groups.
There are only 2,500 US service members on the ground in Iraq and north-eastern Syria now, a figure set by former President Donald Trump, and unchanged by his successor Joe Biden. In a non-binding resolution passed after Soleimani and Muhandis were killed, the Iraqi parliament called on foreign forces to leave.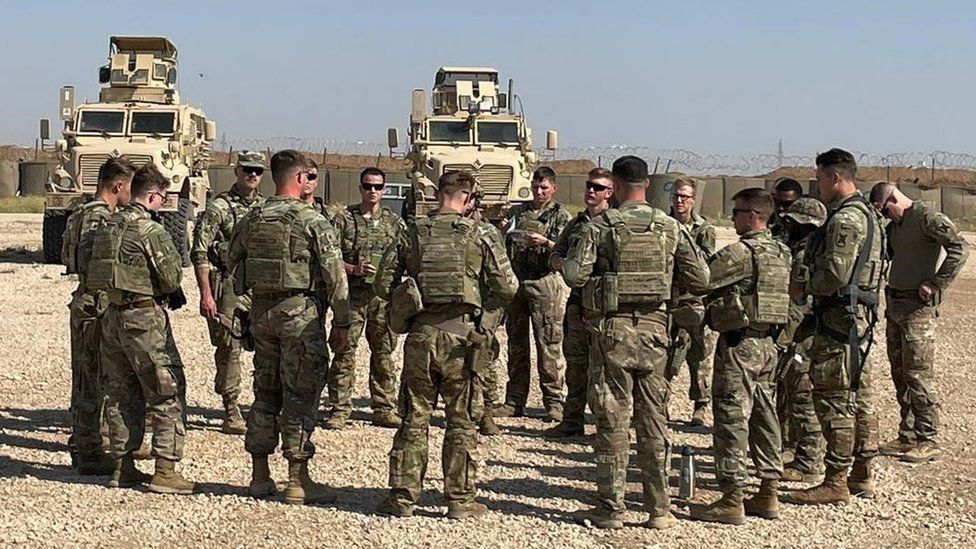 Louisiana National Guard troops have been deployed to north-eastern Syria
The figure does not account though for special operations forces. Ride a Chinook from Irbil airbase and it will be as crowded with bearded special forces personnel as with regular troops.
'Significant escalation'​
A month after the Irbil attack, a second Iranian-made drone was intercepted as it targeted the Al Asad airbase in Iraq's western Anbar province.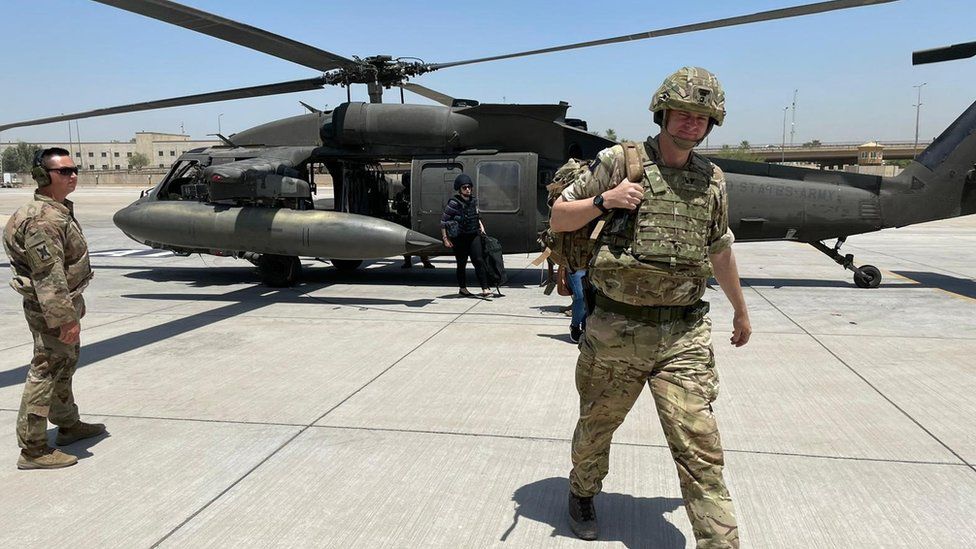 Brigadier Richard Bell says the US-led coalition retains the right to self-defence
Brigadier Richard Bell, the British deputy commander of the US-led coalition's campaign against IS, known as Operation Inherent Resolve, described the drone attacks as a "significant escalation".
"We are taking them very seriously as a coalition. We have significant defensive capabilities, which I'm not going to go into," he said. "However, what I would say is that we retain the inherent right to self-defence, as any individual organisation does".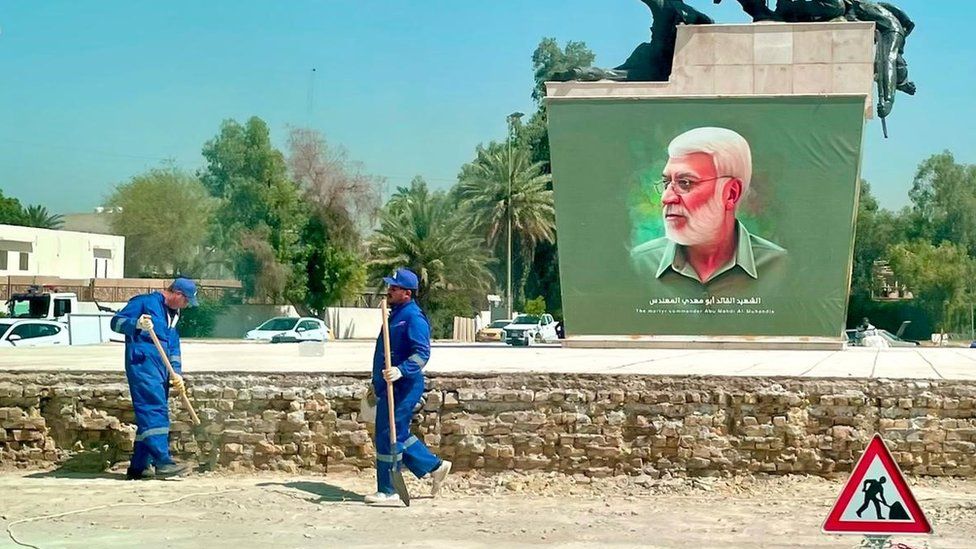 Abu Mahdi al-Muhandis was killed alongside Iranian general Qasem Soleimani in a US drone strike
While the US has not yet responded to the attacks - it is currently focused on nuclear negotiations with Iran and is also concerned that a response would empower hardliners standing in the Iranian presidential election next week - the British commander commented on Iranian-backed militias.
"It was Prime Minister Kadhimi, the Iraqi prime minister, who describes them as outlaw militia groups. And I think that's a very fair way to describe them," Brigadier Bell said. "They are a challenge for us, but what I would say is they're more of a distraction. The key mission is to help the people of Iraq and Syria maintain that enduring defeat of [IS]."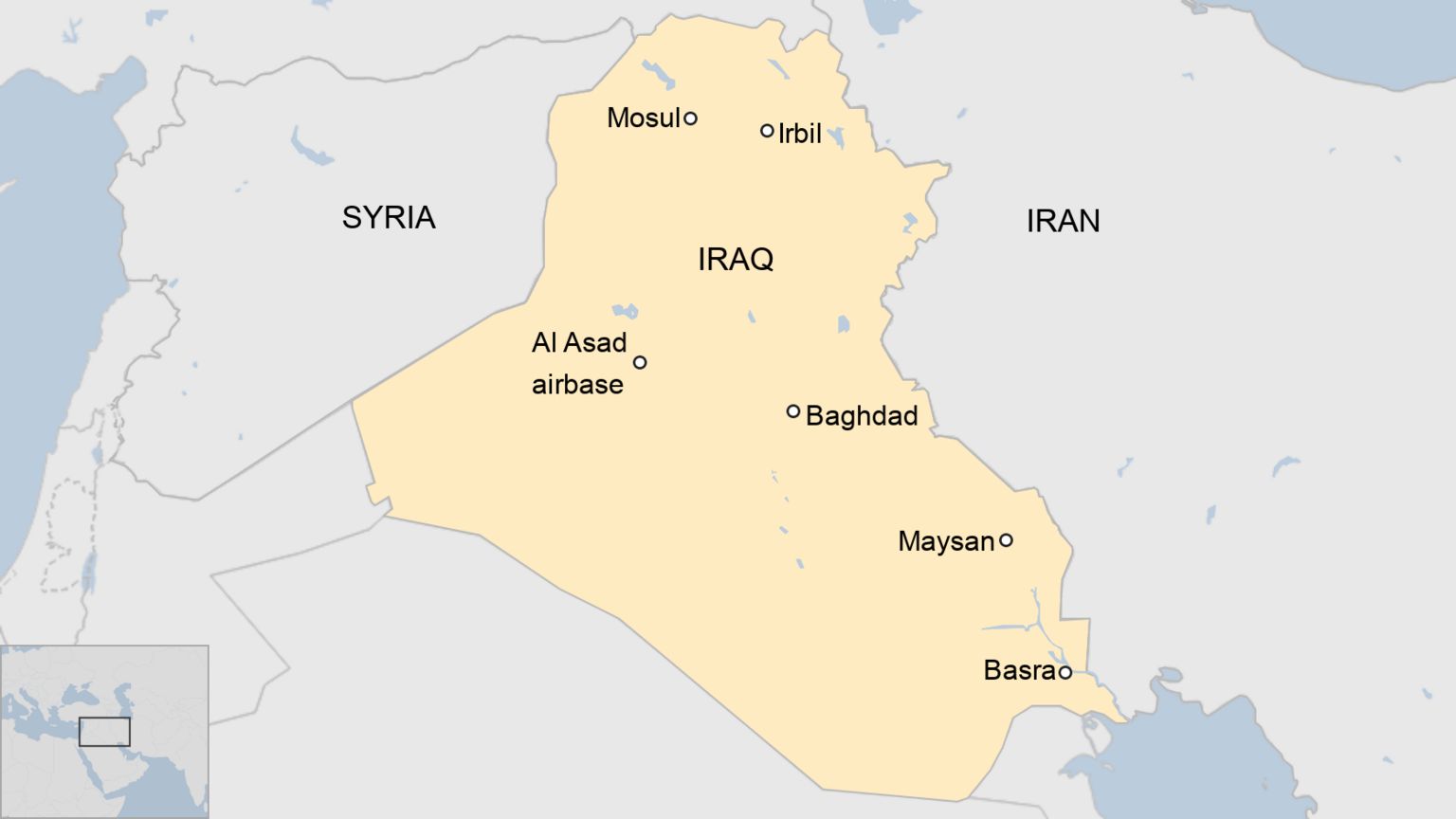 But to the people of Iraq, the militias are more than just a distraction; they are a deadly threat.
They were folded into the Iraqi security forces, as the Popular Mobilisation Forces, after they helped defeat IS in 2017. But they are blamed for extra judicial killings, criminal activities, and are accused of killing protesters who took to the streets in October 2019, demanding, among other things, a new government and an end to foreign interference in their country.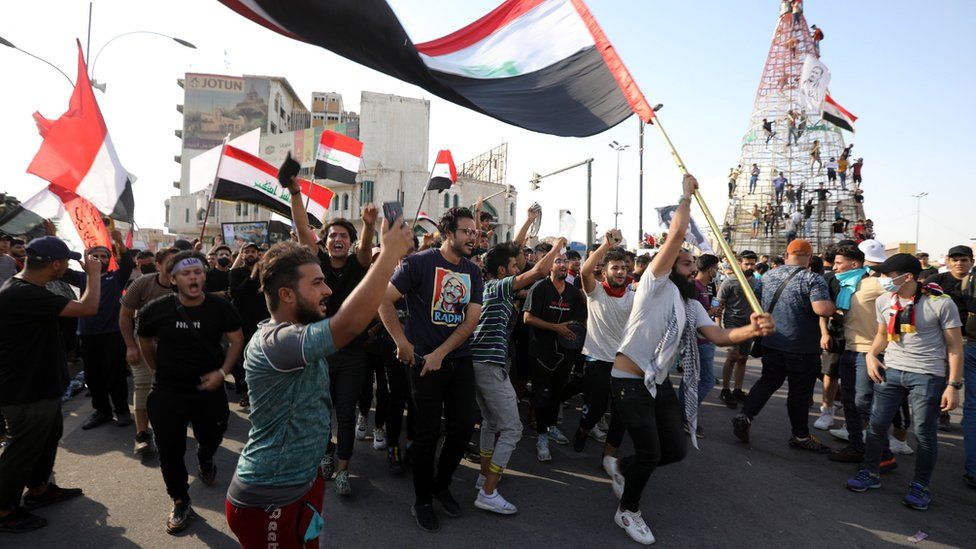 image copyrightEPA
Anti-government protesters want justice for the hundreds of people killed since 2019
More than 500 people have been killed while protesting, and at least 34 activists and journalists have been assassinated.
Last month, the young again once took to the streets, this time demanding to know, "Who killed me?". At least two more were killed in clashes with riot police in Baghdad.
'Weapons in every street'​
Ali Kadhim Mohammed is a quiet man. Dressed in black, he has a small golden broach on his shirt. It is a picture of his brother Amjed, an activist who was shot dead in Maysan, south of Baghdad. Ali has little faith in the government's official investigation into the killings of protesters.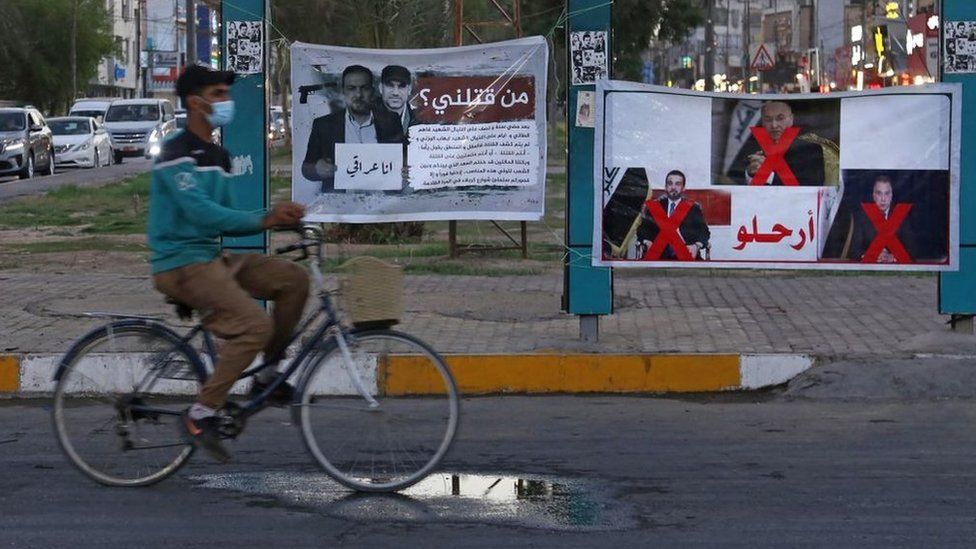 image copyrightAFP
A banner in Karbala shows assassinated activist Ehab al-Wazni with a sign saying: "Who killed me?"
"It's more of a theatrical investigation rather than a serious one, and I can say that judges are under pressure so not to investigate properly," he said.
"[My brother's] investigation stopped and the case was logged as "unknown perpetrator". Although the location where Amjad was assassinated is a government zone equipped with surveillance cameras, they still didn't get anywhere."
He blames the disintegration of the Iraqi state for his brother's death.
"[It's] the decay of the government which lead to the spread of weapons in every street in every square. Even in governmental departments you would find armed men".
image copyrightReuters
Iran-backed militias in the Popular Mobilisation Forces have been incorporated into Iraq's security forces
Parliamentary elections are scheduled for October this year, but the protesters are already calling for a boycott. They have lost faith in the government's ability to keep them safe or deliver change.
Musa Rahmatallah has twice escaped attempts on his life and had to flee Iraq for a while. He has been involved in the protest movement since its start.
"We hoped for a democratic, transparent and professional elections, but it won't happen this way and the political class will only reproduce itself through theatrically organising it and having the people take part in it," he said.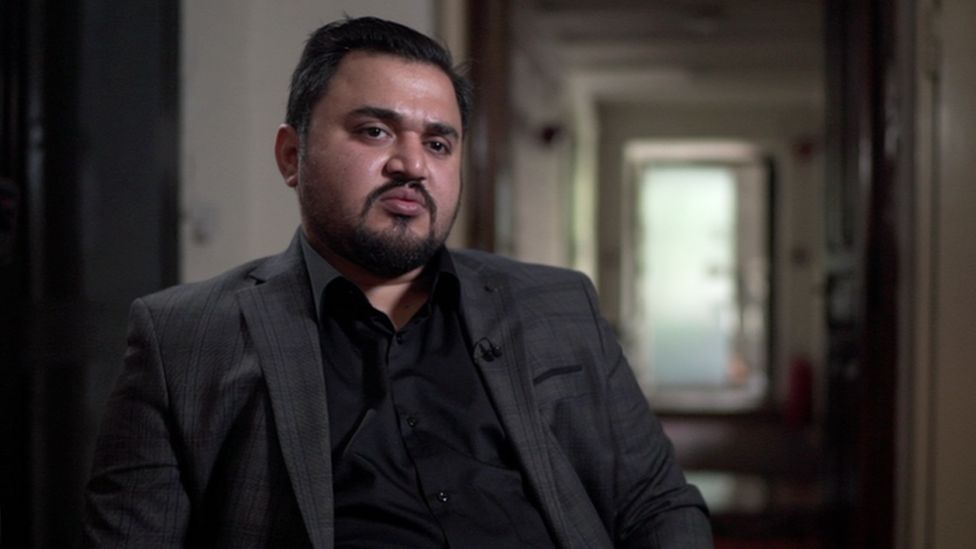 Musa Rahmatallah says there is "a dictator around every corner" in Iraq
And he worries for Iraq's future.
"Saddam [Hussein] was one dictator, but now you have a dictator around every corner and all are totalitarian who want people to live according to their standards. One wants religious lifestyle, the other following an ideology, and a third one wants a conservative primitive lifestyle. So one has to either follow willingly or at gunpoint".
Iraq has gone from dictatorship to invasion, occupation, and then endured threats from al-Qaeda and IS. As before, the biggest casualties in today's shadow war remain the Iraqi people.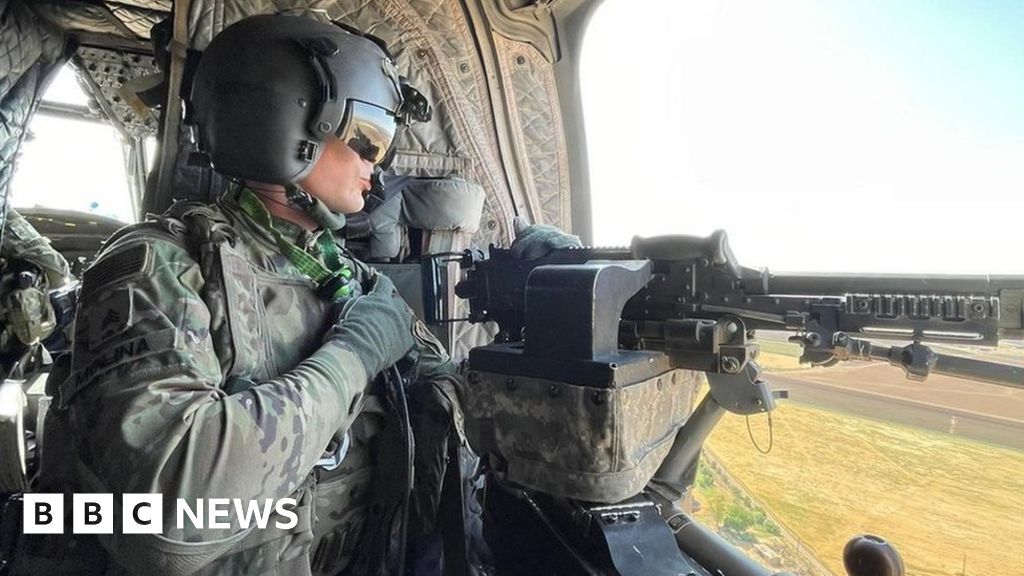 Iran-backed militias suspected of attacking US-led forces in Iraq pose a deadly threat to civilians.