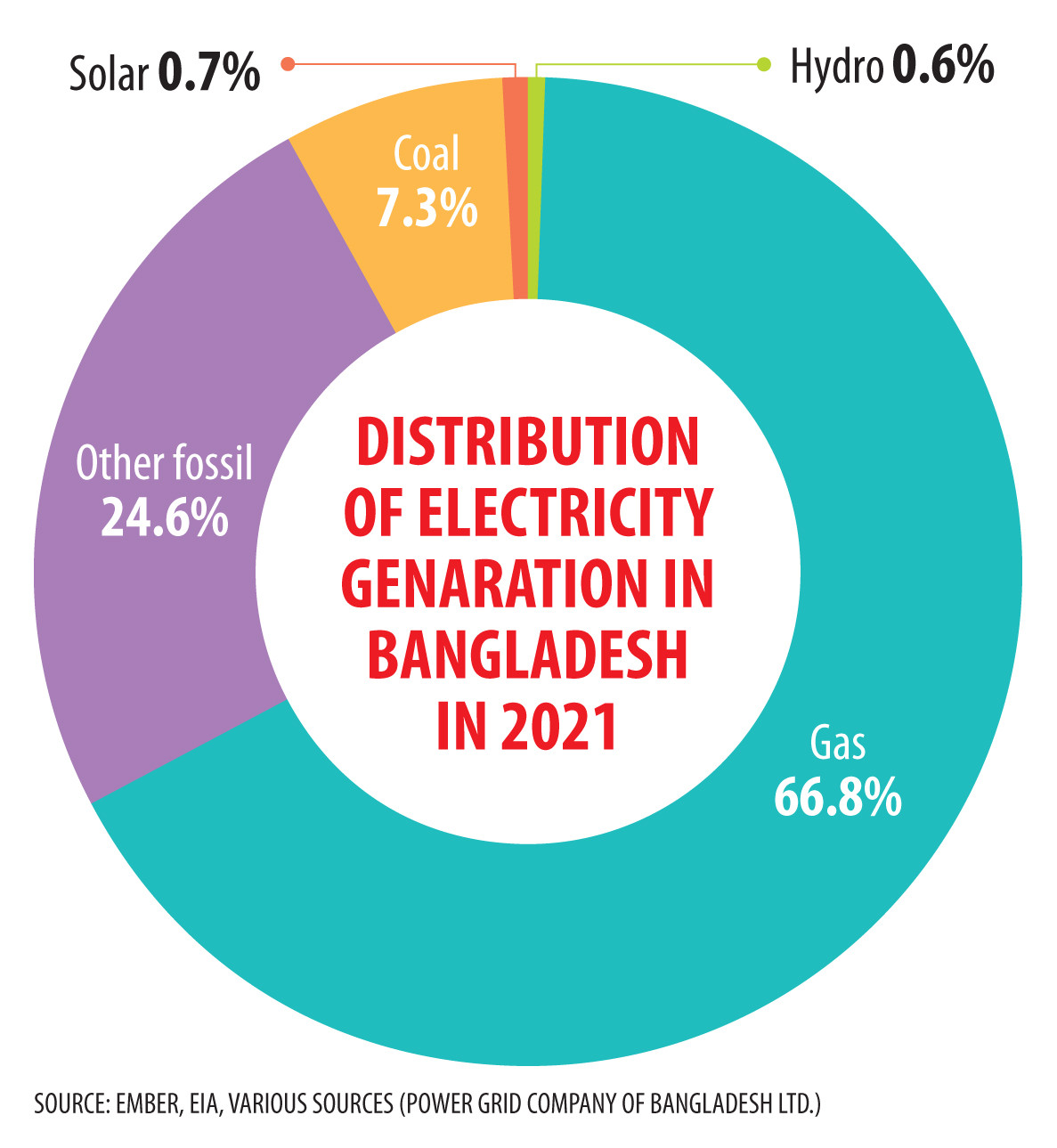 The war between Russia and Ukraine has disrupted global supply chains for gas, which has left countries scrambling for other sources to meet their energy needs.
Despite environmental regulations, coal has emerged as a short-term alternative, with global coal consumption increasing by over 5% in 2021 and hitting its highest level since 2018.
According to the BPStatistical Review of World Enert 2022, current global coal production is at 167.6 exajoule – an 8.9 exajoule increase from previous years.
For reference, it takes the equivalent of roughly 34 million tons of coal to produce 1 exajoule of energy.
Global consumption in 2021 was 160 exajoules, a 9% increase from 151 exajoules in 2020.
China, Indonesia, India, Australia, United States and Russia respectively comprise the top seven major coal producing nations with Beijing responsible for slightly over 50% of all global coal production alone.
Bangladesh barely produced 1 million metric tons of hard coal.
China, India, the United States, Japan, South Africa and Russia lead global coal consumption, respectively. In 2021, China consumed 86 exajoules of coal, ahead of India's 20 exajoules and the US's 10.6.
In terms of the countries with the most proven coal reserves in 2022, the US takes first place with 248,941 million metric short tons (MMst), followed by China (135,475 MMst) and India (135,475 MMst).
In contrast, Bangladesh holds around 322 MMst of proven coal reserves which ranks 48th in the world.
Bangladesh's coal consumption in 2021 was 0.14 exajoules, which amounts to only 0.1% of global consumption. Nationally, coal consumption is responsible for only 7.3% of electricity generation in the country.
Given the fact that world coal consumption is on the rise and that Bangladesh faces acute energy insecurity, the question can be raised as to whether the time has come for Bangladesh to reconsider exploiting its own coal reserves more fully.
Coal scenario in Bangladesh​
Right now, Bangladesh is producing 2,700 to 3,000 tons of coal from the Barapukuria coal mine of Dinajpur, following an underground mining process.
When contacted, Nazmul Ahsan, chairman of the Bangladesh Oil, Gas and Mineral Corporation, better known as Petrobangla, told Dhaka Tribune on Wednesday that the country has 7,800 million tons of coal in five coal fields.
Besides Barapukuria, this coal is stored in Dighipara, Phulbari, Jamalganj, and Khalashpir coal fields, according to our studies.
"Gradually the amount of coal in Barapukuria is decreasing. The existing amount in the Barapukuria coal mine will be finished within roughly the next six years," the Petrobangla chairman added.
When asked about exploring a new coal mine, he said: "It depends on the government high-up decisions, as there are some controversies on coal mining in terms of environmental issues"
Power Ministry position​
When contacted, Nasrul Hamid Bipu, the state minister to the Ministry of Power, Energy and Mineral Resources, told Dhaka Tribune on Wednesday: "We are trying to use our domestic coal as much as we can, but there are environmental issues. That's why coal exploration is off now, but I think it will be feasible to explore coal after addressing the environmental issues."
He explained: "In the coal field area, there are farming lands, presence of huge inside water; we have to manage this first so that the coal mining does not jeopardize the locality's environment. Then we can think about coal mining. At present we do not have guidelines for this process also. All of a sudden we cannot start coal mining. Before taking decisions we have to address the environmental impact properly. It would not be wise to start coal mining without addressing the side effects."
The state minister said: "If we are able to explore coal from our domestic resources it will save our foreign currency. Right now we are importing coal using foreign currency and besides our domestic coal quality is better than what we are importing now.
"We have made a plan, now the government has to decide whether it is feasible or not. If we can start exploring now, it will take at least four to five years to start mining from a coal field. We are thinking about how to expand coal mining in Bangladesh. Hopefully, we will make a decision regarding this by this year."
Environmental concerns remain, but with the rest of the world increasing its consumption, coal could be part of the long-term answer for Bangladesh
www.dhakatribune.com