Experienced member
Staff member
Administrator
Joined

Aug 23, 2020
Messages

2,069
Reaction score

4,861
Points

113
Nation of residence
Nation of origin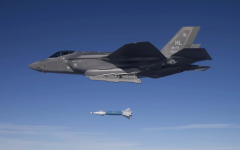 In March 2020, then-Japanese defense minister Taro Kono said the country's next fighter plane must carry more air-to-air missiles than the current Lockheed Martin F-35 stealth fighter can do.
"We will emphasize network functions and demand high stealth performance, Kono
told
reporters. "It will carry more missiles than the F-35."
The requirement should come as no surprise. The F-35's comparatively small weapons capacity while in stealth mode is one of its operators' biggest complaints. The conventional-takeoff F-35A in its current configuration can carry just four AIM-120 air-to-air missiles in its internal bays.
External weapons are a major booster of a plane's radar signature. To remain stealthy, a radar-evading fighter must carry its munitions internally. But that can impose limits on a plane's loadout that can put it at a disadvantage in a pitched fight where every missile counts.
Older, non-stealthy Russian and Chinese fighters in certain configurations can carry a dozen or more air-to-air missiles. Russia's
Su-57 stealth fighter
and China's
J-20 stealth fighter
apparently can pack six missiles in their internal bays. The U.S. Air Force's F-22, also a Lockheed product, can fit eight missiles in its bays.
The superior missile capacity of a conventional fighter design weighed on the U.S. Air Force's decision to begin buying upgraded
Boeing F-15EXs
in parallel with ongoing purchases of F-35s. The Air Force in 2020 is acquiring the first eight of up to 144 F-15EX. The service already operates around 200 F-35As and has been buying additional copies at a rate of around 50 per year. An F-15EX and an F-35A both cost around $100 million.
Where the F-35 maxes out at just four air-to-air missiles, the F-15EX could, in a pinch, haul a whopping 22 missiles,
according to
Boeing test pilot Matt Geise.
Twenty-two missiles would impose a weight and drag penalty that makes such a loadout unattractive for normal operations. But even with a much smaller missile load, an F-15EX easily could carry into battle twice or three times as many missiles as an F-35 can do.
If Japan wants its
new F-3 fighter
to carry more missiles, it will need to develop a stealth fighter with a layout similar to the F-22 or acquire a non-stealthy plane in a similar class as the F-15EX.
Not coincidentally, Lockheed has proposed to co-develop with Japanese industry an F-3 design that combines the airframe of the F-22 stealth fighter with the F-35's sensors and electronics. But it's worth noting that Japan already operates around 200 older F-15Js.
The requirement should come as no surprise.
nationalinterest.org