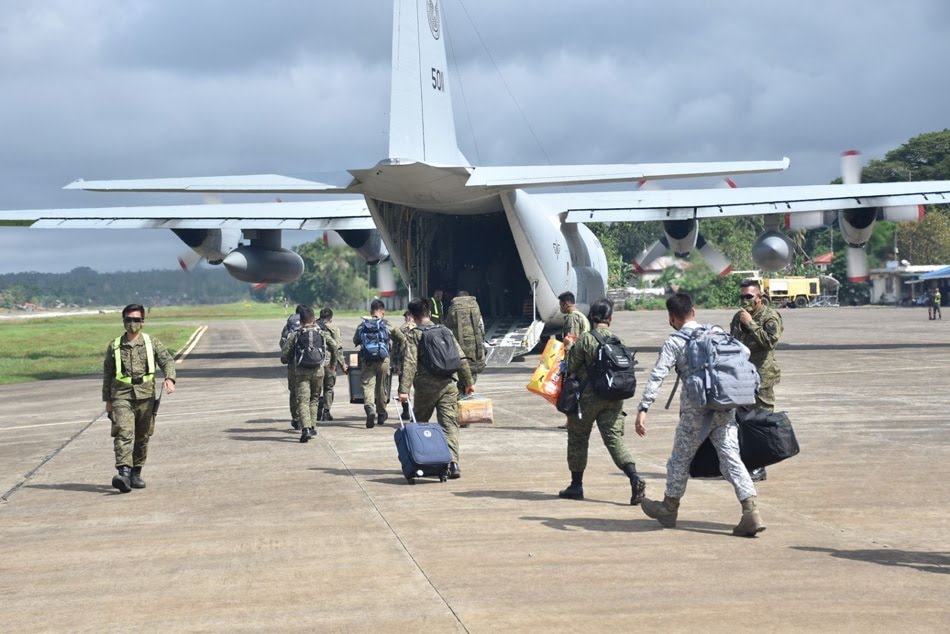 Philippine military personnel walk toward the Philippine Air Force's sole active C-130 Hercules aircraft for a ride to Manila. The plane earlier landed at Jolo Airport, marking the military's first C-130 flight since another such plane crashed in July, killing 53 people. December 11, 2021. Courtesy: AFP Westmincom.
MANILA— The Armed Forces of the Philippines marked on Saturday its first flight of a C-130 since the fatal crash of another cargo plane in Sulu last July.
Western Mindanao Command head Lt. Gen. Alfredo Rosario Jr. said the Philippine Air Force's sole active C-130 Hercules plane landed at the Jolo Airport earlier that day to transport 65 military personnel to Manila for their yuletide breaks. Three dependents and two civilians were also on board.
"By sending them home safely to spend the holiday season with their families, we are able to boost their morale. We are also able to help them financially by providing them with free transportation," Rosario said.
Joint Task Force Sulu Commander Maj. Gen. William Gonzales, meanwhile, called the C-130's successful landing a sign that the AFP was ready to move forward from the July crash.
"We hope that this momentous event will totally heal us from the trauma we had due to the accident last July 4," he said.
The C-130 crash on July 4, 2021 killed at least 50 soldiers and three civilians, making it the deadliest aviation accident in Philippine military history. The military believes it was caused by material, human, and environmental factors.
The crash prompted the grounding of the country's remaining C-130 planes. Aside from the C-130 that landed in Jolo, Saturday, the PAF has two of the planes undergoing maintenance.
At the time of the incident, the plane was transporting military personnel for deployment in Sulu. The aircraft was bought from the United States in early 2021.
Before that, the C-130 had been used by the US for 33 years. However, officials said the plane was in good condition with 11,000 flying hours left.