​
During her flight career, she flew around 8,000 hours and participated in 32 different military operations. She was the
world's first female fighter pilot
, aged 23.
Sabiha Gökçen's Life​
Turkey's first female pilot (B. March 22, 1913, Bursa, Turkey - D. March 22, 2001, Ankara). One of Atatürk's adopted daughters and Turkey's first female pilot and first female combat pilot in the world, Sabiha Gökçen was born in Bursa. His father, who was a head of provincial treasury in Edirne, had been expelled to Bursa on the grounds that he was a Young Turk. She lost her parents, Bursa province's head clerk Mr. Mustafa İzzet and her mother Hayriye Hanım when she was very young.
In 1925, she met Ataturk during his visit to Bursa. Atatürk adopted Sabiha who was living under difficult circumstances, with the permission of his brother. Sabiha respectively studied at Çankaya Primary School, Arnavutköy American College and Üsküdar Amerikan Kız College. When she got sick, she was treated in Heybeliada in İstanbul and Vienna. She learned French in Paris. In 1934, she was given the surname Gökçen by Atatürk.

Admiring the demonstrations of gliders of Turkish Air Force, she decided to register the Türk Kuşu Civil Aviation School with the support of Atatürk in 1935. She received the Professional Glider certificate in Ankara. She was sent to Crimean together with seven male students and graduated from Koktebel High Gliding Academy there. By insist of Atatürk, she took a special flight training in Eskişehir Aviation School by Sami Uçan and Muhittin Bey. She flew an engine plane for the first time in February 25, 1936. She became a military pilot following her education, between the years of 1936-37, in Eskişehir Aviation School. At first, she served in the 1st Airship Regiment. Then, she took part in the Thrace and Aegean maneuvers and in Dersim (Tunceli) Operation in 1937. (The operation was at parliament's agenda in 2012 and it was affirmed that an alleged massacre constituted a genocide in Dersim.)
That same year, she was deemed worthy of Murassa (Pride) Medal and a certificate of military flight by the Turkish Aeronautical Association in 30 August 1937. In 1937, due to the Hatay issue, she wore her uniform upon the order of Atatürk. She became popular world-wide after she flew around the Balkan countries for five days in 1938. She completed this tour all by herself without taking a mechanist on the plane, with the request of Atatürk. After flying with a Vultee type plane, she went to Athens, Sofia and Belgrade respectively. She was awarded by the Chief of Yugoslavia's General Staff with "White Eagle", the country's highest military decoration. Sabiha Gökçen left the army following the death of her godfather, Atatürk.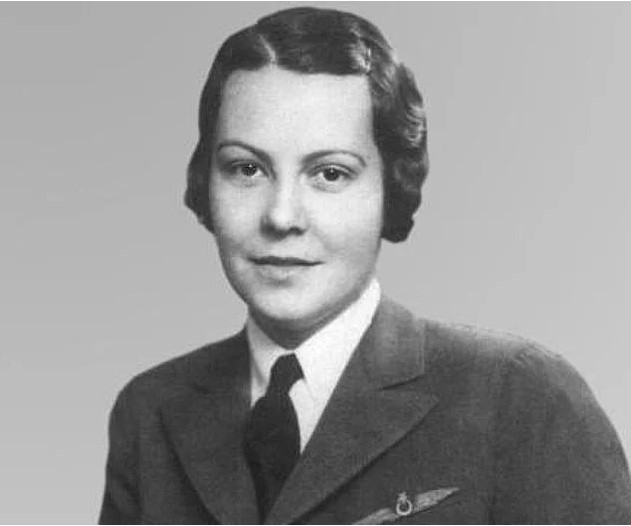 She served as the headmaster in Turkish Birds Flight School until 1955. In 1940, she married Kemal Esiner who was a lieutenant and the military teacher at the Aviation School and gave Esiner her last name. In 1943, her husband died. Between the years of 1953 and 1959, she was invited to the United States and she organized a big American trip in order to introduce the Turkish society and the Turkish woman. In 1996, she held her last flight at the age of 83 together with French pilot Daniel Acton.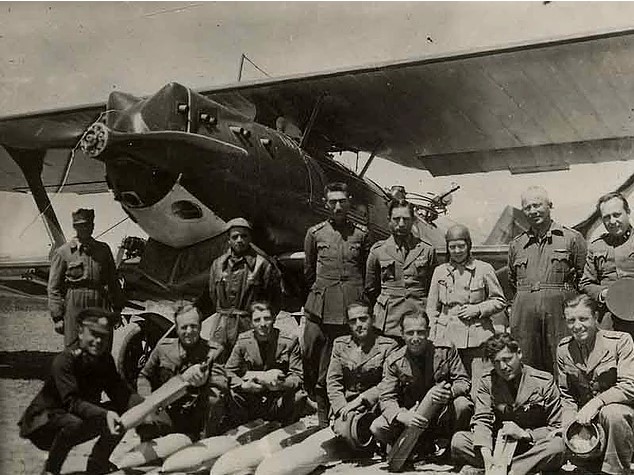 In 1996, she received the biggest award in her aviation career. She was selected as "one of the twenty aviators who put their signatures on the world history" during the "Eagles Meeting" in Maxwell Air Base and held for the graduates of the American College of Aviation. She was the single and first female aviator who was awarded with this prize. When she died in her birthday in 2001, she was 88 years old. Sabiha Gökçen received many awards.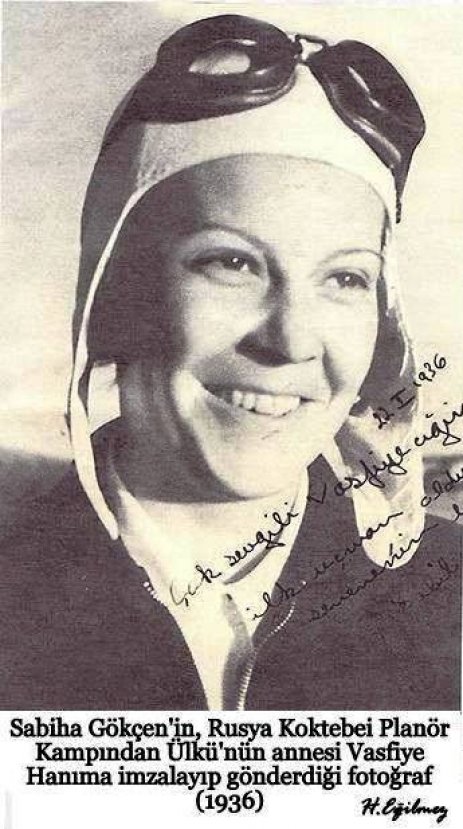 Signed photo from Gokcen to his mother / Russia glider camp
One of the 3 airports in Istanbul serves under the name of Sabiha Gokcen Airport. Sabiha Gökçen died at the age of 88 on March 22, 2001. Sabiha Gökçen is a source of inspiration for all female pilots in the world and her legend will continue to live with us.