State-owned banks form biggest sharia bank in subsidiaries merger
​
Riska Rahman
The Jakarta Post
Jakarta / Wed, October 14, 2020 / 01:41 pm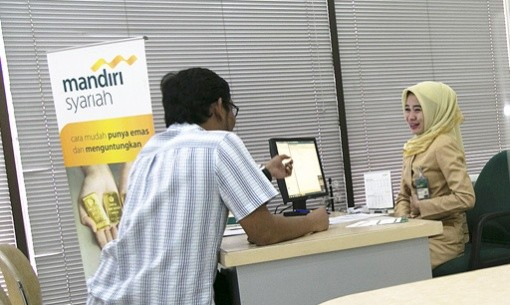 ​
A bank officer talks to a customer at a Bank Syariah Mandiri branch in Central Jakarta. (The Jakarta Post/Jerry Adiguna)
The government has started the process of merging three state-owned banks' sharia subsidiaries, creating the country's biggest sharia bank and one of the top-10 largest banks in the country by early next year.
The three state-owned banks, Bank Mandiri, Bank Rakyat Indonesia (BRI) and Bank Negara Indonesia (BNI), along with their sharia subsidiaries, Bank Syariah Mandiri (BSM), BNI Syariah and publicly listed BRI Syariah signed a conditional merger agreement (CMA) on Monday.
BRI Syariah will be the surviving entity as its publicly listed status will simplify the merger. The company's stocks, traded on the Indonesia Stock Exchange (IDX) under the code BRIS, soared almost 25 percent as of 11:56 a.m. Jakarta time on Wednesday. The stocks have gained 616.84 percent so far this year. "This CMA signing is the start of the merger.
We will continue our preparations so that the merger could hopefully be completed by February of next year," Bank Mandiri vice president director Hery Gunardi, who is also in charge of the merger, said during a virtual press briefing on Tuesday. After the integration, he went on to say, the sharia bank planned to strengthen its wholesale business by becoming an adviser for global sukuk issuance for prospective Indonesian companies.
The government has long floated the idea as it aims to create a stronger sharia bank to provide larger funding for the country's economic recovery and to help improve the Islamic finance industry. Despite being a Muslim-majority country, Indonesia has been struggling to advance its sharia finance and lags behind neighboring Malaysia.
Indonesia's sharia finance industry assets reached 1.63 quadrillion (US$111.1 billion) as of July this year, according to the Financial Services Authority (OJK). The figure marks a 20.6 percent growth from the same period last year and a market share of 9.68 percent of the country's financial industry. Hery estimated the new entity's total assets would reach Rp 220 trillion to Rp 225 trillion after the merger. This means, the entity will be the country's seventh-or eighth-largest by asset value.
He aimed for the merged bank to have total assets of Rp 390 trillion, disburse Rp 272 trillion in financing and collect Rp 335 trillion in funding by 2025 under a conservative growth projection, Hery said. BRI Syariah, BSM and BNI Syariah had combined assets of Rp 214.6 trillion as of June, with total equity of Rp 20.4 trillion and total profits of Rp 1.1 trillion.
Financial performance of state-owned banks' sharia subsidiaries (JP/Swi Handono)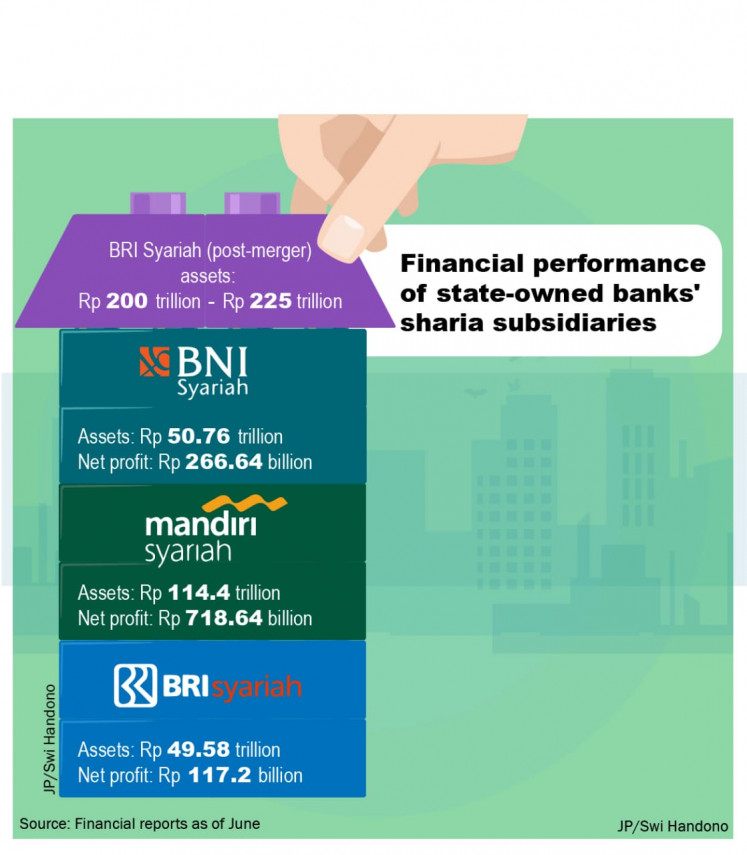 Hery expected the three banks' net profit to reach Rp 2.2 trillion by the end of this year. "In the end, we will change BRI Syariah's name to reflect our goal to be the leading sharia bank in Indonesia and abroad," he said. However, he declined to go into detail on BRI Syariah's share ownership change after the merger.
BRI Syariah president director Ngatari said the bank was ready and committed to carrying out the mandate by working together with its sister companies. State-Owned Enterprises (SOEs) Minister Erick Thohir lauded the merger in a video statement on Monday, saying the corporate action could help make the country's economy more resilient. "Sharia banks can even record positive performance amid the COVID-19 pandemic," he said.
BRI Syariah managed to record a 229.67 percent jump in net profit in the first half of this year to Rp 117.2 billion. BSM also recorded a 30.53 percent increase in profit to Rp 718.64 billion. Erick expected the merger to help the government in achieving its goal of making Indonesia the global center for sharia economics and finance.
Financial Services Authority (OJK) chairman Wimboh Santoso also lauded the merger plan, saying it would boost efficiency and competitiveness, and was committed to providing the appropriate policies and regulations to make the corporate action go smoothly.
Institute for Development of Economics and Finance (Indef) senior economist Aviliani told The Jakarta Post on Tuesday that the creation of one, big sharia bank in Indonesia was necessary to bring in funding potential from other Muslim countries, especially Middle Eastern ones. "The sharia bank could issue global sukuk to seek more funding, strengthen its capital and develop its own technology," she said.
The merger plan could also help strengthen the country's economic system as the sharia financial system had proven to be more resilient especially during crisis, she added. Aviliani, however, said challenges to grab a wider market share remained a challenge due to lack of awareness and literacy on sharia financial products in Indonesia. To tackle the issue, she suggested that the government support the sharia bank by utilizing it to finance various government projects. "They could also provide incentives for halal-oriented businesses that used sharia bank financing for their products," she said.
BRI Syariah will be the surviving entity as its publicly listed status will simplify the merger.

www.thejakartapost.com