Following the publication of the Integrated Review last week which set out strategic context and direction for UK defence, the Command Paper "Defence in a Competitive Age" was published today which provides further details on future force structure. Here we summarise the key implications for the RN.
The Defence Secretary has described the new posture for UK defence as "globally engaged, constantly campaigning and forward deployed". The Command Paper promises "Growing maritime capabilities will enable the projection of power further afield and to conduct operations from increased range." Overall the RN has done well in a very ambitious review but there is still an element of 'jam tomorrow' and some unresolved issues. MoD finances remain questionable but there appears to be greater realism about the plan than the unfunded optimism of the 2015 review.
Underwater​
There can be no increase in submarine numbers but there will be further investment in the underwater domain. The Dreadnought and Astute programmes will continue to proceed as planned. As we previously predicted, to mitigate the slow deliveries of the Astute class boats, it is confirmed final two T-boats will be extended in service. HMS Talent will serve for an extra year and HMS Triumph an extra 18 months, decommissioning in 2022 and 2024/5 respectively. HMS Trenchant will retire this year, 35 years after she was launched. Funding is in place to begin work on the Astute successor, SSN(R).
A Multi Role Ocean Surveillance Ship (MROSS) will be built, primarily to protect undersea infrastructure. There are no details about what what form this vessel will take and this appears to be an additional capability, probably unrelated to the replacement of HMS Scott which is not mentioned.
A new lightweight anti-submarine torpedo will be developed to replace Sting Ray.
RN's new autonomous submarine MANTA XLUUV technology demonstrator (right) was seen for the first time in public displayed onboard RFA Mounts Bay last week. (left) The MADFOX (Maritime Autonomy Demonstrator for Operational Demonstration) MAST-13 USV. Expect to see procurement of more underwater, surface and airborne autonomous systems.
Carrier Strike​
Both aircraft carriers will be retained in service. The planned purchase of 138 F-35s promised in 2015 has been abandoned, along with the F35-B / F35C 'split buy' proposal. 48 F-35Bs will be delivered by 2026 and a second tranche of aircraft will definitely be purchased over the following 5 years. Informed sources suggest a final total between 60-72, perhaps enough to provide for 4 frontline squadrons, but lacking depth when factoring in the need for a sustainment fleet (maintenance), OCU (training) OEU (evaluation) squadrons.
The RAF Future Combat Air Strategy (FCAS) has several strands, the primary element being the Tempest 'optionally manned' aircraft. Tempest is very unlikely to be capable of carrier operations but the Loyal Wingman FCAS Type 2 adjunct capability will be a smaller UAV which could potentially be launched from the deck of the carriers. A recent MoD Request for Information from industry about EMALS suggests that fitting CATOBAR technology to the QEC carriers is still being explored as a long-term possibility. HMS Prince of Wales will take the lead in trials of unmanned aircraft technology.
There is no mention of a plan to replace the Merlin helicopter fleet that will reach the end of their lives in the 2030s, however the RAF will get a "medium lift helicopter" to replace Puma and it is possible the requirements could be combined.
Despite the 'Indo-Pacific tilt', the document says, the Carrier Strike Group "will be "permanently available to NATO, an embodiment of our unwavering commitment to the defence and deterrence of the Euro Atlantic area".
Surface Escorts​
The air defence capability of the Type 45 destroyers will be enhanced, exactly how is unclear, but stocks of Sea Viper air defence missile, critical to carrier strike group air defence, will be increased. There does not appear to be an intention to make further significant investment in Anti Ballistic Missile (ABM) capability for these vessels. The concept and assessment phase for the Type 83 destroyer will be started to provide replacements for the Type 45s in the late 2030s.
As previously reported, the frigate programme will proceed as planned. The final 5 Type 26 frigates will be ordered, with the construction of five Type 31s about to start and the rather vaugley defined, Type 32 frigates to follow on after. HMS Monmouth and HMS Montrose will be retired early.
The short term, replacement for the Harpoon Anti-Ship Missile, the Interim Surface to Surface Guided Weapon (I-SSGW) will be selected and go into service.
Littoral Strike​
The Future Commando Force (FCF) doctrine will continue to reshape the Royal Marine into a raiding force, moving away from being an amphibious brigade in a return to the corps' commando roots. They will be employed alongside a new Army Ranger Regiment and take on many traditional Special Forces tasks, in order to allow SF to focus on the most lethal threats. The FCF can expect to be deployed around the world and kept at high readiness on an enduring basis, including as part of the sea-based Littoral Response Group (LRG). They will benefit from a further £200M investment and be better equipped with emerging autonomous battlefield technologies.
On the down side, the total number of Royal Marines will be gradually reduced in number by around 1,000. It is thought this will be achieved by slowing recruitment and there will be no enforced redundancies.
The LPDs HMS Albion and Bulwark will be retained in service, presumably up to their originally planned Out of Service dates, (2033, and 2034 respectively).
One of the three Bay class LSD(A) will be converted as Littoral Strike Ship (LSS) and fitted with permanent hangars and other upgrades. Up to 6 Multi Role Support Ships (MRSS) will be built to replace the Bay class and possibly the LPDs. (The OSD for the LSD(A) are: Mounts Bay 2031, Lyme Bay 2032, and Cardigan Bay 2032).
Two Littoral Response Groups (LRG) will be deployed, the first in 2021 will be operate in the Euro-Atlantic under NATO and Joint Expeditionary Force (JEF) construct (probably centred around HMS Albion). The second will be deployed to the Indo-Pacific region from 2023 onward (probably centred around the Bay class LSS).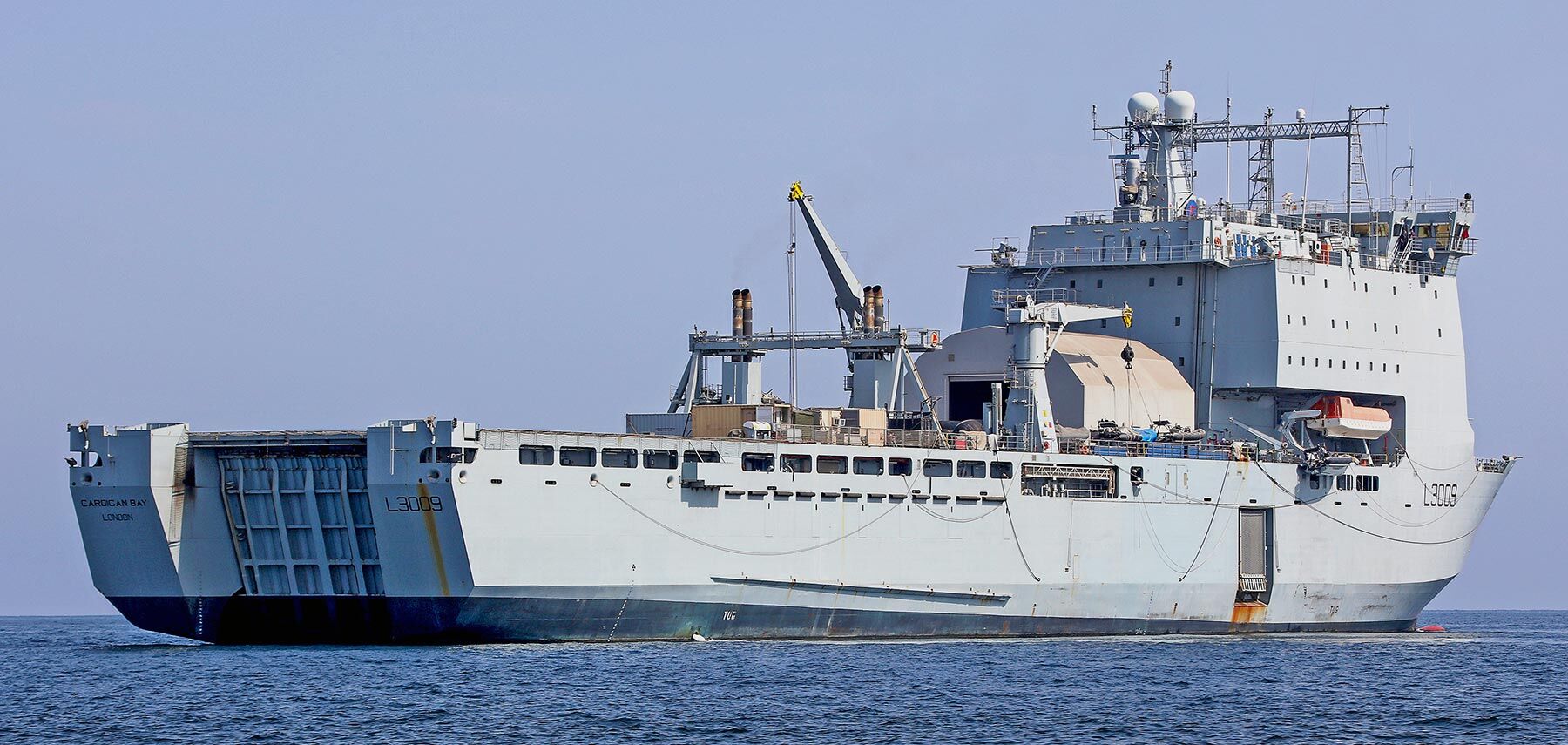 RFA Cardigan Bay – currently forward-deployed in Bahrain but due to return to Falmouth for major refit shortly. She is could be the Bay class selected for a £50 Million conversion to the Littoral Strike Ship role and fitted with a permanent hangar.
Mine Warfare​
The 13 remaining Hunt and Sandown class minehunters will be decommissioned and their Mine Hunting Capability (MHC) in replaced by uncrewed systems. The autonomous MHC has been proven and there is confidence in the system but it is not yet in operational service. There are concerns around the loss of hulls that can be used for general patrol duties and provide very important command experience for junior-mid level officers. The minehunters will be phased out slowly over the next decade and in the long run, the enlarged frigate force will partially help mitigate the platform loss by providing more command opportunities. The mine warfare branch will not be disbanded and the RN's globally-renowned expertise in this field will be demonstrated by the adoption of cutting edge technology.
An LSDA (RFA Lyme Bay) is likely to remain forward-deployed in Bahrain and used initially as the mothership for the small autonomous mine warfare vessels. There is no mention as yet, of procuring other motherships for the future MHC.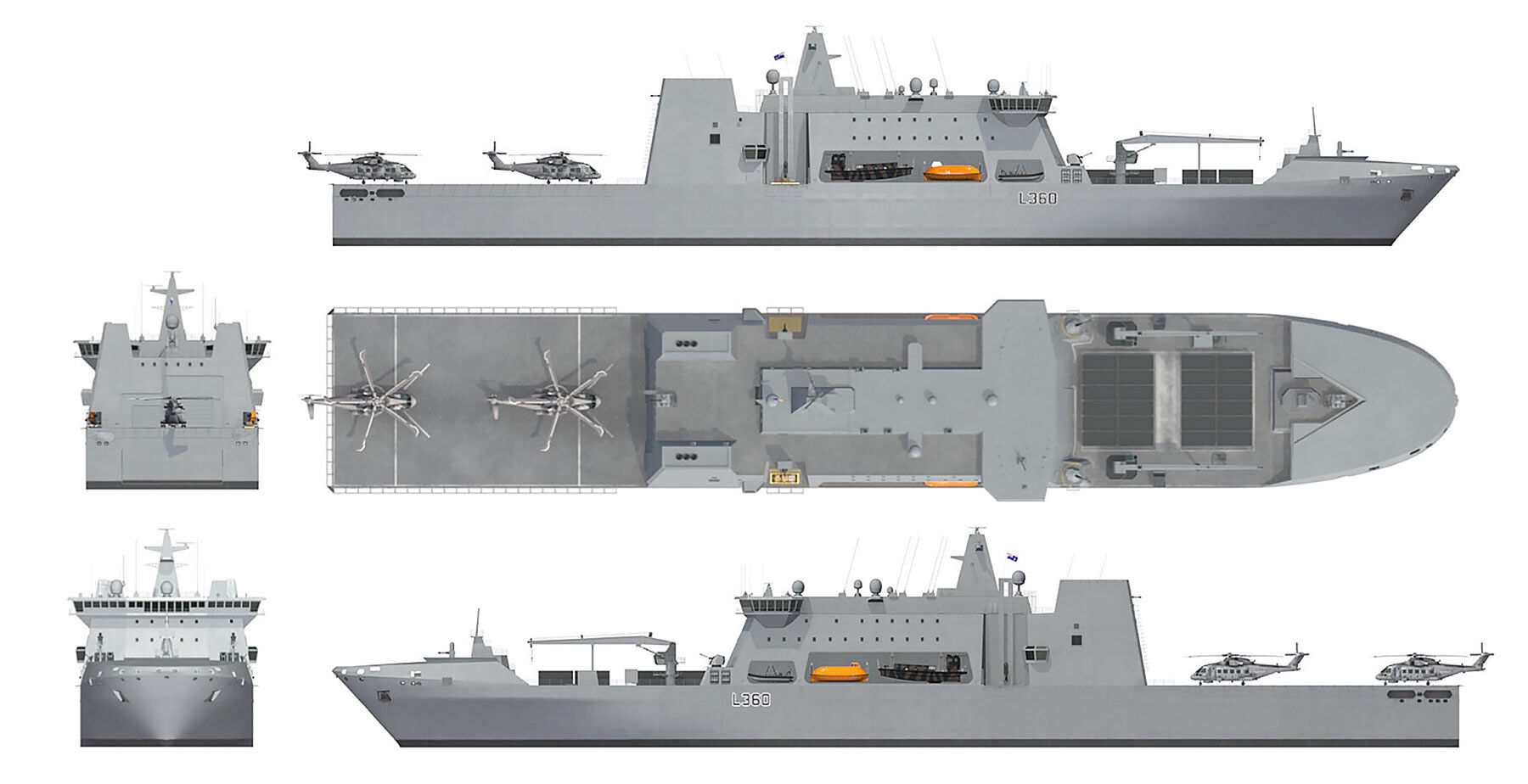 BMT Ellida Multi-Role Support Ship Concept – a guide to what the MRSS could look like?
Support Ships​
The Fleet Solid Support ship (FSS) programme to build 3 ships will proceed as planned with the industrial competition restarting shortly.
It is no surprise RFA Fort Rosalie and Fort Austin will be scrapped, having already spent several years in mothballs on Merseyside. RFA Wave Ruler will be retained in the fleet but effectively stay in reserve at extended readiness.
OPVs​
HMS Trent will be forward-deployed and based in Gibraltar from later this year. She will be employed to support NATO operations in the Mediterranean, work with North African partners and support counter-piracy operations in the Gulf of Guinea off the coast of West Africa. freedom of navigation. An OPV, presumably HMS Tamar, will be based to the Indo-Pacific "with support from partners in the region." Of the 5 new Batch II OPVs, only HMS Spey remains based in the UK.
Shipbuilding​
As promised, the future for UK shipbuilding is looking much brighter. Not only will the National Shipbuilding strategy be refreshed and expanded to include the supply chain, but industry can expect involvement in the construction of 7 separate classes of ships and submarines in the next decade. The programme includes; 4 x Dreadnought SSBNs, 4 remaining Astute SSNs, 8 x Type 26 frigates, 5 x Type 31 frigates (and then Type 32 ) 1 x MROSS and up to 6 MRSS.
Overall shipbuilding investment will double over the life of this Parliament, rising to over £1.7bn a year. UK industry will also be involved in the construction of 4 fast attack craft for the Ukrainian navy.