By İbrahim Sünnetçi
A Look at Major HWTs & LWTs in NATO Countries & Ongoing Torpedo Programs in Turkey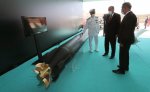 The first true torpedo was invented in 1866 by British engineer Robert WHITEHEAD, based on the ideas of Austrian Navy officer Johann LUPIS. The word `torpedo` (derived from the word `torpere,` which means `to stun` in Latin), was created in 1800 by the American inventor Robert FULTON, who also invented the first steam-powered ship.
Issue 100
Since their first use during the Russo-Turkish War of 1877-78, torpedoes have proven to be one of the most effective and lethal naval weapons. During the war, (also referred to as the 'War of 93,' named for the year 1293 in the Islamic calendar) the 381mm diameter Whitehead Torpedo, launched at a distance of about 65m from a torpedo boat under the command of Russian Vice Admiral Stepan Osipovich MAKAROV in January 1878, sank the armed cargo ship 'İntibah,' which was anchored in Batumi Port. Thus, İntibah went down in history as the first ship sunk by a self-propelled torpedo. Even the emergence of Anti-Ship Guided Missiles (ASMs) could not eliminate the role and importance of torpedoes.
Torpedoes can be used for both offensive and defensive purposes. Today, torpedoes are the primary weapon system of both nuclear and conventional (diesel/electric) and Air Independent Propulsion (AIP) type submarines and some fast attack crafts. Torpedoes are also carried by numerous surface vessels, Maritime Patrol Aircraft (MPA), and Anti-Submarine Warfare (ASW) Helicopters to defend against enemy submarines. In the past, torpedoes were not highly accurate weapons, and their maneuverability was limited. Therefore, multiple torpedoes had to be launched to score a single hit on the target. However, with the advancement of technology, torpedoes have undergone a significant transformation in the last two decades. Today, a single wire/fiber optic guided, or fully autonomous torpedo launched by a skilled operator can achieve at least a 95% hit probability.
The size of the global torpedo market in 2018 was US$805.3 Million, and by 2026 this figure is expected to reach US$1.114 Billion. On the other hand, the global Underwater Unmanned Systems market, which was US$2.96 Billion in 2018, is expected to reach US$7.53 Billion by 2026. The size of the Autonomous Underwater Vehicles (AUV) market, which is envisaged to be US$638 million in 2020, is planned to reach US$1.638 Billion in 2025. Torpedoes are expected to take the lion's share in the Underwater Unmanned Systems market in the next ten years.
Currently, two main types of torpedoes are used by the world's Navies: heavyweight (HWT) and lightweight torpedoes (LWTs). Heavyweight Torpedoes (HWTs) are carried by submarines for use against both enemy surface vessels and enemy submarines. Most HWTs have a diameter of 533mm (21 inches), while some Russian torpedoes have a diameter of 650mm (25.6 inches). Today's major HWTs are US Mk48 Mod 7 ADCAP and Mk48 Mod 7AT, British Spearfish Mod 1 (can reach 80 knots [148km/h] and 50km range), German DM2A4 SeeHecht (exported version SeaHake Mod 4), Italian Black Shark Advanced (BSA), French F21 Artemis and Swedish Type 62 Torpedoes. The main Russian heavyweight torpedoes are Type 65 (650mm), Test-71M and Test 96, and gas turbine propelled DST-90, DST-92, and DST-96 models. As of October 2019, the major 533mm Heavyweight Torpedoes used in the Russian submarine fleet consisting of 58 submarines of different types and tonnages are electrically propelled Test-71 MKE and UET-1E (replacing USET-80), UGST (Universal Deepwater Homing Torpedo) powered by a liquid fuel thermal propulsion system (gas turbine engine) that operates a pump-jet, and its improved version, the UGST-M torpedoes. The 7.2m and 2,200kg UGST also has a 6.05m and 1,880kg version that can be launched from NATO standard tubes. The first drawings of Russia's new long-range and nuclear-propelled torpedo were accidentally disclosed on the Russian NTV television channel on November 10, 2015. It is claimed that the new Status-6 heavyweight torpedo, also known as Poseidon (called Canyon in the USA), will be armed with a 100-megaton nuclear warhead. The Poseidon/Status-6 torpedo is also one of the 'super weapons' introduced to the public on March 1, 2018, by the President of the Russian Federation Vladimir PUTIN.
Light Torpedoes (LWTs) are carried by surface ships, Maritime Patrol Aircraft (MPA), and ASW/ASUW Helicopters to use against enemy submarines. The surface ships use LWT as offensive and/or defensive antisubmarine weapons. In western navies, the most common diameter/calibre for lightweight torpedoes is 324mm (12.75 inches). The US Mk46 NEARTIP (Mod 5) and Mk54 LHT (Light Hybrid Torpedo) are used by the United States Navy and many other Western navies, including the Turkish Navy. The British lightweight torpedo Stingray, the 3rd generation MU90/IMPACT, and Sweden's New Lightweight Torpedo (NLT, also known as Torpedsystem 47 [TP 47]) are other notable lightweight torpedoes on the market. Most Russian ASW torpedoes are 406mm (16 inches). Most lightweight torpedoes (LWTs) use electric motors that are quieter while retraining enough reserve power to chase the target. One of the latest used in Eurotorp's MU90/Impact LWT is an Atlas Elektronik's stepless, variable speed, 120kW electric motor. In this weapon and the BAE Systems StingRay, which has a 63kW motor, a propulsor is used. Some weapons of slightly earlier design, such as the Whitehead Alenia Sistemi Subacquei (WASS, a Finmeccanica Company) A244/S (which uses a DC counter-rotating motor) and the Bofors Underwater Systems (şimdi SAAB) TP 43/TP 45, continue to use conventional propellers. American lightweight torpedoes not only use propellers but also have propulsion systems based upon high-energy chemical reactions, a hangover from the Cold War. In this context, Raytheon Technologies Mk46 and Mk54 LWTs uses Otto II fuel and a five-cylinder motor.
As of June 2020, it is estimated that around 520 frigates and about 310 corvettes carrying LWTs are operating worldwide. In 2008, approximately 385 submarines, including 105 nuclear and 280 conventional diesel-electric attack submarines, were operating worldwide, this number reached 451 in 2016. Currently, it is estimated that around 510 submarines operate in different types and tonnages around the world. While the size of the submarine market was US$22.4 Billion in 2019, this figure is expected to reach US$31.3 Billion in 2029.
Although long-range modern HWTs used in submarines have an average range of 40-50km, a submarine that detects a surface target with its passive sonar usually approaches the target silently and launches a torpedo from a short distance. Because whatever the propulsion system (battery, piston engine, or gas turbine) of the torpedoes, the propeller creates a specific sound in the water, and this sound wave is either way detected by the sensors on the target ship. If the torpedo is fired at close range, there will not be enough time for the vessel to use countermeasures and perform avoidance maneuvers, as the time between the launch of the torpedo and its detection by the ship will be minimal due to the speed of sound waves propagating in the water. Thus, the probability of torpedo hitting the target will increase.
A frigate can detect a submerged diesel/electric submarine at an average distance of 9.14km via a hull-mounted sonar at favorable sea conditions and tries to engage it with a lightweight torpedo at 4.57km (light torpedoes approach their target by turning side to side and following a snake-like path). During a naval exercise, one of the ADA Class corvettes was able to detect an AY Class Submarine at a distance of 11.4km with its hull-mounted mid-frequency YAKAMOS active/passive sonar. With its low/medium frequency passive sonar, a submarine can detect a frigate at favorable sea conditions from a distance of 45.7km and attack it from a much further distance (effective range of LWT) through its long-range modern heavyweight torpedoes such as the DM2A4 or Mk48 Mod 6AT (unlike lightweight torpedoes, heavyweight torpedoes approach their target on a straight path). The GÜR Class diesel/electric submarines of the Turkish Navy can detect very weak signals at approximately 50km under favorable sea conditions with low-frequency passive sonar listening. Moreover, the Royal Navy (RN)'s Astute Class nuclear submarines' processing power is claimed to be equivalent to 2,000 laptops or 60,000 home PCs, and the Thales product Sonar 2076 System can detect the sounds of other ships 3,000 miles away.
Modern torpedoes have a much longer range and durability, much higher speed, more effective homing systems, and greater lethality than their predecessors from 20 or 10 years ago. Torpedoes, which now have built-in intelligence (guidance and control algorithms) and re-attack capabilities, pose the deadliest threat to submarines. Torpedoes, together with the Anti-Ship Cruise Missiles (ASCM), pose the most severe threat to the large naval warships, especially those operating in littoral waters. They are also highly effective weapon against merchant vessels. While the role of torpedoes in the surface versus surface ship engagement has been significantly reduced, they remain the most effective weapon in anti-submarine warfare (ASW). They also remain a potent weapon for submarines in attacking large enemy surface combatants and merchant shipping.
Torpedo Studies and Turkey
The number of countries that can design, develop, and manufacture torpedoes can be counted on the fingers of both hands: The United States (USA), Germany, China, France, South Korea, India, UK, Sweden, Italy, Japan, and Russia. Several countries, including Turkey, are trying to enter this 'elite' group with their indigenous projects that they have started to develop domestic heavy and lightweight torpedo systems.
Turkey took its first step in the heavyweight torpedo field with the AKYA National Heavyweight Torpedo Development Program, which was signed on May 8, 2009, with several domestic companies' participation under the coordination of the Presidency of Defense Industries (SSB) and the Main Contractor Roketsan. The first launch test of the 533mm AKYA HWT without the warhead and active/passive acoustic sonar sensor was carried out successfully in the Sea of Marmara on July 11, 2013, with the support of the Turkish Naval Research Center Command (TNRCC/ARMERKOM). Under the AKYA National Heavyweight Torpedo Program, Roketsan will develop the warhead and guidance system, Meteksan Defence will develop the sonar transducer arrays (sonar wet end), and Koç Information and Defence Technologies (KBS) will develop the Wake Sensors, Torpedo Test Range Underwater Detection and Positioning System, Acoustic Signal Generators, and the Underwater Acoustic Models (to verify the systems and software to be developed under the program).
The AKYA Phase-2 Project was signed between the SSB and Roketsan in July 2016 to industrialize the AKYA National HWT prototype (controlled test torpedo) and make it ready for serial production by developing its critical sub-systems in line with the capabilities of the sector companies. The last publicized launch test with the AKYA HWT, qualification process of which is still ongoing, was carried out on December 20, 2019. During the trial, the AKYA HWT was equipped with a live active/passive acoustic sonar for the first time and launched from a detailed 533mm torpedo tube replica installed to an underwater test platform at a depth of 40m with 'swim out' launch mode. During the International Store Certification Tests Symposium held on November 4, 2019, TÜBİTAK SAGE introduced a detailed replica of 533mm diameter torpedo tube, which is entirely similar to an authentic 533mm diameter torpedo tube and capable of firing both cruise missiles (ATMACA B1/B2 and GEZGİN), and heavyweight torpedoes (AKYA) from underwater.
Aside from the AKYA National Heavyweight Torpedo Program, development studies are also carried out on Lightweight Torpedoes in Turkey. Thanks to its infrastructure and experience from the Anti-Torpedo Torpedo (TORK) Project, which was initiated in 2014 with the support of TÜBİTAK TEYDEB 1501, Aselsan also started to develop a prototype Lightweight Torpedo that can be used against submarines and other underwater targets. Aselsan introduced the first mock-up of the National Lightweight Torpedo ORKA, which the company developed with its own resources, during IDEF '17 Fair.
Aselsan TORK is an anti-torpedo torpedo developed to destroy acoustic homing, wire-guided, non-wire guided, and wake homing torpedoes launched against surface ships and submarines. TORK can precisely locate the incoming torpedo threat with its sonar seeker. TORK moves towards the threat torpedo by measuring the distance from it and explodes at an appropriate range using advanced interception algorithms. According to Aselsan TORK has a diameter of <30cm, a length of <3m, and weighs <200kg.
The first performance tests carried out in the maritime environment with the passive acoustic seeker equipped TORK system were completed in early September 2018. Within the tests' scope, TORK successfully identified the surface targets with its sonar seeker and moved towards the threats with its own guidance. Thus, the Development Process, which constitutes the first phase in the TORK Anti-Torpedo Torpedo Project with Hard Kill capability, was completed in the last quarter of 2018. In this context, the first guidance tests were carried out with TORK, and the Aselsan product passive seeker in the torpedo performed successfully. The second phase of the project aims to turn TORK into a Training Torpedo. In the meantime, localization studies on TORK continued and within this scope, for example, the Lithium-Ion (Li-Ion) Battery (a special battery with 100 amps current draw capacity is designed), Phased Array Sonar, Dry-End & Wet-Ends, Control Surface Motors, and the electric propeller were localized. The previous COTS (Commercial off-the-shelf) type Li-Ion Battery of the TORK was replaced with a domestic Li-Ion battery produced by Aspilsan. The Li-Ion Battery and Battery Management System developed in cooperation with Aselsan-Aspilsan will be tested on TORK in the second phase. An active seeker will also be developed in the second phase. In the third phase of the project, TORK will be finalized and produced with the warhead and war battery. According to the current calendar, a test torpedo prototype with an active seeker and training warhead will be produced and prepared in the next three years. In the second phase of the project, the TORK's diameter will be increased to the standard lightweight torpedo diameter of 32.4cm (324mm). Since the volume of TORK has grown, its body length will be shortened. Thus, TORK will be able to be launched from the Mk-32 lightweight torpedo launchers that are currently used onboard the warships. In the first phase, TORK is aimed to be used integrated with HIZIR Torpedo Countermeasure System (TCMS) to protect surface platforms against torpedo threats. In the future, the submarine-launched version of TORK will also be developed. Currently, the Seeker (Aselsan is also developing training Warhead), Battery (Aspilsan), Control Surface Motors of the Propulsion and Steering System at the tail section, and the propellers (Aselsan) used in the TORK are domestic products. TORK is electrically propelled. The propellers and the subsystems receive the power they need to operate from a Li-Ion Battery in the torpedo. The energy generated by the battery is distributed to the control surface motors and the main propellers via the Power Distribution System. TORK was designed to detonate at proximity of incoming hostile torpedoes and neutralize the threats with the pressure effect it creates. Therefore, TORK does not need to hit the hostile torpedo threat physically.
The working principle, dimensions, and subcomponents of the TORK System have similar characteristics to Light Torpedoes. Some of the most critical subsystems of TORK (engine, steering, guidance, and control systems) is designed to be used in the Lightweight Torpedo without any modification. The National Lightweight Torpedo, which is aimed to have similar capabilities to the Mk46 and Mk54 Lightweight Torpedoes in the Turkish Navy inventory, is developed to be launched from existing torpedo tubes on the naval warships, ASW Helicopters and Maritime Patrol Aircraft (MPA). According to Aselsan Torpedo and Torpedo Countermeasure Systems Road Map, dual configuration lightweight torpedo tube will be ready in 2022, TORK Training Version in 2023, Medium Class AUV & ORKA LWT in 2023-2025, TORK Live (Combat) Version in 2025, Miniature Torpedo in 2027, and the Smart Super-Cavity Torpedo will be available in 2030.
Head of Aselsan Naval Systems Group, Behçet KARATAŞ, who made a presentation titled 'ASELSAN Combat System Solutions for Naval Platforms and the Vision' at the 9th Naval Systems Seminar held on October 14-15, 2019 in Ankara, shared the following information about these projects: "We are planning to complete the Torpedo Tube development in 2022. The studies on low-frequency active sonar are already continuing with the SSB R&D Department, and we plan to complete it in 2023. We are planning to complete the development of TORK's Training Version by 2023. The Medium Class Autonomous Vehicle is also expected to be completed between 2023-2025. We also plan to introduce our own Lightweight Torpedo, which we call ORKA, before 2025. We continue our works on Submarine Towed-Array Sonar, combat version of TORK, Miniature Torpedo, and later Smart Super-Cavity Torpedoes..."
In the meantime, within the scope of the New Generation National Torpedo Technologies Development Studies, TÜBİTAK Defense and Security Technologies Research Grant Committee (SAVTAG) issued a wide-area call for Torpedo Batteries (T-BAT) in July 2019 under the 1007 Program. The scope of the call aims to develop torpedo batteries and charge/discharge units of these batteries by using long-lasting lithium-ion (Li-Ion) cells. Accordingly, multiple R&D intensive work packages will be realized and verified in a real-life environment. The studies aim to develop a form-fit lithium-ion (Li-Ion) torpedo battery system with national resources to replace (same size and weight) the Silver Oxide-Zinc (AgO-Zn) batteries used in training torpedoes without additional modifications. The project aims to eliminate foreign dependency, reduce the battery cost per launch, create a domestic and national design/production infrastructure for new generation national torpedo battery systems, and to eliminate different battery requirements for training and heavyweight torpedoes by providing a single common battery type.