Ukrainian Armed Forces first used Javelin in Donbass - media
21 November 2021, 23:58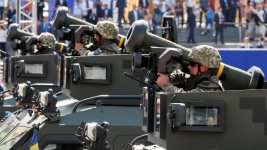 ATGM Javelin was used in the JFO zone, Ukrainian intelligence officers reported
Information was shared by the head of the GUR Kirill Budanov, according to an American journalist.
For the first time, the Ukrainian military used the Javelin anti-tank missile system in the Donbas. This was announced on Sunday, November 21, by the editor-in-chief of the American edition of the Military Times Howard Altman on Twitter.

The journalist made his statement after the publication of an interview he took with the head of the Main Intelligence Directorate of the Ministry of Defense of Ukraine Kirill Budanov.
"Budanov told me that the Ukrainian troops used Javelin in battle," Altman wrote.
When and under what circumstances the Javelin was used in the Joint Forces operation area is not specified.