American official says Iranian sailors tried to cover the drones with tarps, deny they had them, during seizure in Red Sea​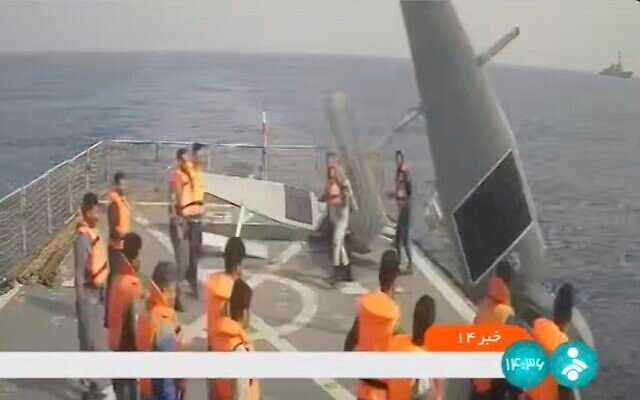 In this frame grab from Iranian state television, Iranian navy sailors throw an American sea drone overboard in the Red Sea on September 1, 2022. (Iranian state television via AP)
A pair of American naval drones that were briefly seized Friday by Iranian forces in the Red Sea were returned with their cameras missing, a US official said.
The Iranian sailors initially tried to cover the drones with tarps and deny they had them, added the official, who spoke on condition of anonymity to discuss unpublicized details about the seizure.
According to
a Wall Street Journal report
, it was unclear if the Iranians took the cameras or if they fell off when the drones were removed from the water and later put back in.
The US Navy's Mideast-based 5th Fleet identified the seized drones as Saildrone Explorers. Those drones are commercially available and used by a variety of clients, including scientists, to monitor open waters.
"The unmanned surface vessels were unarmed and taking unclassified photos of the surrounding environment while loitering in an assigned patrol area at least 4 nautical miles from the nearest maritime traffic lane," the 5th Fleet said.
"The vessels posed no risk to naval traffic and had been operating in the general vicinity of the Southern Red Sea for more than 200 consecutive days without incident."
The Navy's guided-missile destroyers USS Nitze and USS Delbert D. Black responded to the seizure at 2 p.m. Thursday and each deployed MH-60 SeaHawk helicopters, the 5th Fleet said. Iran ultimately released the drones at 8 a.m. Friday.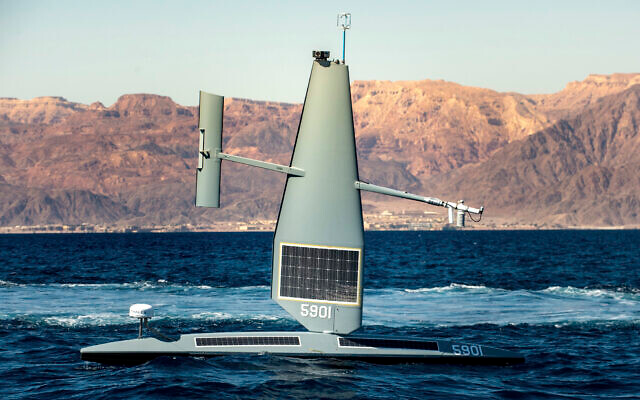 In this photo released by the US Navy, a Saildrone Explorer unmanned sea drone sails in the Gulf of Aqaba on February 9, 2022. (Mass Communication Specialist 2nd Class Dawson Roth/US Navy via AP)
In footage that Iranian state television said came from the deck of the Iranian navy's Jamaran destroyer, lifejacket-wearing sailors could be seen examining the two Saildrone Explorers. They tossed one overboard as another warship could be seen in the distance.........
American official says Iranian sailors tried to cover the drones with tarps, deny they had them, during seizure in Red Sea
www.timesofisrael.com