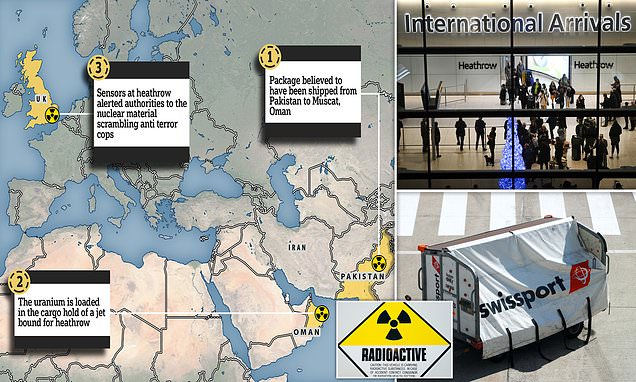 The package originated from Pakistan and was destined for an Iranian business with a premises in the UK.
www.dailymail.co.uk
A shipment of uranium has been seized at
Heathrow
airport - sparking an investigation by counter terrorism police who fear there could have been plans to use it to make a dirty bomb.
The undeclared material was discovered on December 29 on a passenger flight which arrived from Oman.
The package originated from
Pakistan
and was destined for an Iranian business with a premises in the UK.
It has prompted fears the uranium may have been destined for use in a dirty bomb - which is a mix of explosives, such as dynamite, with radioactive powder or pellets.
When the dynamite is set off, it can carry radioactive material into the surrounding area.
Police have not made any arrests, but
The Sun
reports there is an overwhelming 'concern over what the Iranians living here wanted with non-disclosed nuclear material'.
An unnamed source told the publication: 'The race is on to trace everyone involved with this rogue non-manifested package.
'Security bosses are treating this with the seriousness it deserves. Protocol was not followed and this is now an anti-terror operation.'
Specialist scanners picked up on the undeclared parcel as it was transported to a freight shed.
Border Force agents isolated the shipment in a radioactive room and, upon determining it was uranium, called in counter-terror police.
Met Police told MailOnline: 'We can confirm officers from the Met's Counter Terrorism Command were contacted by Border Force colleagues at Heathrow after a very small amount of contaminated material was identified after routine screening within a package incoming to the UK on 29 December 2022.'
Commander Richard Smith said: 'I want to reassure the public that the amount of contaminated material was extremely small and has been assessed by experts as posing no threat to the public.
'Although our investigation remains ongoing, from our inquiries so far, it does not appear to be linked to any direct threat.
'As the public would expect, however, we will continue to follow up on all available lines of enquiry to ensure this is definitely the case.
'However, it does highlight the excellent capability we and our partners have in place to monitor our ports and borders in order to keep the public safe from any potential threats to their safety and security that might be coming into the UK.'
'No arrests have been made at this time and officers continue to work with partner agencies to fully investigate this matter and ensure there is no risk to the public.
'The material has been identified as being contaminated with uranium.'
Last year, Former Washington official Robert Joseph told MailOnline Iran is a nuclear weapons state with enough uranium to build 'one, if not two' bombs.
He said: 'The International Atomic Energy Agency (IAEA) has documented that Iran has 60% of enriched uranium, enough for at least one if not two bombs.
'We have been saying for years 'they're approaching this breakout point and we've really got to negotiate with them.' They're there.'
Joseph was the chief negotiator to Libya in 2003 and is credited with convincing Colonel Muammar Gaddafi to give up his nuclear weapons programme.
MP Matthew Offord said at the time Iran were 'regularly testing ballistic missiles, and they are seeking to get enough uranium that they are able to produce a weapon'.