Messages

5,595
Reactions
Nation of residence
Nation of origin
Facing row with 10 nations, Turkey likely to strengthen its cooperation with China
Anthony Moretti
19:53, 25-Oct-2021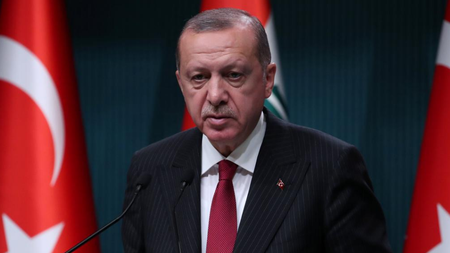 Turkish President Recep Tayyip Erdogan attends a news conference in Ankara, Turkey, August 14, 2018. /Reuters
Turkish President Recep Tayyip Erdogan has made it clear that he wants 10 ambassadors from around the world declared persona non grata for supporting a jailed businessman. Persona non grata status does not carry automatic expulsion from the country. However, such a declaration typically means the host nation wants the person to leave. It is not yet clear if or when the ambassadors will exit Turkey. If they leave, and whether they do so voluntarily, is irrelevant for the moment, the question of what happens to diplomatic relations between their nations and Turkey also has a gigantic question mark surrounding it.
The ambassadors come from Europe, North America and New Zealand, and the U.S. Ambassador to Turkey is one of them. David Satterfield has been in that role since 2019. Just last week, the U.S. Senate Foreign Relations Committee approved the nomination of Jeff Flake to replace Satterfield.
Turkey drew the ire of multiple Western nations after it imprisoned Osman Kavala in 2017, who is yet to be convicted of a crime. Several Western governments and human rights organizations have called to free Kavala, who has been a critic of the country. The Council of Europe has threatened to begin legal proceedings against Turkey in about one month's time unless Kavala is freed.
The crisis over Kavala comes at a time when U.S. and Turkish relations are on the skids. The most recent flashpoint was the Biden administration's decision to acknowledge as genocide the massacre of Armenians by Turkey more than 100 years ago, a move none of Biden's predecessors chose to make. A leading Turkish official dismissed Biden's statement by suggesting the U.S. was in no position to say anything about Turkey's past.
Erdogan's decision to cozy up to Russian President Vladimir Putin adds another layer of distrust in Washington-Ankara relations. Therefore, it comes as no surprise that the Council of Foreign Relations has concluded that Turkey "remains formally a NATO ally, [but] it is not a partner of the United States."
It further added that "Washington and Ankara no longer share overarching threats or interests that bind them together."
China has remained silent as the Kavala controversy has unfolded because Beijing has remained steadfast that it will not meddle in the internal affairs of another country. This is a position the U.S. ought to adopt in more circumstances all over the world.
It is widely known that diplomatic efforts between China and Turkey too often resemble a roller coaster ride. The most important stumbling block remains Turkey's determination to criticize China over alleged human rights issues involving the Uygurs in China's Xinjiang Uygur Autonomous Region.
China recently held a meeting to call out the false accusations emanating from the West about the situation in Xinjiang, the latest forceful statement about the region. Though Erdogan often scores political points at home from criticizing China, he seems unwilling to advance his case to a broad international audience and spoil the ties with Beijing over the Uygurs.
The two countries have been able to set aside their recent disputes and engage in multiple economic ventures. For example, according to the Middle East Institute, "Since 2015, there has been increasing financial cooperation between Turkey and China, mostly in the form of Chinese infrastructure loans." Meanwhile, a member of Turkey's Ministry of Treasury and Finance has stated that "Turkey is attributing greater importance to the Belt and Road Initiative (BRI) to form closer relations with China and other participating countries."
It should also be noted that China and Turkey signed a memorandum of understanding in 2015 to build mutually strong relations within the BRI, thus promoting the two's collaboration in different areas.
More recently, China has exported enough Sinovac vaccine to ensure that at least 18 million Turks receive at least one dose. That effort coincided with the two countries celebrating 50 years of formal relations earlier this year.
In short, China's relations with Turkey are on the rise, and with the wedge between the U.S. and Turkey widening, the cooperation between China and Turkey is likely to be strengthened for mutual benefits.
China's relations with Turkey are on the rise, and with the wedge between the U.S. and Turkey widening, the cooperation between China and Turkey is likely to be strengthened for mutual benefits.

news.cgtn.com