Prime Minister Modi's visit to PNG could mark as a turning point, redirecting the region's focus towards India as a benign, emerging global power.
www.aicis.org.in
Prime Minister James Marape proceeding to touch the feet of Indian Prime Minister Narendra Modi, followed by a warm embrace as the latter stepped out of Air India One in Port Moresby on 21 May 2023 was symbolic of the growing bond between India and the Pacific Island nations. The Indian Prime Minister had arrived to participate in the third summit of the Forum for India-Pacific Islands Cooperation (FIPIC) the next day. FIPIC is a multinational grouping formed during PM Modi's visit to Fiji in November 2014, for cooperation between India and 14 Pacific Island nations. Many of these countries have relatively small land masses but have large exclusive economic zones (EEZs) that makes most of the nations in the South Pacific, as PM Modi said, 'large ocean countries, not small island states'.
India's engagement with the Pacific Island nations is embedded in the concept of 'Indo-Pacific', a geopolitical concept that emphasises the growing interconnectedness and strategic significance of the Indian Ocean and the Pacific Ocean regions. The region has witnessed extensive trade and investment activities. Therefore, it was paramount for India to not only establish close relationships with her partners in the region but also expand her cultural, economic and social footprints in the South Pacific Island nations. As Prime Minister James Marape confirmed during the FIPIC meeting in 2023, India can/should not only act as the leader of the Global South, but also act as a neutral voice as larger powers in the region like the US and China try to woo the South Pacific Island nations to further their own geopolitical designs.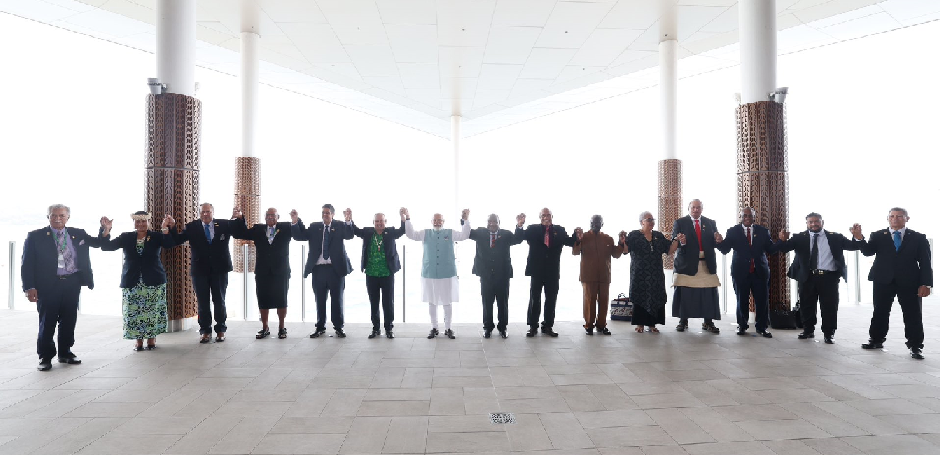 Credit - MEA
During the first FIPIC meeting in November 2014 in Suva, Fiji, India presented a range of development initiatives and cooperation projects covering various areas such as climate change, trade, economy, telemedicine, tele-education, IT and community development grants. India's commitment to the Pacific Islands continued at the second FIPIC summit in Jaipur in August 2015, where it advocated for a dedicated seat for Small Island Developing States (SIDS) in an expanded and reformed UN Security Council, amplifying the voices of SIDS on the global stage.
In 2019, the India-Pacific Small Island Developing States (PSIDS) Leaders' Meeting was held during the 74th UN General Assembly. India allocated a $12 million grant ($1 million to each country) for high-impact developmental projects and offered a concessional line of credit worth $150 million to support solar energy, renewable energy and climate resilience initiatives. These efforts aimed to strengthen India's partnership with the Pacific Islands and contribute to their sustainable development. India's commitment to addressing common challenges, particularly those related to climate change, and its willingness to support the Pacific Islands through various initiatives have reinforced India's presence in the region. Furthermore, India's 12-step action plan announced in May 2023, prioritises human-centric development projects tailored to suit the region's needs.
Chinese and American designs
Chinese President Xi Jinping hosted a summit with leaders from eight Pacific Island nations in 2018, announcing a $1.9 billion aid package and pledging further assistance in areas like infrastructure and education. Chinese foreign minister Wang Yi followed up in 2022, signing 52 bilateral deals focused on trade, tourism and economic development with leaders from 17 Pacific countries. China's presence extends beyond economic and strategic domains, as it actively promotes its culture and language in the region. Cultural initiatives include Confucius Institutes and training workshops for diplomats. Under the Belt and Road Initiative (BRI), China has also made significant infrastructure investments, including roads, bridges, ports and airports, which some observers in the region suggest are actually aimed at improving trade and transportation links between China and the region.
There are also wider concerns within the Pacific Island nations regarding the nature of their relationship with China, as revealed by the documents leaked on China's two main action plans for the South Pacific countries. These plans, titled "China-Pacific Island Countries Common Development Vision" and "China-Pacific Island Countries Five-Year Action Plan on Common Development (2022-2026)," cover various areas of cooperation, including police training, cyber security, establishing a free trade area, setting up Confucius Institutes, and training diplomats.
According to some analysts in the region, while the proposals may initially seem appealing, there are significant underlying issues as China aims to utilise the South Pacific Islands to further its strategic interests. Allowing Chinese enterprises into the islands and reducing customs restrictions on Chinese goods would not only increase China's economic influence but also expose the island nations to Chinese intelligence activities, as dictated by China's 2017 National Intelligence Law, which compels Chinese companies to be a part of its intelligence-gathering network. Granting China access to the Exclusive Economic Zones (EEZs) of the South Pacific Islands may lead to the deployment of Chinese militia fishing fleets, often involved in grey zone activities. These fleets pose risks to the local ecosystems and escalate tensions, as they serve as an extension of China's power projection.
The US has responded to China's expansion in the South Pacific islands by focusing on long-term economic development. During the first US-Pacific Island Country Summit in September 2022, President Joe Biden announced the Pacific Partnership Strategy, prioritising US engagement and providing economic assistance. This includes $810 million in assistance, with $600 million dedicated to fisheries-related development, climate resilience, and maritime security over 10 years. Secretary of State Blinken also revealed plans for expanded humanitarian and development assistance in 12 Pacific Island countries through USAID. In February 2023, eighteen South Pacific countries engaged in a dialogue to outline priority areas for increased US trade, investment, and development cooperation.
Conclusion
India's engagement with the Pacific Islands, particularly PNG, had attracted attention due to the latter's increasing alignment with China in the past. However, Prime Minister Modi's visit to PNG could mark as a turning point, redirecting the region's focus towards India as a benign, emerging global power. According to observers in Port Moresby, one advantage India offers the South Pacific Islands is its democratic governance model, which resonates better with these nations compared to China's authoritarian system. India's perceived leadership of the Global South also provides an alternative source for economic and diplomatic assistance, enabling the South Pacific Island nations to avoid excessive dependence on any single power. The evolving dynamics in the region highlight the geopolitical competition and strategic interests of major powers, with India aiming to play a neutral and leading role among these island nations.
--------------------------------------------------------------
My article on Modi's visit to PNG. Please give your opinions. AICIS is a newly established Think-tank focused on China and IOR region.
@Nilgiri
@Jackdaws
@Paro