The Royal Navy's first-in-class aircraft carrier, HMS Queen Elizabeth, has embarked the largest number of fixed-wing aircraft yet as the vessel prepares to take centre stage in a NATO carrier strike group for exercises.
The F-35Bs, a mix of Royal Air Force (RAF) and US Marine Corps (USMC) jets, joined the aircraft carrier as it sails for exercise Joint Warrior and GroupEx in the North Sea.
Onboard, the carrier's air wing is made up of 14 Lockheed Martin F-35B short take-off vertical landing jets and eight Merlin helicopters. The deployment marks the largest concentration of fighter jets operating at sea from a Royal Navy carrier since 1983.
Commander UK Carrier Strike Group Commodore Steve Moorhouse said: "The United Kingdom's maritime renaissance has been unfolding over many years, as we introduced a new generation of ships, submarines and aircraft into service. But this marks the first time we have brought them together in a cohesive, potent, fighting force.
"HMS Queen Elizabeth will be operating with the largest air group of fifth-generation fighters assembled anywhere in the world. Led by the Royal Navy, and backed by our closest allies, this new Carrier Strike Group puts real muscle back into NATO and sends a clear signal that the United Kingdom takes its global role seriously."

Image: MOD/ Crown Copyright.
HMS Queen Elizabeth will be joined on the carrier strike group exercise by NATO and UK vessels including Type 23 frigates HMS Kent and HMS Northumberland, Type 45 Destroyers HMS Diamon and HMS Defender, a Royal Navy submarine, HNLMS Evertsen from the Royal Netherlands Navy, US Arleigh Burke-class destroyer USS The Sullivans and a Royal Navy submarine.
The carrier strike group will be tested during Exercise Joint Warrior off the coast of Scotland.
The US F-35Bs are usually stationed at Marine Corps Air Station (MCAS) Yuma, Arizona and arrived in the UK this month. The USMC jets worked up with RAF F-35Bs before embarking on the carrier.
The commanding officer of the USMC fighter jet contingent, Lieutenant Colonel Joseph Freshour USMC, said: "The Wake Island Avengers are ready in all respects to work with the British sailors and aircrew onboard HMS Queen Elizabeth.
"We are looking forward to deploying alongside our British counterparts over the next few months, and we will work tirelessly as a part of this transatlantic naval force. We are proud to play such an important role in the generation of an allies' carrier strike capability."
The RAF jets on board are from the 617 Squadron – also known as the Dambusters.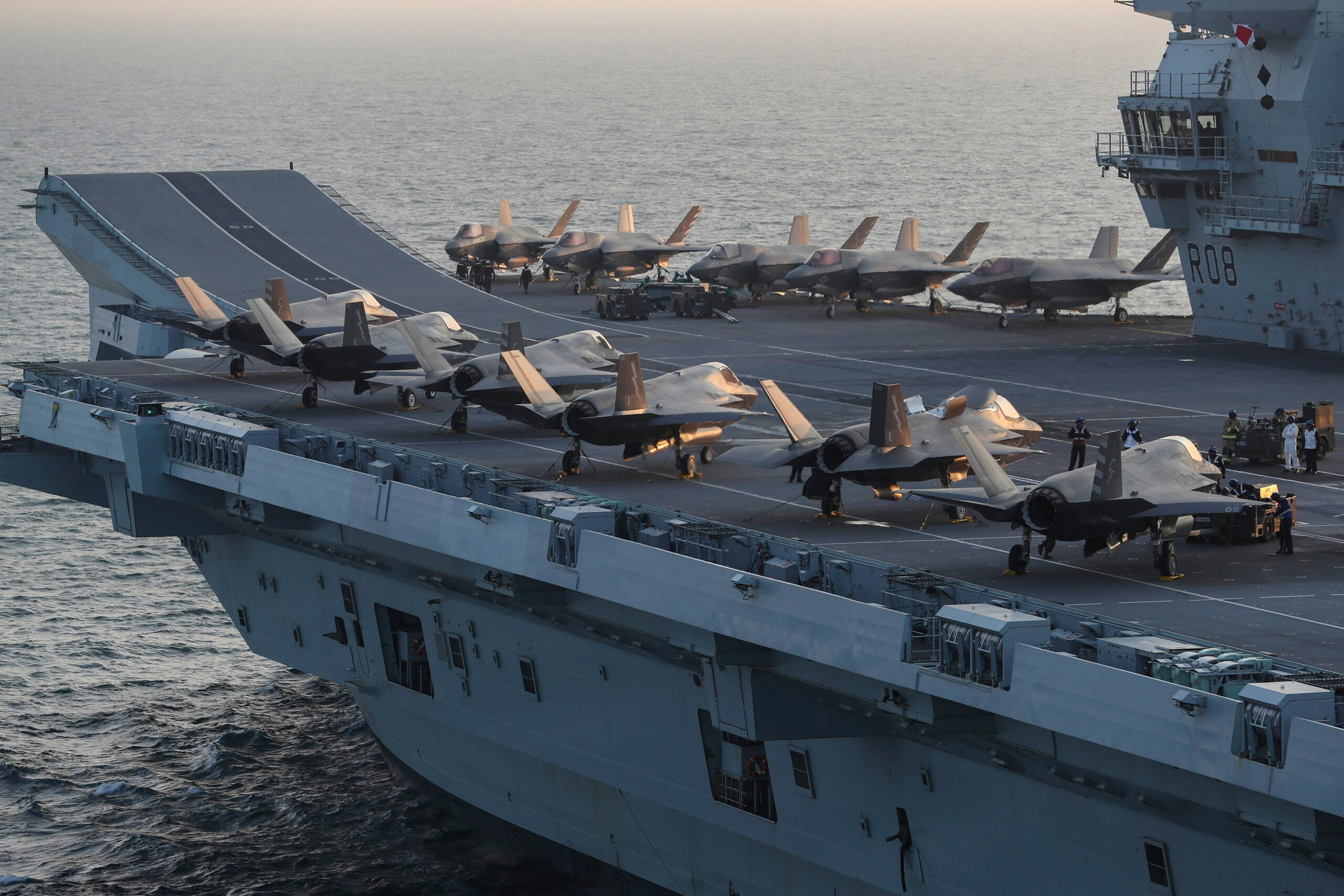 The Royal Navy's HMS Queen Elizabeth has embarked the largest number of fixed-wing aircraft yet.
www.naval-technology.com