Experienced member
Professional
Joined

Aug 24, 2020
Messages

1,638
Reaction score

5,752
Points

113
Nation of residence
Nation of origin
First of all these ads have started to annoyed and intruding thus first step usually comes by using an ad blocker.
The best one which i have used so far, an extension which can be installed on mobile and desktops on open-source browser :
Firefox
And the extension is:
ublock
origin, note that there are two ublock, one is plain "ublock" while the other and the original one maintained by community and open-source: "ublock origin"
These steps are rather easy for an average computer users, while it gets troublesome on mobile phones which is distributed by variety of OEM and either runs on Google's android, or Apple's IOS
For IOS, or Android simply grab the Firefox Focus or Brave browser with built-in adblocker and tracking control if your case is using an OS which doesn't support browsers enabling extensions :
Firefox Focus
So, in intermediate level it is still easy to block ads on browsers, but worse than browsers nowadays the OEM sniffs on your mobile phones a lot and their agreements which we rather click on "Accept" blindly, never respects our privacy-at all, moreover they can preview some ads, or more weirdly can preview it as suggestions and violate your privacy, as of now i am not still talking about some apps with strange ways of showing ads.
Here comes an open-source tool, which is not available in Google Play Store, but in
F-Droid
repository (simply install F-Droid app, for Android users) :
Blockada
For IOS users, it is available in the App Store. Blockada is naturally "libre", but you can upgrade your user profile and subscribe to their VPN service, alternatively. Note that a libre account uses a local VPN thus never shares your data to a 3rd party.
More on how Blockada works on phones which is not rooted, in rooted phones it simply alters the built-in IP tables (which is the best way of blocking ads on computers overally, to be used at your own risk if you are a power-user):
Blokada prevents apps and browsers installed on your device from sending your private data (known as tracking fingerprints) to the Internet. It also encrypts some of your network activity (DNS queries). If you need more protection, Blokada Plus makes your device connect through our VPN, and uses the WireGuard® protocol to encrypt your entire network traffic.
In details, Blockada creates a virtual VPN which uses and uses virtual IP-tables (simply set of rules) which tells your phone where to redirect an incoming -or outgoing package. Blockada constantly updates the IP tables and keeps it up to date. What happens to the packages sent to restricted targets or receiver from restricted provider (ie. ad provider): simply redirected to the
Null
device, literally nowhere, a black hole of the virtual environment.
Blockada is quite effective at blocking your phone manufacturer's sniffers. (telemetry of Google and the OEM).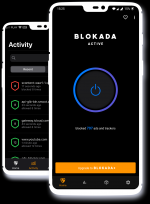 In a window is shows you a list of allowed and rejected requests.
As a further note to Android users, F-Droid is full of free packages which is usually sold for a price in Google Store, or bundled with strange ads appearing in anywhere. Have a look at there for alternative open-source, ad-free apps. However F-Droid is not avaliable in google play store, thus shall be downloaded by the installation file available at their own website.
F-Droid, follow steps to install
And as a last option, Tor Browser which may help you even avoid the internet connection in most "restrictive" countries. Note, you can watch porn in that too
Tor Browser
,
Tor browser uses Tor network to connect the internet, and if Tor network is blocked in your country, offers you "bridges" to connect at Tor network. However note that, user Tor at your own risk.
Last edited: