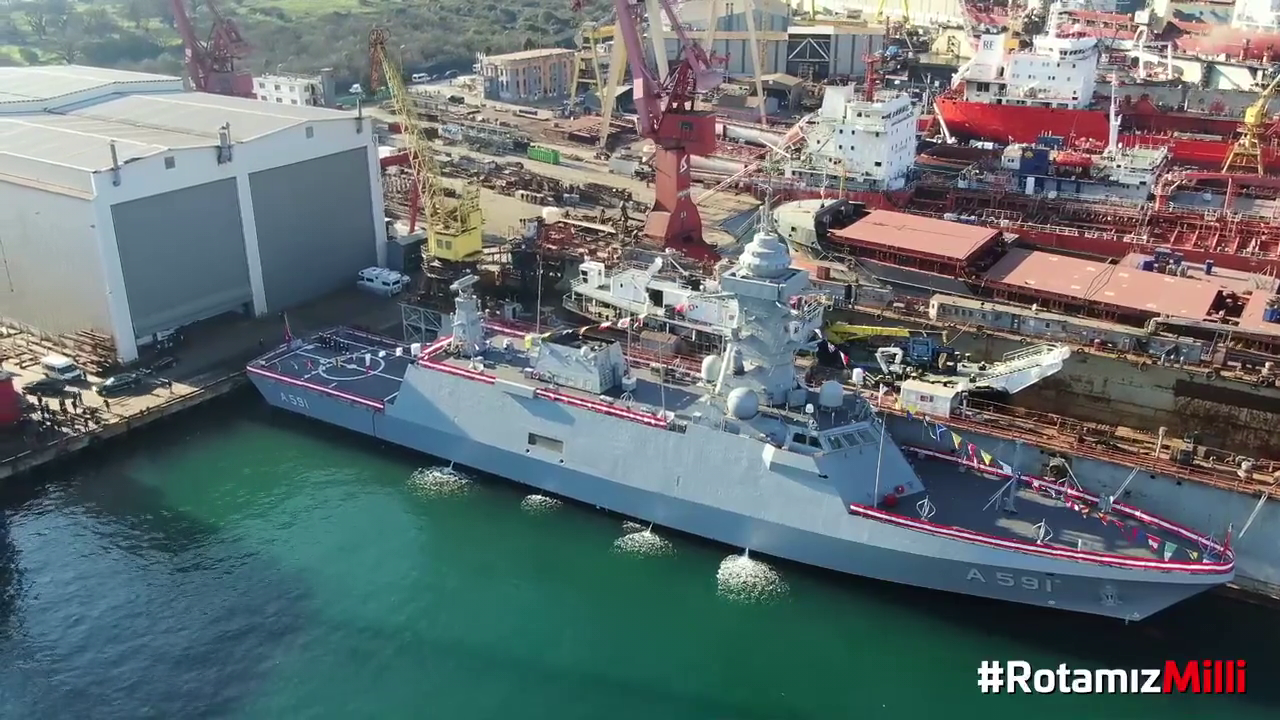 Turkish Navy has commissioned the intelligence ship
TCG Ufuk
by a ceremony held in SNR Holding Istanbul Shipyard, the shipbuilding subcontractor elected by STM, with attendance of President Erdoğan, SSB President İsmail Demir and STM's manager Özgür Güleryüz. Before the TCG Ufuk the intelligence duties were mainly served by TCG Yunus (ex-West-Germany intelligence ship) and additionally ,rather partially, by TCG Cesme and TCG Candarli (
Silas Bent Class
survey ships). TCG Yunus has served in Turkish Navy between 1988-2000 and fulfilled ELINT-SIGINT duties, also were referred as "training and electronic survey ship" while TCG Cesme & TCG Candarlı is still in service and mainly functions as seismic / marine survey ships with limited SIGINT / COMINT capabilities.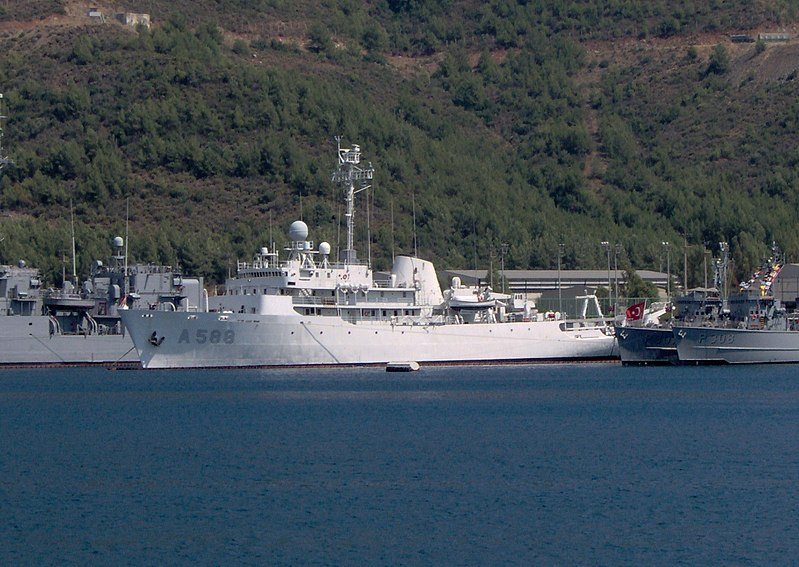 TCG Candarli, source;
eugenio A588
Picture of TCG Yunus is rare, and little information is retrieved from her service in West-Germany navy.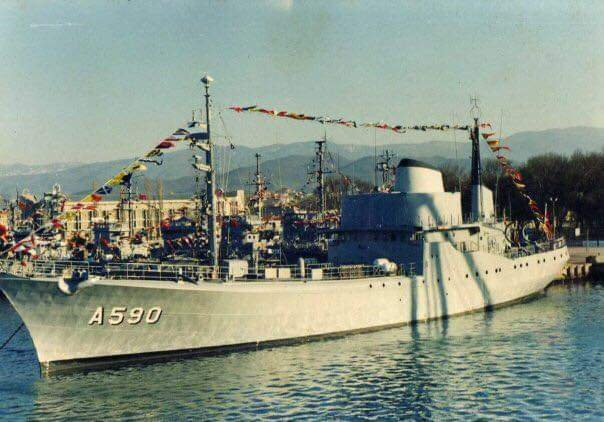 Source;
Fatih Mehmet Kucuk (Twitter)
The project dates back to 2009-2010, first emerged in SSB's (then SSM, an under-secretariat within the Ministry of Defense) annual reports in evaluation of the feasibility phase. The ship's form then matured as requirements have settled and finalized after involvement of the MIT (National Intelligence Agency). In 2015-16 SSB has signed an agreement with STM for design and engineering jobs for the platform and granted main contractor title for the project in 2017. The ship's form first emerged, officially, in launching ceremony of the platform held in February 2019 in SNR Holding Istanbul Shipyard.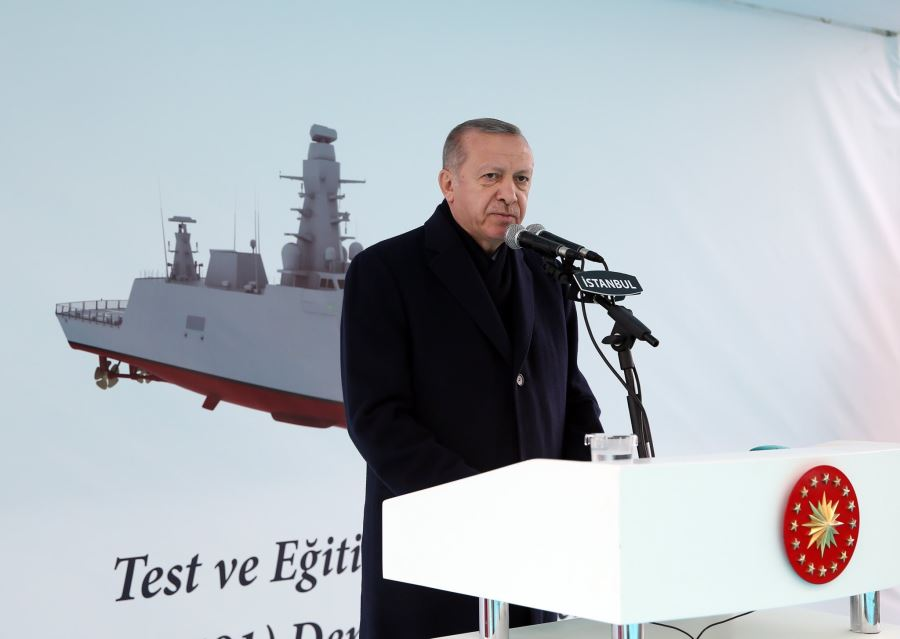 Source: SSB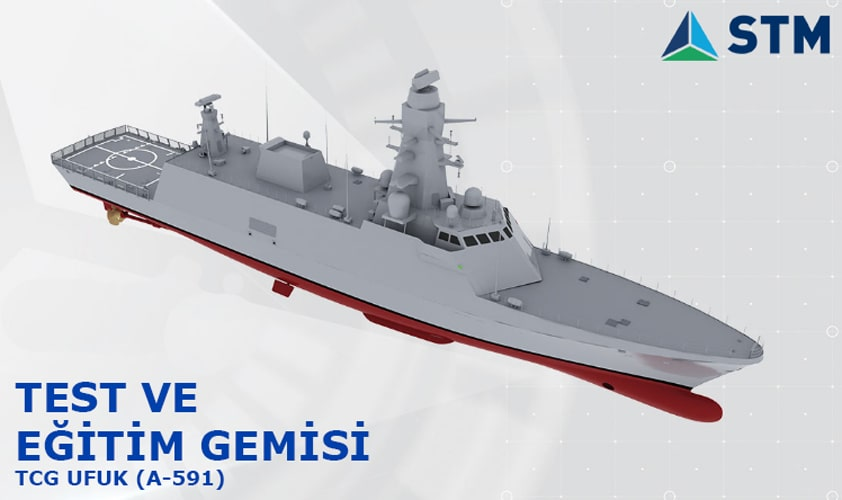 Earlier design of TCG Ufuk, note that the ESM-module is likely to be extended band in the earlier design as well. Source; STM
It was seen that the intelligence ship, officially given the title of "Test and Training Platform - TVEG in Turkish" and it was based on Ada-Class design. The difference that was caught at first glance was as follows;
​
Anti-Submarine missile bay has been cancelled and combined to interior space.

​

A new higher and bigger mast has replaced the original mast, designed to hold more equipment than the original one.

​

A secondary mast has been placed at the aft position, with a surface surveillance

​

Main gun was removed, the space was combined to the interior space.​

Exhaust funnel has been shrunk, indicating the gas turbine was removed but the diesel engines were kept as the same, gas turbine space has been repurposed.​

Hangar door has been made smaller to allow equipment and UAV transfer, thus indicating the hangar in fact is repurposed as an interior / storage space for certain equipment. With no intention of storing a helicopter.​
However, the information was scarce at those times and sufficient information was later obtained as Intelligence ship's final form has been revealed as the ship has set sail for the sea trials. At first glance the differences from the earlier, interim design was remarkable. The differences are given as follows;​
The mas was equipped with broad-kind of equipments, unlike the earlier one with a SMART-S or equivalent, the mast now hosted a fixed face, likely dedicated ELINT antennas.​

On top of the mast the VHF/UHF antenna similar to the Milked 3A3 was present. It may be guessed that the land-based versions were adopted for the naval use.​

On top the mast likely a SIGINT antenna based on the ESM modules developed by Aselsan, was present. The new antenna covers a broad-band receivers in different layers and 12/16 antenna on the each layer provides an omni-directional reception and direction finding capability.​

Improved version of Denizgozu Ahtapot E/O by Aselsan was present, likely for reconnaissance missions for surface and aerial surveys.​

Direction finding rotating type SIGINT / COMINT systems were present for focusing on certain frequency bands.​

Direction finding high gain HF / VHF / UHF antennas.​

Aselsan's HF Direction finding antennas, distributed around the hull on circumference by pairs.​

Several IFF interrogator likely in eavesdropping mode.​

X-Band SATCOM antennas, note the ship is equipped with a special version of ADVENT by Havelsan & Armerkom that is dedicated for mission planning of the intelligence duties and intelligence sharing with other platforms through network-enabled environment.​

Additional few other antennas likely for eaves dropping of the 4G-LTE-5G cell-phone communications.​

Source;
STM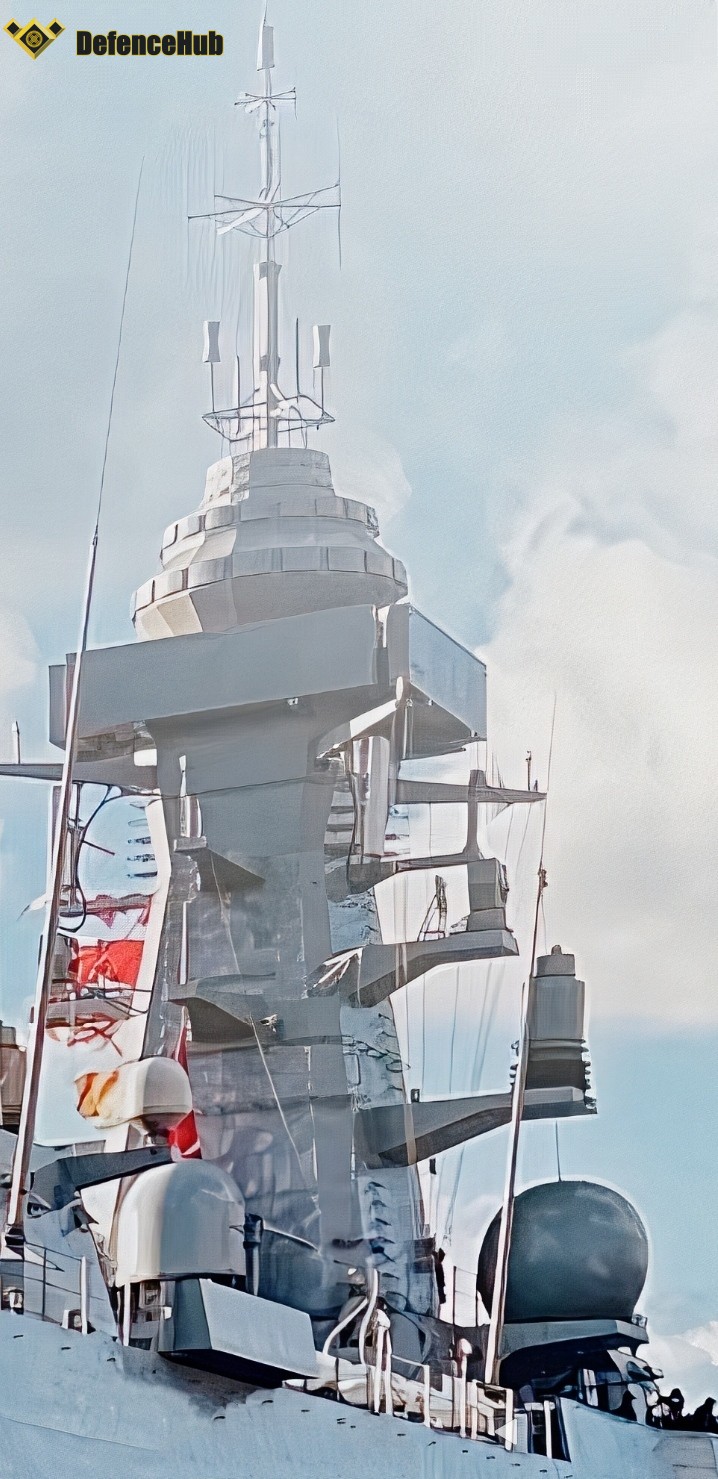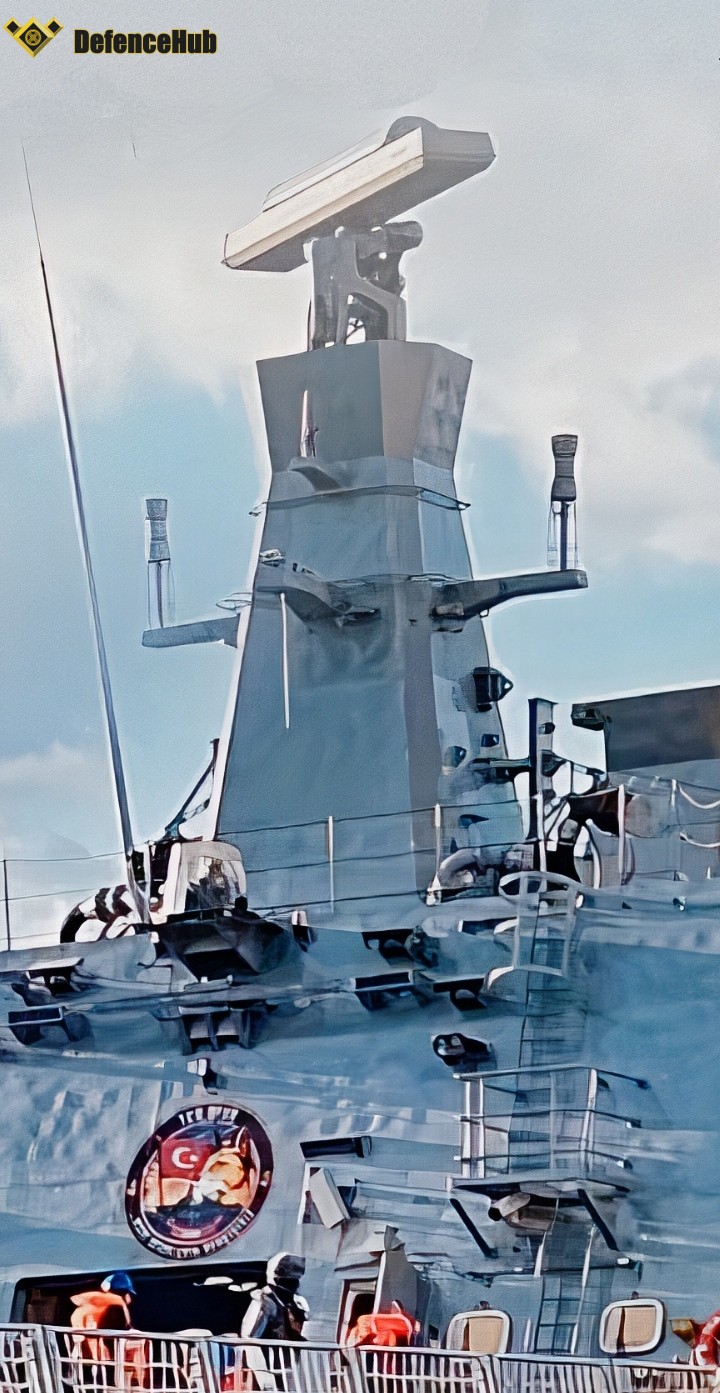 Improved quality-visual of the Main (left) secondary-aft position(right) masts, certain equipment are distinguishable. source; @Test7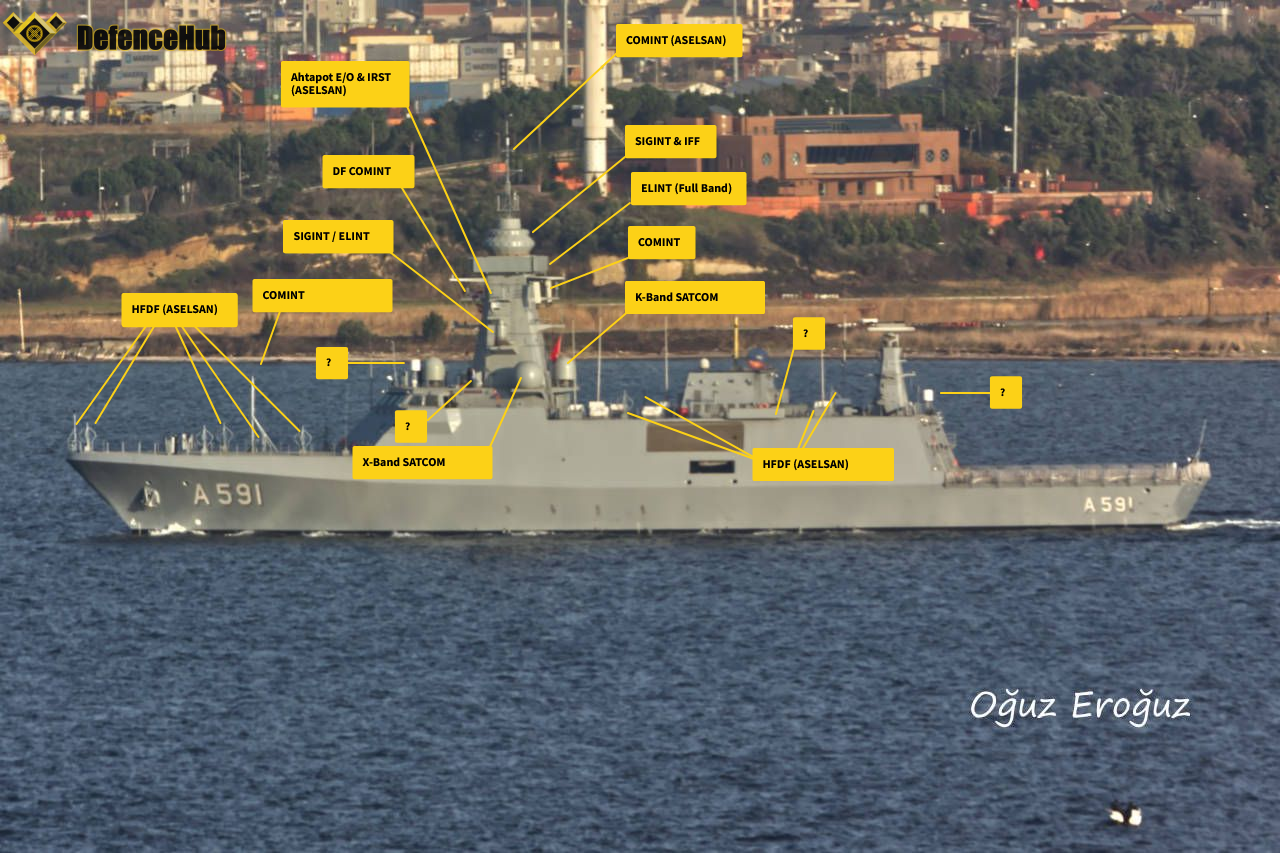 A look from afar during sea-trials of TCG Ufuk, original image by Oğuz Eroğuz, addition by forum.
It was unofficially known that National Intelligence Agency (MIT) was affiliated with this project but it has surfaced in the ceremony officially that MIT personnel will serve onboard. From here we can further deduce the MIT personnel will focus on COMINT (VHF/HF and cell phone communications as well as certain frequency bands of the SIGINT for crypto communications) while Navy personnel will focus on whole of the ELINT / COMINT / SIGINT for whole as well as surface and aerial surveillance by radar and IRST (Infarared search and tracking).
The main characteristics and duties of the platform are given as follows;​
Main dimensions, same as Ada-Class the tonnage is expected to be in range of 2200-2400. No information is available on hull form modification.​

Propulsion; Diesel, one engine per controllable pitch propeller.​

Maximum speed; Continous is given as 18, however it is known that the installed engines are capable of 20-22 knots in higher MCR.​

Generator: 4 x 750 KVA same as Ada-Class Corvette and I-Class Frigate.​

Complement: N/A, expected to be above 100 with crew, MIT personnel and Naval intelligence division as well as other intelligence officers from Land and Air Force.​

Maximum capacity: Likely has additional bedding for guest and trainees.​

Endurance: 45 days autonomy.​
Briefly, It is expected that TCG Ufuk will serve the following duties;​
Signal intelligence gathering in broadband frequencies.​

Electronic intelligence gathering, classification of the source and contribution to the EW library.​

Communication intelligence, gathering communications without encryption and storing, classifying per the importance level.​

Eaves dropping for IFF and cell-tower based communications.​

Fusion of the intelligence data, matching SIGINT / ELINT sources and defection of operational bands for variety of the targets, as well as adding radar signature or IR signature of the target to the library.​

On-board high performance computing ability for decryption of the data, processing SIGINT and ELINT data, as well as fusing onboard data with the additional data delivered from the external sources.​

Training of the ESM / ELINT personnel for Navy's combatants.​

Training of the EW personnel for Navy's combatants.​

Training of the surveillance officers.​

Test of newly developed radar systems, EW suites and modules, calibration of the equipment in actual marine environment.​

Telemetry duties for long-distance reception of certain properties for nationally developed systems.​
From these mentioned aspects, it is safe to refer to TCG Ufuk as "Next Generation Intelligence Ship", it is also expected she is equipped with other systems that is not revealed to the public and the rest is up to imagination of the readers on what this ship is capable of, serving right in the middle of the Turkish Armed Forces and MIT. Note that the ship's sea trials was expected to be completed by 2020, however she had gone under a prolonged session of sea trials for testing and verification of the freshly developed and installed systems.​
Last edited: