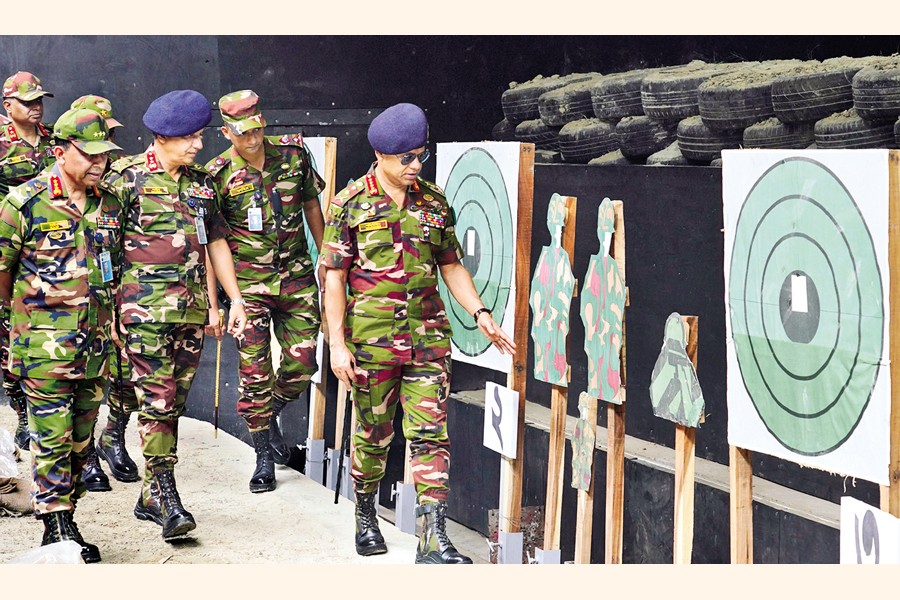 Chief of Army Staff General SM Shafiuddin Ahmed inaugurated a newly built modern indoor firing range in Sheikh Russel Cantonment at Zajira in Shariatpur.
This newly constructed state-of-the-art indoor firing range has the facility of automatic target change with firing in hostile weather and from a distance of 100 meters, which is a new addition to the practice of firing for Bangladesh Army personnel.
Apart from this, the army chief inaugurated the family residence of JCOs and other ranks of army personnel, the Garrison Central Mosque and other important installations.
In his speech at the opening ceremony, the army chief expressed optimism that the 99 Composite Brigade assigned to the security of the Padma Bridge will play a far-reaching and effective role in the humanitarian and public welfare work of this area in the future.
In addition, he mentioned in his speech that the fearless soldiers of the Bangladesh Army are always ready to assist the civilian administration in dealing with any national calamity.
General Officer Commanding (GOC) 9 Infantry Division and Area Commander Savar Area, Senior Army Officers of Headquarters and Savar Area, Junior Commissioned Officers, other ranks of soldiers and civilian officers and employees were present on the occasion.
Chief of Army Staff General SM Shafiuddin Ahmed inaugurated a newly built modern indoor firing range in Sheikh Russel Cantonment at Zajira in Shariatpur.This newly constructed state-of-the-art indoor firing range has the facility of automatic target change with firing in hostile weather and from a d
bangladeshpost.net