IDEF'21 (15th fair) has been held in the August, 2021 and in this article we will have a brief look at the naval systems that has been on the display. We will start with Naval platforms of different sizes, then talk about naval weapon systems spanning from cannons to remote controlled stations and finally talk about software and sensors that specifically introduced for naval platforms.​
Naval Platforms, ongoing projects and concepts​
TF-2000 AAW Destroyer​
Before all, in the last IDEF we have seen the latest configuration and design update on the two ongoing, major projects of the Turkish Navy; Istanbul Class frigate and TF-2000 AAW destroyer.

I-Class had visible differences on the mast from the earlier released concepts, which was also noticed when the first hull is launched in January 2021, in IDEF the details of the mast and equipment to be installed has been revealed. TF-2000, on the other hand, has been through some remarkable changes in the design with the inclusion of the Nazar DIRCM, revisiting mast and overall design as well as the doctrine.

TF-2000's latest design is present below, with the tonnage increased to 8500 from 7000 tonnes and new equipment, antennas, sensors on re-designed main and secondary masts have been included.
Noticeable changes are ;​
Gezgin long-range cruise missile capability within the MDAS VLS​

Larger bandwidth X-Band satellite based combat communication system​

A higher mast with inclusion of dedicated ESM​

A new secondary mast for ESM and ECM of V/UHF communication systems​

A new antenna system for unmanned operations​

Inclusion of USVs and UAVs in the Flexible Bay​

Nazar DIRCM & LEA (will be revisited below in the sensors section)​

Gökdeniz CIWS​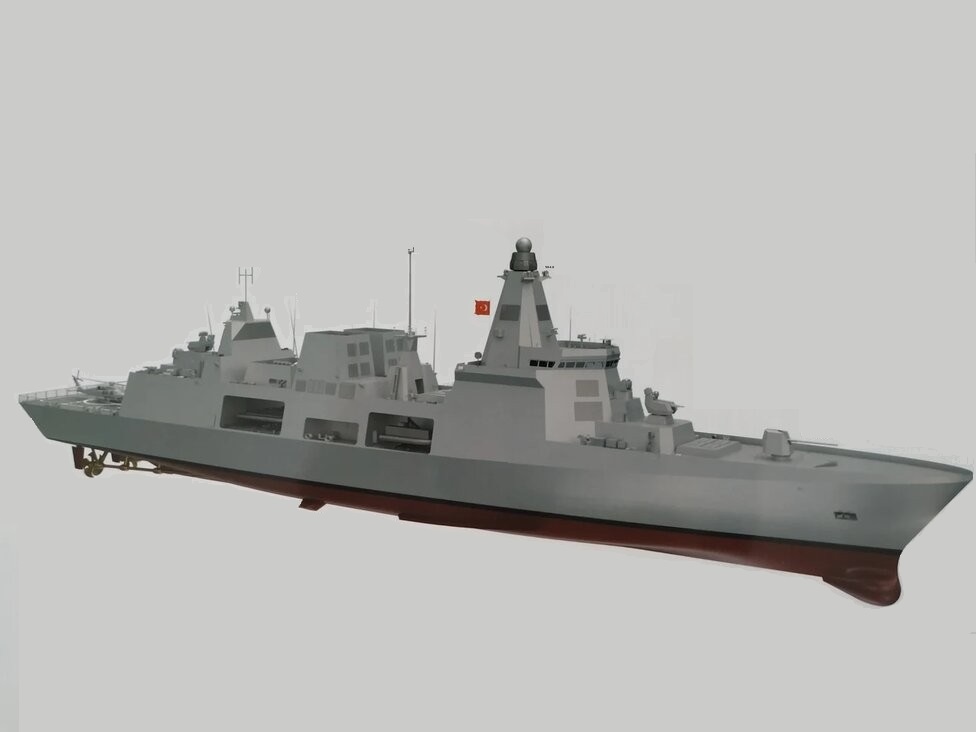 Mock up of the
TF-2000
, with
I-Class
on the background, IDEF'21 DzKK (
Turkish Naval Forces
) stand:
Related events for TF-2000
Noteworthy, TF-2000 sonar suite development project contract has been signed between SSB and Aselsan, Armelsan at the IDEF. The extends of the contract is unknown for now but it expected to cover a bi-static advanced multi-receiver variable depth sonar /towed array sonar system in addition to development of a low-frequency bow (bulbous bow) mounted sonar system. The bow mounted sonar system also includes development of an advanced composites sonar dome for the bulbous bow. Same kind of sonar domes are also in use by Ada class, soon to be on I-Class and Barbaros and developed-made by Yontech (a subsidiary of Yonca Onuk).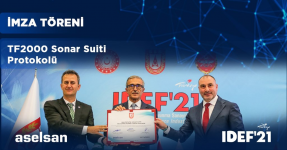 In addition, MoU on multi-static radar development for TF-2000 project is signed between Tübitak BILGEM and Aselsan and SSB. Earlier in 2021, Aselsan has revealed their intention of having multi-static capability on CAFRAD on a roadmap.
The multi-static radar on a demonstrator platform is available by 2025 implying qualification and finally on TF-2000 CAFRAD by 2030 with a full operation capability. Mentioned in the forum earlier in 2021,
here
.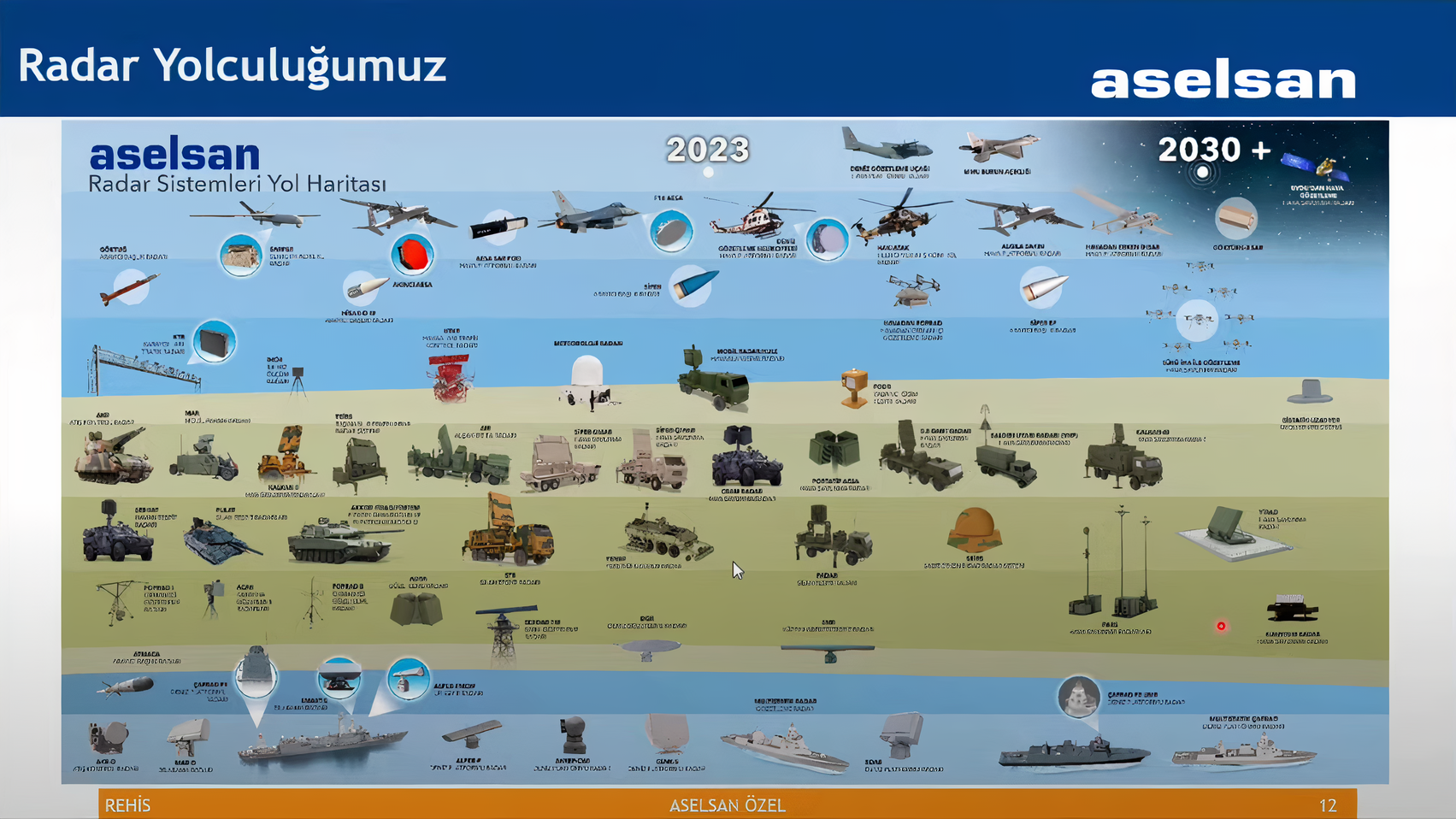 Lastly, Ismail Demir has stated the tender for construction of the
TF-2000
will commence soon and private shipyards are going to be invited as well. He also emphasized
TF-2000
, along with
Istanbul Class frigate
, is among the priorities of the future procurement for the Navy, when the roadmap for the second hull in LHD class, is asked.
Aft-view of the
TF-2000
and
I-Class
on DzKK's stand:
​

Istanbul Class Multi-purpose frigate​
I-Class mock-up, scaled model also have been present in the STM's (below) and Turkish Naval Forces (DzKK)'s (above) IDEF stand, the changes made on the earlier design could be noticed as the systems on secondary mast, addition of electronic attack and recently introduced dual band electronic support measures - Ares-2NV2 and new wide bandwidth X band satellite communication system to make network enabled warfare available in future, by Advent CMS.
The noticeable changes compared to the earlier forms;​
Cenk-S AESA multi-purpose naval radar, ranges is told to be 400+ km​

X band satellite based combat communication system​

ARES-2NV2 dual band ESM​

2 distinct EA system placed on each side of the mast​

PIRI KATS (IRST)​

A revisited second mast, to enable unmanned operations in the future.​
These changes are best to be seen on the detailed 3D images published by STM in their catalog: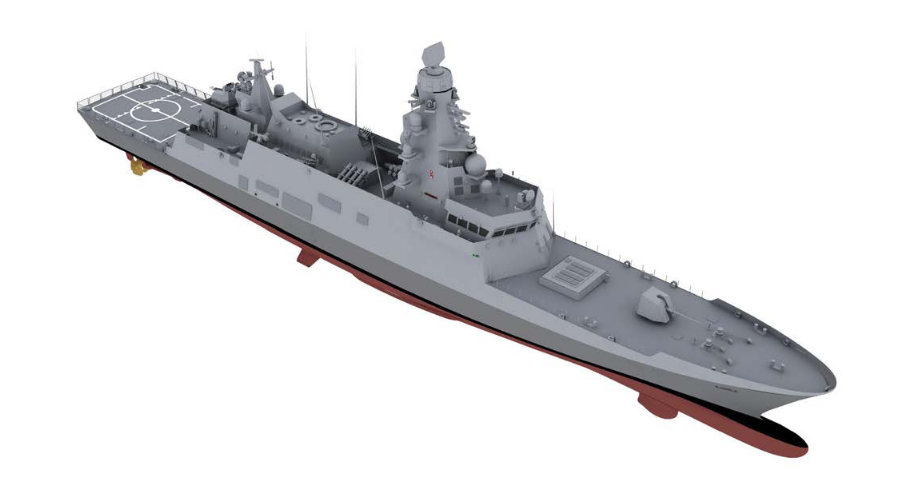 ​

Barbaros Class Mid-Life Upgrade (MLU) project​
Apart from the new-building projects for the Navy, one another major project is the mid-life upgrade of
Barbaros Class
frigates, the design has been revealed earlier by SSB, SEFT (Design subcontractor) and lately by Aselsan (Major contractor). The latest update on the design now includes a payload similar to the I-Class with the Ares-2NV2 ESM module, newly introduced pair of EA systems and new communications systems on an integrated mast with PIRI KATS (IRST).
Barbaros
MLU from Aselsan's stand, IDEF'21.
​

Turkish Type Offshore Patrol Vessel (namely AKDG)​
Turkish Type Offshore Patrol Vessel is announced nearly a year ago through an update in DzKK's website, later it was announced that design stage continues with the collaboration of ASFAT and DPO of the DzKK. The latest information about the AKDG project is obtained during launching ceremony of PNS Babur, PNS-280 the first hull of the PN Milgem Corvette project, as the first steel cutting and welding took place with a ceremony. Turkish Type Offshore Patrol vessel comes in modular configuration, where a mast with light 3D search radar and basic ESM sensors is present, the mast architecture from Ada-Class is being conserved for further upgrades when needed. The design features of Ada-Class has been kept same, however, since the platform does not have high speed requirements the propulsion system has been converted to CODELOG, which also referred as CODOE in certain application. Four diesel engine run the AKDG up to the speed of 26 knots where two are configured as generators to supply the electrical engines, the platform also has a streamlined and lighter (about 2100-2300 tonnes for varying configurations) compared to Ada-Class. It worths to note that generator capacity has been kept same as the
Ada-Class
.
The mock-up of AKDG, OPV, design shows the flexible configuration of the design. Notice, the additional systems are not just FFNBW but one step beyond it. Maximum payload of the
Hisar Class
OPV indicates;​
1 station on the rear of the main gun that is compatible with up to 35 mm RCWS or missile launchers (up to 8) or Gökdeniz CIWS / MKEK CIWS.​

A middle exposed deck bay for 4 + 4 anti-ship missiles and 4 + 4 medium range air-defense missiles (in the final the VLS bay will be more solid, integrated and streamlined)​

2 x RCWS stations​

2 x ASW rocket launcher (6 tubes each)​

Gökdeniz CIWS​

Moreover, the ship also can be equipped with additional payloads such as USVs in the RHIB bays (2 on side, 1 on rear platform) and ASW torpedoes.​

The sensor payload for now seems to be Mar-D,however the mast is known to be compatible with X-Dar and Smart-S/CENK-S as well.​
Flotilla Replenishment Ship (DIMDEG)​
To be mentioned further, little told about the
DIMDEG
project and the first hull of the class:
TCG Derya
. The construction continues and expected to be launched this year. The ship runs on two gas turbines (GE LM2500) and reportedly has maximum speed above 28 knots. The design has been re-released with 2 Gökdeniz in place of Phalanx CIWS, and 2 RAS on each side, instead of 1.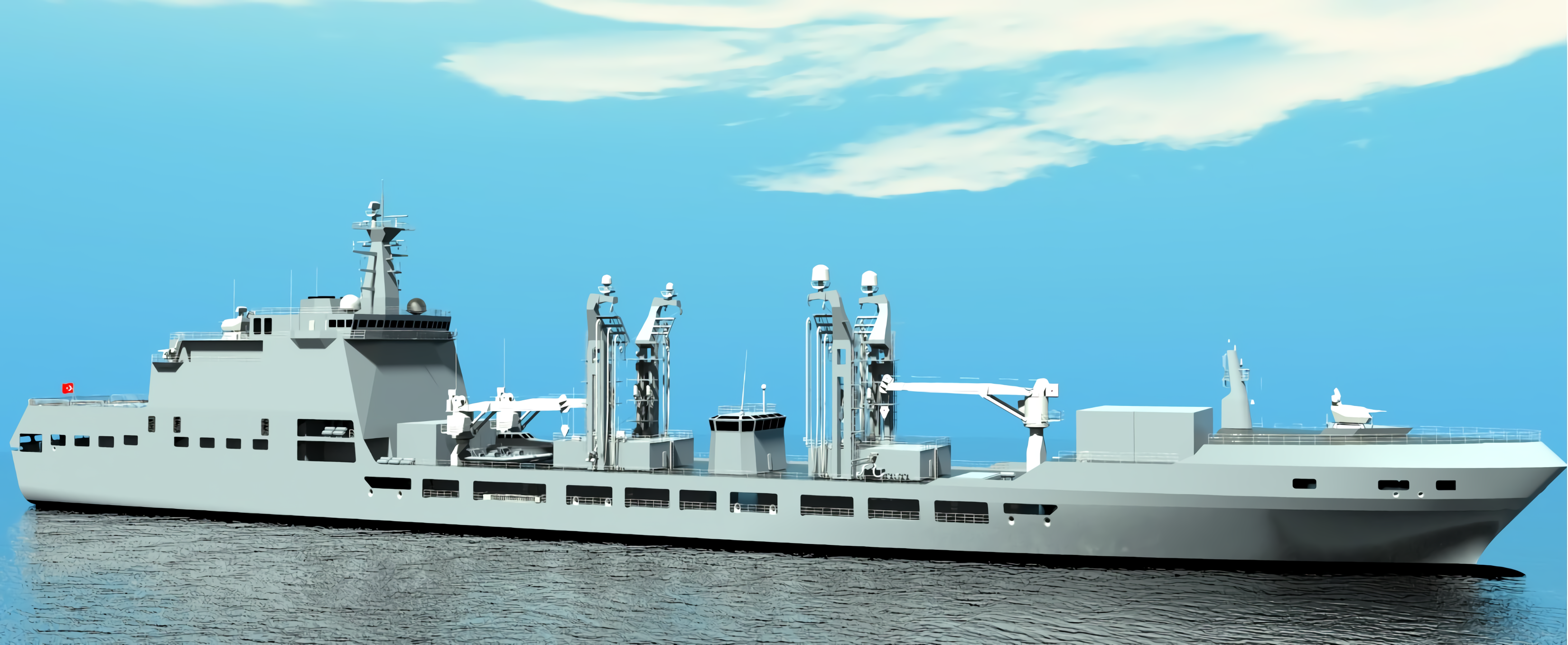 ​

Concept designs and exports​
Yonca-Onuk has displayed a new design of the MRTP concept called MRTP-51, now rather a fully-fledged fast attack craft equipped with;​
76mm main gun,​

Mar-D 3D search radar,​

8 Anti-Ship missiles,​

Missile based CIWS,​

2 of RCWS.​
The platform is told to have a maximum speed above 55 knots (reaching 60 knots) merely by using diesel engines and having a superb sea-keeping and maneuvering characteristics in addition to low radar,IR and acoustic signatures thanks to the advanced composites hull.
Another FAC design by Yonca-Onuk, rather a light configuration equipped with 35mm RCWS as the main gun and 4 Anti-ship missiles.
ASFAT
had 2 designs on the stand oriented, designed for export. One of those are well known
PN-Milgem
project which the first hull has launched in the August 2021 prior to IDEF, the latter is
Jinnah class
ASW-oriented multi purpose frigate being developed in collaboration with Pakistan Navy and the associated engineers, the platform is expected to have Pakistani system on board, to start with the RIBAT ESM system.
One of the earlier designs belonging to the
PN-Milgem
has been showcased as well, this design was rather one of the very first iteration prepared for requirements of the Pakistani Navy.
And the latter design shows rather the new design which is also showcased during launch ceremony of the PNS Babur.
Jinnah class frigate
catches the eye with the modular and stealth design;​
2 x ASW rocket launchers are hidden behind the side-panel of the forecastle, afore the main gun,​

4 + 4 anti-ship or ship-launched cruise missile in the hidden bay,​

8 + 8 Albatros NG with capacity to grow up to 36 when needed.​

Furthermore, the flexible VLS platform in front of the bridge is designed to host general VLS launchers (Turkish MIDAS, American Mk-41 or French Slyver of long-variants).​
The platform,in general is designed to allow more growth than
Ada-Class
's base design,such that Jinnah design may reach to up to 4500 tonnes with ease by modifications. With an additional spot for a secondary mast is being spared, also a main mast space spared for upgraded mast designs when needed for AESA based APAR, etc. The design aims to include more contribution, component wise, from Pakistan, as being prepared for Pakistan Navy in collaboration with PN engineers by ASFAT and design subcontractors.
Jinnah Class
also has all diesels propulsion, CODAD in 2 + 2 formation, 6MW each.
Some visuals from the brochure of the Jinnah Class;
Dearsan
has displayed C92 corvette on stand, now being a realized design and in inventory of the Turkmenistan Navy, with the hull pennant number 01 and named Deniz Han (Khan of the seas). Note that the ship is the first warship export of Turkey and the hull in fact is packed with;​
16 VL-MICA,​

76 mm main gun,​

2 x 25 mm RCWS,​

4 + 4 Anti-ship missiles in bay covered with lid,​

6 cell ASW rocket,​

Gökdeniz CIWS,​

Hull mounted sonar,​

3D surveillance radar​
The updated mine hunting and counter-measures (MCMW) vessel design by Dearsan, a designed aimed for the tender of national MCMW, which is expected to be launched within this year.
A new concept, multi-purpose frigate, and the platform seems to be equipped with was also showcased by Dearsan, likely aiming a customer which is next to procure a frigate after a corvette;​
2 Gokdeniz,​

16-32 cell VLS,​

at least 8 SSM,​

an AESA radar (the mast resembles TF-2000's renewed mast design) that looks like Aselsan's CAFRAD CFR module, dedicated USV bay and a helicopter landing platform with a hangar.​
The customer is also expected to be ready for this design since
Dearsan
has recently established a shipyard in Turkmenistan within the lands of military school in Turkmenbashi city. The shipyard, so far, has launched C92 corvette, Deniz Han, but looking at the facilities and on-going upgrade works the shipyard is being prepared for new constructions. The frigate seems to be in range of 130-145 meters in length, and 4000+ tonnes in displacement.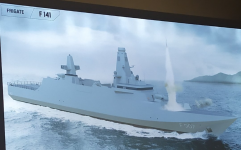 Image reference:
Omer Cay
Lastly but surprisingly
Dearsan
has came to the show with a rather small submarine design, a 250 tonnes midget submarine with inspiration from Swedish A26. The sail of Dearsan's submarine highly resembles A26's design, also used with the purpose of relocating bow sonar (more likely) and easing the design lines also making space for additional torpedoes and bunkers for the crew.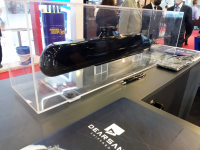 Image reference:
Ibrahim sünnetçi
STM
has showcased multi-purpose attack craft (MPAC) design, which is equipped with nearly same payload as Yonca-Onuk's MTRP-51 FAC with extras on the sensors: X-Dar (AESA) as 3D search radar and dedicated ESM/ECM/ED modules, with increased capacity of personnel and entirely gas-turbine (LM500) based propulsion (2+1 waterjet).
STM
has additionally displayed a mini submarine design, with 540 tonnes of displacement (submerged). TS-1700 design is offered as a modern, cutting edge replacement of Type-209/1500.
STM 500 offers;​
4 ( 2 AShM compatible) 533mm torpedo tubes​

4 additional torpedo storage totaling 8​

30 days of operation​

Torpedo countermeasures​

Several sensor systems including own-noise sonar and accelerometer, ESM and optronic mast system​

75 NM range with batteries (expected to be doubled with introduction of Li-Ion) and​

3000 NM with diesel engines,​

4000 NM with diesel + AIP integration (by modification of the hull)​

and TS1700 offers;​
90 days endurance​

8 torpedo tubes (4 compatible with AShM)​

8 additional torpedo storage, totaling 16​

400 NM range with batteries​

6000 NMrange with diesel​

7000 NM with diesel + AIP (with a modification)​

Double hull design, isolating the inner hull from the outer to maximize survivability and isolate equipment from possible shock loads​

STM
has shown additional three designs oriented for Coast Guard operations; CG 1071, 1041, 3100 where the numbers refer to the displacement of the vessels. The designs cover a range of 1000 to 3100 tonnes while the prior two are rather new designs. To note the latest of them, 3100, is based on Istanbul class and offers 4 RHIB bays on the sides, 1 RHIB platform on the stern deck and a helicopter deck with a hangar capable of handling 15 tons helicopters (or unmanned rotating of fixed wing aircraft). The 3100 tonnes variant runs on diesel engines and being based on a frigate, it has superb sea keeping (operations up to 5, partially at 6) and survivability characteristics (naval grade hull and reduced signatures) and an operational range of 8000 NM, and autonomous operation duration of 40 days.



​
Naval Weapon Systems​
MKEK
, now became a company under TR's ministry of defense, has debut two major weapon systems for naval platforms, a MKEK 76 mm naval gun with similar features to the Oto melara compactto, and a gatling gun (20mm) based Close-in weapon system. For the latter MKEK currently studies the control mechanism and software, a low-scatter munition and gatling gun and helezoic feed mechanism for the gun. It is expected that Aselsan, or Meteksan is going provide sensor and seeker solutions for the gun in a vertical architecture similar to the Phalanx. The gun, in overall, seems to be inspired by Phalanx CIWS, MKEK also continues development of the several munitions for the CIWS system to enable its use on C-RAM missions.
The 76mm gun is expected to have features of oto melara's compaccto, but as per requirements of the Navy it is expected that a variant similar to the Super Rapid shortly will be developed. MKEK officials has disclaimed they also work on 40mm guns to replace aging Oto melara twin and fast forties. The gun command systems, TAKS (fire control system) to increase accuracy of the systems is provided by Aselsan. Aselsan offers the system for 76mm, 40mm and 127 mm naval guns that uses a novel ballistic course correction and estimation to increase accuracy of the gun with unguided shells remarkably. The parameters is also updated on the go, allows gun to estimate an accurate path depending on weather, gun and ships condition.
And a comparative analysis of MKE CIWS and Phalanx CIWS is done by
@Test7
,
here
. Note that the MKE CIWS is incomplete as of now without sensor suite is fitted on.
Both
Aselsan
and
Roketsan
has showcased RAM-like missile based CIWS, where Aselsan's system is named as Gökdeniz-ER and resembles SeaRAM with 11 cells but with fixed AESA radars to provide 360 degree search and track simultaneously, Roketsan's system is named as Levent and with 21 cells. Furthermore, it is noted that Aselsan intends to work with Tübitak in development of the missile, and Roketsan offers two missiles, one to be derived from Sungur and in extended range application with modifications, and another Block-II missile which is to be equipped with a RF seeker (or a dual-mode seeker like the RAM). The demand is known to be stemming from Navy and SSB may orchestrate a consortium for achievement of a RAM-like system for Turkish Navy, since such a system involves high level of complexity.
Roketsan
's stand also hosted two on-going torpedo projects (right), one reaching to the delivery within this year after a final test with live-warhead and another expected to be in inventory in the next year, 2022. Akya HWT specs are; 45 knots maximum speed and 50 km range, while Orka LWT's specs are; 40 knots speed and 25 km range. Meanwhile, Aselsan has shown the launcher of the Orka LWT that is being developed for ASW vessels and ASW USVs (left).
Aselsan
has also showcased a family of the torpedoes which ranges in size and application;​
One heavy weight torpedo,more likely linked to Akya project​

One extended range torpedo, more likely a loiter-hunt torpedo for long-range threats​

One high-velocity torpedo, may be super-cavitation or may not​

One lightweight torpedo, or simply Orka is being shown for sake of demonstration.​
In IDEF'21
Aselsan
has showcased a long-waited multi-purpose 35mm gun aiming for platforms that may need a large caliber remote controlled weapon system, but also in need of more advanced capabilities like programmable munitions;​
Negative-angle engagement enabled​

Dual linkless feed mechanism​

Flexible firing rate (60-500 rpm)​

Flexible sensor configuration​

Ability to work independently-automatically​
Naval Sensors, Electronic Warfare and Soft-Kill Systems​
First among them is NAZAR by
Meteksan
, a directed infrared/energy counter measures to neutralize incoming missile or swarm threats. The system, as understood from the definition hosts a infrared energy systems and EO tracker with an illumination module. The system is told to be in service within 2021 by DzKK for port protection initially. Reliable sources also indicates the ship integration procedures have began and the system has been tested aboard a frigate, and to be operational in 2022. Nazar DIRCM - LEA sytem is also available on TF-2000 AAW destroyer.
NAZAR has capabilities covering a major portion of the spectrum (entire of the IR spectrum) used by most of the missiles, also an ability to employ functional kill by using laser-electronic attack techniques through an EA library dedicated for the threats.
Behind of the curtain Meteksan also showcased a light version of Nazar that aims to neutralize two bands of the IR spectrum which is used by a large portion of the missiles in use (and particularly targets small-sized ships), however not as extensive as NAZAR. The system is in development for corvettes, frigates even for FACs thanks to the low-penetrating light architecture.
Lastly, Meteksan has shown a special product among their other solutions for the submarine applications(intercept sonar, hydrophones, own noise sonar, array bow sonar): a fiber-optic based acoustic sensor with flexible architecture.
The system is shown on a submarine as side-sonar, however later in a catalogue Meteksan has used this fiber-optics acoustic sensor, as part of an towed-array sonar system on Ulaq-ASW oriented USV, indicating a multi-static approach for use of the Ulaq ASW.

FOAA has a bright future since it is the new trend for sensitive-low EM interaction towed array sonar system that requires additional special fluids to provide insulation in between of the power and data transmission cables.
Aselsan
on the other hand has displayed several known systems, ARES-2SC electronic support system for submarines, electronic attack modules for TCG Anadolu, but also displayed a new electronic support measures system named ARES-2NV2. The new system inherits additional antennas for an additional band providing a greater frequency coverage for the installed radar systems.
In addition, another contract is awarded to Armelsan-Aselsan, development and application of multi-static sonar systems. The project earlier announced by Armelsan in an interview, and it is focusing on use of USVs and a mothership (or a swarm of USVs) in multi-static configuration for ASW duties and A2AD operations. The additional information on multi-static sonars can be read
here
.​
Armelsan, with Aselsan, is going to offer a scalable multi-static sonar systems deployed by a team of USVs enhancing mapping and ASW capabilities, also by switching from pulse-type active sonars to "always-on" type active sonars, the ASW techniques will be enhanced remarkably. Typically, despite of loosing a certain power due to the scaling down of the sonar systems on a USV, a team of USVs will be able to scan an area larger than what a frigate may do, moreover, frigate's powerful sonar can be used as signal emitters and USV sonars located at far distances can be set as a receiver, using dynamic position, multi-static configuraiton, underwater objects or threats will be "mapped" with a finer resolution and will be detected at longer distances.​
Armelsan
has debut the mine avoidance sonar in IDEF, which is to be mounted on national mine counter-measures warfare vessel design, and to be used in upgrade of Engin class. The sonar is elevated with a hydraulic system and provides a stabilized operation up to the sea state 2/3.
The operational concept of Nusrat mine avoidance sonar is also seen on the video by Armelsan.
And lastly, Cenk-S the S band AESA radar by
Aselsan
has been finally, and officially showcased. The range or capabilities has not been mentioned, but it is told to have an effective range in two times of Smart-S and typical multi-tool capabilities of an AESA radar.
Gone unnoticed by many people, the X-DAR, an X band marine surveillance radar by Aselsan took its place on mast of several platforms, on MPAC by STM. The radar is also known to be based on CAFRAD's CFR module. The radar has an estimated range of 150 km to 200 km and particularly designed for FACs and Patrol Boats. Check out the mast of MPAC.
And one surprise among all, we might have seen the light variant of CAFRAD, only consisting of CFR modules, similar to the Thales APAR, in preparation for a multi purpose frigate concept by
Armerkom
. Let this be found out by the readers.
Special thanks to, for pictures from IDEF:
@AVCI
@Altay_TR
@Stimpy75
​
Last edited: