Baklava Consumer
Moderator
Think Tank Analyst
Messages

2,775
Reactions
Nation of residence
Nation of origin
"It seems that Roketsan will use the capsule technology that will be used for ATMACA B2 GM, also in HİSAR Derin GM. The nose part of the sectioned submarine model on the ASELSAN stand at the 10th Naval Systems Seminar ... Torpedo tubes and AKYA, ATMACA B2, ORKA and Unmanned Underwater+"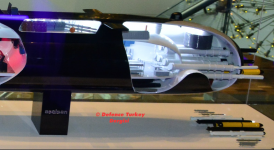 "We can consider one of the white capsules for ATMACA B2 as the GM of HİSAR Derin. On the other hand, ROKETSAN has been following the Supercavity Torpedo issue for a long time. Emerging Technologies in the Defense Industry, previously performed at the Rahmi Koç Museum in March 2017+"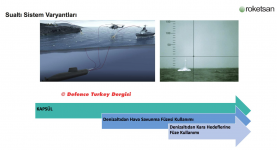 "The topic of Supercavity Torpedo was included in the presentation titled Underwater Systems made at the 10th Naval Systems Seminar, as well as in the presentation titled New Generation Torpedo Systems made at the Workshop."