Contributor
Moderator
Arab Moderator
Morocco Moderator
When the Royal Moroccan Air Force bombed the bases of the Polisario mercenaries in northern Mali twice, in 1977 and 1987​
Today the topic will be about one of the rare operations carried out by the Royal Moroccan Air Force in the desert war against the mercenaries of the Polisario, including the bombing of mercenaries' supply bases in northern Mali twice in 1977 and 1987.
The first operation: the July 1977 raid in northern Mali:
The mercenaries were using northern Mali as a rear base for them to cross towards Mauritania, providing supplies and fleeing to Tindouf.
After the mercenaries carried out repeated attacks against Mauritania in June 1977, the General Command of the Royal Moroccan Armed Forces issued an order in Rabat to respond by carrying out an air operation against mercenaries in northern Mali, and the United States of America launched By providing intelligence support via satellite, one of the mercenary supply bases was identified in Mali. four American F-5s were equipped with two AIM-9 Sidewinder air-to-air missiles, fuel tanks and five American MK-82 bombs.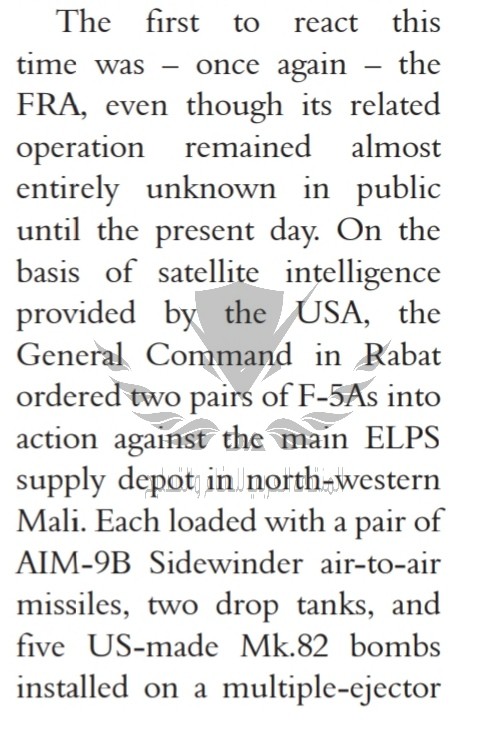 the three fighters (the fourth did not take off due to a technical malfunction) took off from Guelmim airport with a modified Gulfstream II transport plane to carry out air missions, which Colonel Kabbaj was on board, after it was refueled at Smara Airport, and the three F-5 fighters carried out the mission In northern Mali, the mercenary supply base was destroyed in northern Mali, and this raid was highly accurate.


The second operation: a raid in 1987
, based on the intelligence provided by America to the Royal Moroccan Armed Forces, a new supply base was identified in northern Mali, which the mercenaries reconstructed ten years after its destruction, Mirage F1 EH fighters that were refueled by air from The party of Boeing 707 aircraft modified to become Tanker attacked the mercenary supply base and the mission was successfully carried out.