Role:
Armored Reconnaissance and Weapons Platform
Nation of Origin:
Turkey
Designer:
Otokar
Introduction:
Weight:
13500 kg
Length:
5800 mm
Width:
2500 mm
Height:
1950 mm
Turret type:
Crew:
3
Engine:
Diesel / Electric / Hybrid drive
Main armament:
Secondary Armament/s:
Protection:
STANAG 4569 Level 3
Suspension:
Full independent suspension system with coil spring
Operational Range:
Maximum Speed:
110 km/h
Akrep II is a new armoured vehicle designed and manufactured by Otokar Otomotiv ve Savunma Sanayi, a defence vehicle manufacturing company based in Turkey.
The vehicle is intended to offer a robust and reliable platform that provides the required fire support to forces during quick reaction, search-and-rescue, border patrol, fire support and reconnaissance, scout, surveillance, and air
defence
missions.
Otokar collaborated with AxleTech for the development of Akrep IIe, which is the electric technology demonstrator of the Akrep II.
The Akrep IIe variant was officially unveiled at the International Defence Industry Fair (IDEF) 2019 held in Istanbul, Turkey, in April 2019.
Design and features of the Akrep II wheeled armoured vehicle​
Akrep II features a four-wheel drive system and can be optionally fitted with steerable axles. Designed to offer enhanced manoeuvrability to the forces, the vehicle can operate in challenging conditions and environments such as water trenches, mud, and snow areas.
The vehicle offers reduced silhouette and very low acoustic and thermal signatures, which enable its deployment in stealth missions.
The Akrep II has a length of 5.5m, width of 2.5m, and height of 1.8m over the hull. It has a gross vehicle weight (GVW) of 13,500kg. The maximum ground clearance offered by the vehicle is 400mm.
Akrep II's spacious interior allows it to accommodate three crew members including a driver, a commander, and a gunner. The vehicle further features five-point seatbelts and a floating floor.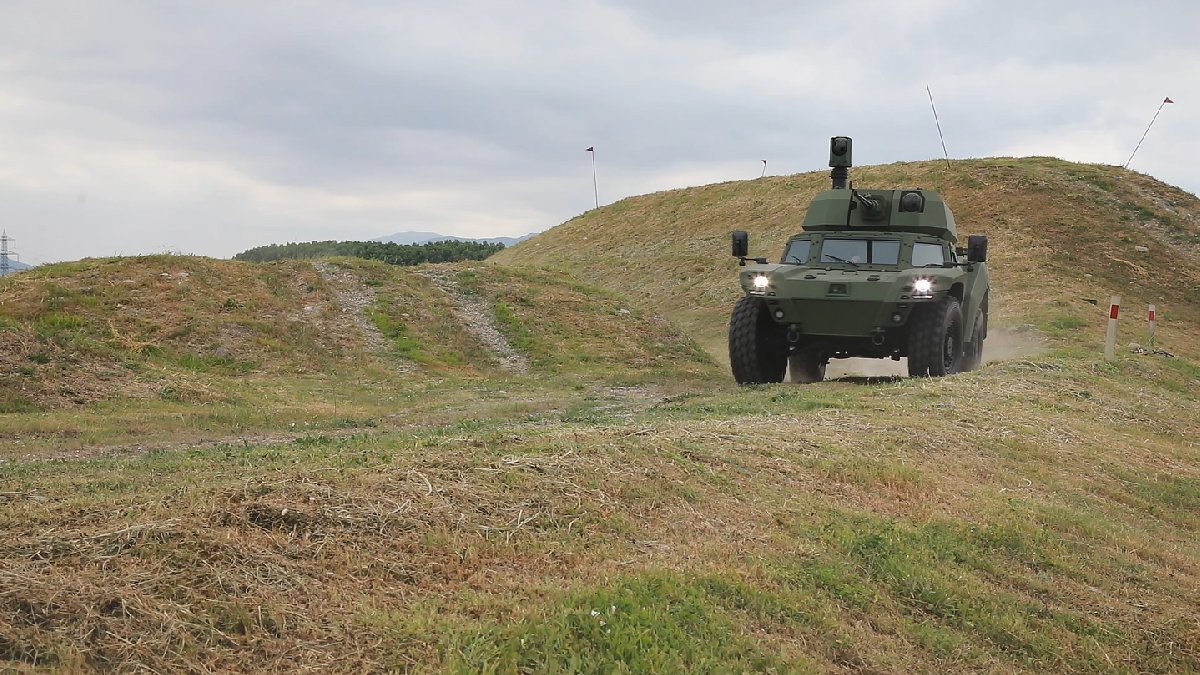 Maneuverability
AKREP II's four-wheel drive system and steerable axles (optional) give the vehicle maneuverability. Relying on the four-wheel independent suspension and swift torque control of the power pack, AKREP II can travel cross-country over challenging terrain and traverse deep mud, snow or water with equal ease.
Remote Control and Autonomous Capabilities
AKREP II controls the basic mechanical components of steering, acceleration and deceleration electrically (drive-by-wire). This makes possible to remote control of the vehicle or adapt the driving assistance systems and autonomous capabilities.
Reduced Silhouette and Signature
AKREP II has the advantage of a reduced silhouette. AKREP II can be equipped with alternative powerplants (electric, diesel and hybrid). Fully Electric variant of AKREP II capable of running at considerably low level of acoustic and thermal signatures, AKREP IIe is suited to be an excellent choice for conducting stealthy military operations.
Idef 2019
@DefenceTurk
Multi-role
As a multi-role vehicle suitable for various mission types, AKREP II has the ability to provide effective firepower without compromising survivability. Medium caliber turrets up to 90 mm can be integrated. AKREP II can also be configured for; weapon platform for quick reaction, surveillance missions, armored security, base/air defense missions and other similar tasks.