Role:
Tracked Armoured IFV
Nation of Origin:
Turkey
Designer:
Otokar
Introduction:
Weight:
28000 kg to 45000 kg
Length:
7200 mm
Width:
3450 mm
Height:
2100 mm
Turret type:
Crew:
3+9
Engine:
Turbo Charged Diesel Engine 700 HP to 1100 HP
Main armament:
7,62 mm to 120 mm
Secondary Armament/s:
Protection:
STANAG 4569
Suspension:
Torsion Bars with Shock Absorbers Automatic Track Tension System
Operational Range:
≥500 km
Maximum Speed:
≥70 km/h
TULPAR is designed as a multi-purpose vehicle with variants ranging from 28000 kg to 45000 kg to fully satisfy the future global requirements. Future-oriented perspective of modularity is to increase operational flexibility by using common components and a common chassis over wide range of vehicle variants. TULPAR comes in several variants that share common subsystems. The common platform can accommodate a medium tank; infantry fighting vehicle; armoured personnel carrier; reconnaissance vehicle; command and control vehicle; air defence; ambulance; repair and recovery vehicle; mortar vehicle and other vehicle variants. Common platform design approach provides significant logistics advantages as well as reducing training burdens. TULPAR is a multipurpose platform with high lethality, modularity and growth potential that can be tailored to meet current and future operational requirements.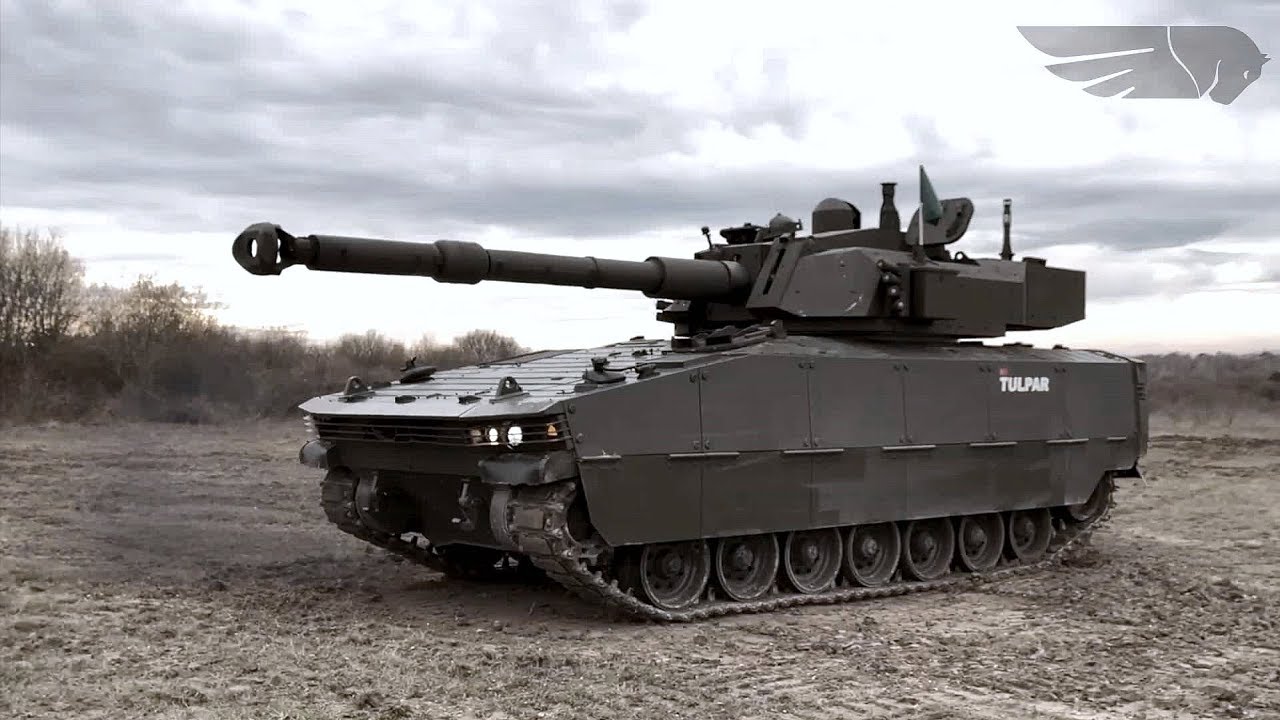 TULPAR has a powerpack in the front of the hull combined with turbo charged diesel engine and an automatic transmission provides which power ranging from 700 hp to 1100 hp. Reliable and robust torsion bar suspension system consists of seven dual rubber-tire road wheels on each side. TULPAR has an Automatic Track Tension system which can adjust track tension for different road conditions to achieve outstanding mobility.
Survivability
TULPAR Design focuses on tailored protection solutions against mine, IED, shaped charge and KE ammunition as well as CBRN threats. Otokar's comprehensive expertise on add-on armor and mine kit solutions deliver optimised vehicle protection . TULPAR vehicle design has been tested and qualified in terms of structural integrity and occupant survivability against landmine attacks and ballistic threats protection as per NATO STANAG 4569. Situational Awareness System, sensors and communication equipment provide most convenient capabilities for crew. CBRN Protection and Automatic Fire Suppression System are provided as standard equipment
Electronic Infrastructure
TULPAR is equipped with ARMATRONICS which provides a digital backbone that allows easy integration of new mission systems. Therefore the system is able to real time monitor and control sub-systems to prevent critical failures that could be faced on the battlefield. E/E architecture is ultimately designed to support all vehicle variants as well as the variants of mission systems.
https://youtu.be/zKWWHZ7xEmE