Role:
Logistic Support Vehicle
Nation of Origin:
Turkey
Designer:
Koluman
Introduction:
Weight:
16.000 KG
Length:
9233 mm
Width:
2850 mm
Height:
3528 mm
Turret type:
Crew:
4
Engine:
OM 473, 6 cylinders, 517HP
Main armament:
Secondary Armament/s:
Protection:
STANAG 2895
Suspension:
4 leaf spring per axle
Operational Range:
Maximum Speed:
110 km/h
Derman: Koluman Automotive Industry, which started its R&D studies at the end of 2015 for the TSK's need for an 8x8 logistic support vehicle with an armored cabin, launched the "DERMAN 8x8" Armored Logistics Support Vehicle to the market with its own brand at the end of 2018.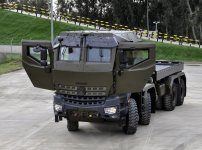 With its production infrastructure, KOE has the capacity to meet the needs of 8x8 trucks and tractors required by the TAF for various special systems.
Koluman, whose priority is always to meet the needs of the Turkish Armed Forces in military projects, aims to offer the "DERMAN 8x8" vehicle to NATO armies.