Role:
Tactical UCAV
Nation of Origin:
Turkey
Manufacturer:
Baykar
Introduction:
2014
Wingspan:
12.5m
Length:
6.5m
Weight:
700 kg MTOW
Propulsion:
105 hp internal combustion
Armament:
MAM-C, MAM-L
Sensors:
WESCAM MX-15D, Aselsan CATS
Combat Radius:
Max Speed:
220km/h
Max Altitude:
27,000ft
Endurance:
27 hours
Users:
Turkey, Ukraine, Qatar, Azerbaijan,Libya, Morocco,Poland
Conflicts:
Nagorno-Karabakh, Donbas, Libya,Syria
The Bayraktar TB2 is a Turkish medium altitude long endurance (MALE) unmanned combat aerial vehicle (UCAV) capable of remotely controlled or autonomous flight operations. It is manufactured by Turkey′s Baykar company primarily for the Turkish Armed Forces. The aircraft is monitored and controlled by an aircrew in the Ground Control Station, including weapons employment, via Türksat satellite. Bayraktar means "ensign" or "standard-bearer" in Turkish. The development of the UAV has been largely credited to Selçuk Bayraktar, a former MIT graduate student.
The aircraft previously relied on imported and regulated components and technologies such as the engines (manufactured by Rotax in Austria) and optoelectronics (FLIR sensors imported from Wescam in Canada or Hensoldt from Germany). Engines exports were halted when Bombardier, owner of Rotax, became aware of the military use of their recreational aircraft engines. In October 2020 Canadian WESCAM (optics and sensors) exports were restricted by the Canadian Foreign Ministry.[7] At the same time local FLIR integration tests started with Aselsan's CATS FLIR system on 6 November 2020.
Bayraktar drones have been praised for it's achievements by Turkish and non-Turkish authorities for his role. British Defense Minister Ben Wallace and American political science author Francis Fukuyama praised the platform and his systems.
Development​
The development of the Bayraktar TB2 had been spurred by a U.S. ban on exports of armed unmanned aircraft to Turkey due to concerns they would be used against
PKK
terrosrist groups inside and outside Turkey.
The Bayraktar TB2 conducted its maiden flight in August 2014.On 18 December 2015, a video was published for the missile test of Bayraktar TB2.
According to British newspaper
The Guardian
, the arming of the Bayraktar TB2 would not have been possible without the help of UK based technology, namely the Hornet micro-munitions bomb rack invented, developed, designed and patented by
EDO MBM Technology Ltd
, Brighton in the UK. The bomb rack was provided to Turkey in 2015, and a variant of it was integrated onto the aircraft by the UK company and
Roketsan
.
[16]
In response to
The Guardian
newspaper, Baykar Chief Technical Officer Selcuk Bayraktar denied that the bomb rack came from the UK. "We are not buying it from you, we never did. It not only does not work under any circumstances but is also very expensive," Bayraktar said on Twitter. "We have designed and manufactured a more advanced and cost-effective one ourselves." This denial appears to be intended to obscure the facts from the Turkish public.
On 19 August 2020 the UK
Department for International Trade
(DIT) disclosed details of a six year history of exports of the Hornet bomb rack to Turkey between 2014-2020 suggesting that supply of the critical technology to Turkey had continued well beyond the development stage of the Bayraktar TB2 and right up to the publication of the Guardian story in November 2019. "There were 18 Standard Individual Export Licence (SIEL) applications submitted by EDO MBM Technology between 2014-2020 for exports of goods " 'related to Hornet Bomb Racks / Hornet Missile Launchers' to Turkey where the proposed exports were for end-users in Turkey. Of these, 16 licences were granted, and 2 applications were stopped."
Baykar signed a deal with Qatar in March 2018 to manufacture six drones for the Qatari forces. In January 2018, Baykar signed an agreement with Ukrspetsproject on the purchase of 12 Turkish Bayraktar TB2 and 3 ground control stations worth
US$
69 million for the Ukrainian army. Ukraine received the first batch of UAVs in March 2019.
In October 2020 the use of the Canadian
Wescam
CMX-15D system in the drone was disclosed after
Armenian
officials claimed that remains of a CMX-15D system had been recovered from a downed TB2 drone during the nation´s conflict with
Azerbaijan
. That triggered the stopping of CMX-15D exports to Turkey while an investigation by
Global Affairs Canada
evaluates the use of Canadian technology in the Nagorno-Karabakh conflict.
[23]
Turkey selected the Common Aperture Targeting System (CATS) from
Aselsan
as a replacement for Canadian CMX-15D
PKK terror​
Turkish military use TB-2 gained prominence in counterinsurgency operations against the PKK and YPG militants positions across the border in Iraq and Syria.
On 2 July 2018, A Turkish Air Force Bayraktar TB2s crashed likely due to engine failure in
Hatay
province, Turkey.
On 15 August 2018, Turkish Land Forces successfully used Bayraktar TB2 in a joint cross-border operation of the Turkish Armed Forces and the National Intelligence Organization of Turkey to kill the senior (PKK) leader and board member of the pkk İsmail Özden in Sinjar District, northwestern Iraq.
Turkish military used combined UAV and artillery tactics in Syria against the PKK-linked YPG. According to Turkey the number of militant killed or wounded, ascended to 449 by use of armed TB2 and 680 were indirectly in operations assisted by air support from the UAV.
Libya​
In June 2019, international news media reported that the Libyan UN recognized
Government of National Accord (GNA)
used Bayraktar TB2s to strike an airbase held by General Haftar's Libyan National Army (LNA). Despite the UN embargo on Libya's ongoing civil war, it is suspected that at least 3 Bayraktar TB2 UCAV were being used over Tripoli by the GNA government forces. On 6 June 2019, two GNA Bayraktar TB2 drones are destroyed along a operation room by LNA attacks on Mitiga Airport. Video evidence shows at-least one Bayraktar TB2 flying over Tripoli about to land at Mitiga's Military section, under control of GNA-allied forces.
In December 2019 the LNA shot down two Turkish TB2 UAVs in Ain Zarah, near Tripoli.
On 25 February 2020 LNA forces shot down two TB2 drones in 24 hours.
On 31 March 2020 the Libyan National Army shot down another Turkish made Bayraktar TB2 combat drone near the Libyan city of Tripoli.
On April 17, 2020, a Turkish Bayraktar TB2 Drone shot down near Bani Walid.
In the third week of May 2020, Libyan National Army's Pantsir missile system reportedly shot down two of the Government of National Accord's Turkish-made Bayraktar TB2 combat drones, one near Tarhuna city and the another near Jebel Sherif.
By 1 July 2020, a total of 16 Bayraktar TB2 drones were reported shot down or lost on Libya during six months of fighting. and 23 were reported lost since LNA offensive in Western Libya that begun on April 2019.
On 11 March 2021, A US correspondent Jeff Jaworski wrote that a total of 47 Bayraktar drones were destroyed by LNA defenses mainly Pantsir-S missile systems, in turn 9 Pantsir-S were destroyed by Bayraktar drones.
Syria​
See also: Turkish involvement in the Syrian Civil War and List of aviation shootdowns and accidents during the Syrian Civil War
On March 2020 Bayraktar TB2s, Anka-S UAVs, and an array of Koral electronic jammers were deployed and extensively used in coordinated action to strike Syrian Army targets on the ground during the Operation Spring Shield launched by Turkey following losses the Turkish forces incurred at the hands of the Russian forces in northwestern Syria at the end February 2020. The deployment was assessed by experts to be a success and a tactical game-changer.
During the week of fighting, Turkish drones took out 73 Syrian armed vehicles. Russian sources said that the Russian-backed Syrian air defences claimed the destruction of seven Bayraktar TB2 UAVs by 5 March 2020. However, there is only visual evidence for three Bayraktar drones being shot down.
On 23 August 2020, another Bayraktar TB2 drone was shoot down by Syrian Air defenses near
Kafr Nabl
, Idlib after being detected spotting targets for Syrian rebels.
Azerbaijan and 2020 Nagorno Karabakh war​
Bayraktar TB2 at
2020
Victory Parade
in
Baku
,
Azerbaijan
.
In June 2020, the Defence Minister of Azerbaijan, Zakir Hasanov, announced that Azerbaijan had taken the decision to purchase Bayraktar drones from Turkey. During the 2020 Nagorno-Karabakh war, Bayraktar TB2s were used against Armed Forces of Armenia with great success. Azerbaijan used TB-2 to destroy Armenian artillery, infantry positions and military vehicles including BM-30 Smerch MLRS, T-72s tanks, BMP-1 and BMP-2 IFVs. Several Osa, Strela-10 and 5 S-300 air defense systems were also destroyed by TB2s.On 19 October 2020, a Turkish-made Bayraktar TB2s was shot down by air defenses of the Armenian Army over the skies of Nagorno Karabakh. On 8 November 2020, another Azerbaijani Bayraktar TB2 was shot down by air defense on southeastern Nagorno Karabakh. After learning that their products were used on Bayraktar TB2 drones, Hampshire-based UK aircraft component manufacturer Andair announced halting supply and cancelling all orders from Baykar Makina on 11 January 2021.The British manufacturer became the latest company to stop selling equipment to Turkey after its components were found in drones shot down during the Nagorno-Karabakh conflict. In which the Turkish government announced to instead locally produce the component that Andair boycotted
Ukraine​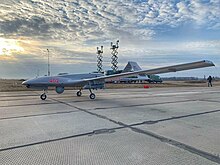 Bayraktar TB2 of
Ukrainian Air Force
armed with
MAM-L
, two ground control stations in the background
As a part of its military modernization program
Armed Forces of Ukraine
acquired 12 Bayraktar TB2s in 2019. After the successful utilization of the aircraft the
Ukrainian Navy
had ordered a separate order composed of 5 additional Bayraktar TB2s. According to the statement made by the naval officials the additional aircrafts were delivered within 2020. Meanwhile, Turkish and Ukrainian officials have announced the establishment of a joint venture to produce 48 additional Bayraktar TB2s in Ukraine.
Following the
increasing tensions
between
Russia
and
Ukraine
, a Bayraktar TB2 conducted a reconnaissance flight on April 9, 2021, over the
Donbas
region. This was the first operationalization of the aircraft by the Ukrainian Forces within an
active conflict zone
.
Variants​
Bayraktar TB3​
In February 2021, chairman of the Presidency of Defense Industries (SSB) Ismail Demir made public a new type of UAV being developed by Baykar that is planned to be stationed to Turkey's first amphibious assault ship,
TCG Anadolu
. The new aircraft being developed is a naval version of the Bayraktar TB2 equipped with a local engine developed by TEI. According to the initial plans the ship was expected to be equipped with F-35B fighter jets but following the removal of Turkey from the procurement program, the vessel got into a modification process to be able to accommodate UAVs. Mr. Demir stated that between 30 and 50 folding-winged Bayraktar TB3 UAVs will be able to land and take off using the deck of
TCG Anadolu
.
Operators​
Azerbaijan

Libya
Government of National Accord(GNA)

Morocco
Royal Moroccan Air Force - 13 drones have been ordered

Qatar
Qatar Air Force 6 operational

Turkey
Turkish Air Force – 110 operational
Gendarmerie General Command – 18 units used by Elazig Gendarmerie UAV command
General Directorate of Security – Under Aviation Department. 6 TB-2 entered the inventory in 2016 and 6 TB-2S entered the inventory in 2019 with MAM (Smart Micro Munition)
Turkish National Intelligence Organization – Uses TB-2 since 2015
Turkish Naval Forces – 6 TCB TB-2
Northern Cyprus
Under joint KTBK and Security Forces Command several TB2's deployed to Northern Cyprus.

Ukraine
Ukrainian Air Force - 6 operational and 48 have been ordered

Poland
Polish Armed Forces - 24 drones have been ordered. First batch of aircraft will be delivered in 2022
​
Potential operators​
Bulgaria

Hungary

Republic of Serbia
In October 2020, Serbian President Aleksandar Vucic identified UAVs as "expensive but smart investments" and stated their interest on acquiring Turkish-made Bayraktar TB2 armed drones.

Somalia

Kazakhstan
On November 27, 2020, the Russian news agency RIA Novosti